For more than a decade, Australia has produced a consistent offering of mixed martial artists that have risen to international prominence. It is no longer a secret that Australia is emerging as a sleeping giant on the world stage.
Names such as – Tai Tuivasa, Jimmy Crute, Tyson Pedro, Jack Della Maddalena, Casey O'Neill, Jamie Mullarkey, Jacob Malkoun and Josh Culibao are all currently riding the trail blazed by the likes of Mark Hunt, Robert Whittaker, Alexander Volkanovski, Daniel Kelly, Kyle Noke and Jake Matthews to name a few.
The growing number of Australian exports have seen a wide variety of success that has included everything from champions, future hall of famers, top contending challengers and blue-chip prospects.
With a multitude of talent exporting at a higher level than ever for Australia, more and more fans are turning their attention to the grassroots of MMA in order to spot the next generation of fighters making their rise in the sport.
It's a good thing too, because at least for right now, the most exciting Australian mixed martial artist is still on our shores.
… And he just became the Eternal MMA welterweight champion.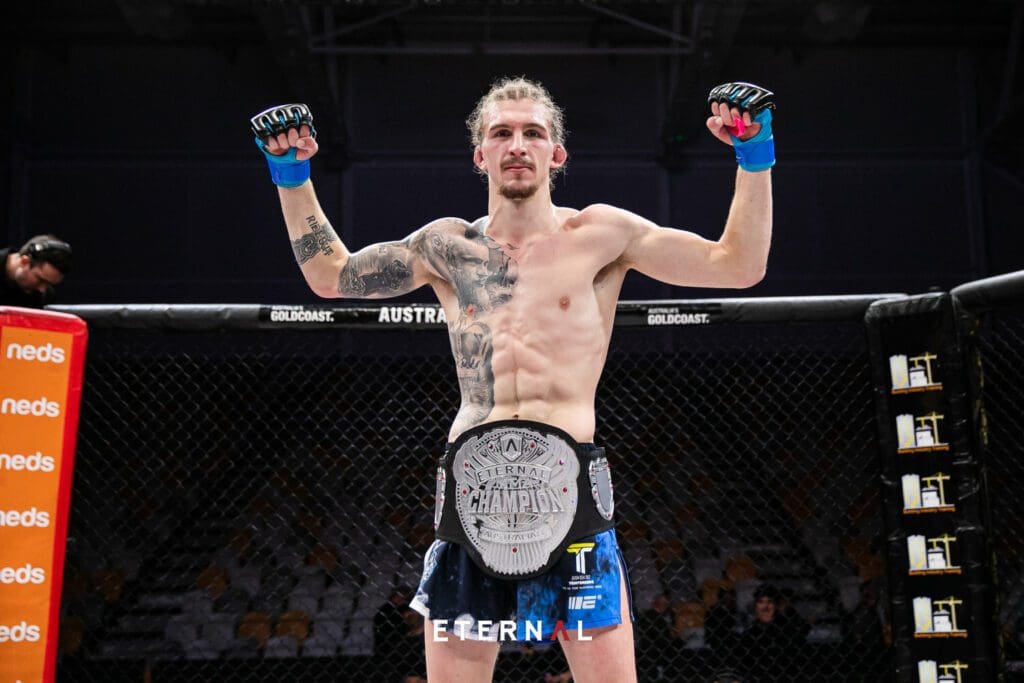 For all intents and purposes, Kaleb Rideout is perhaps the most accessible combat sports athlete currently competing on the regional scene of combat sports – a stark contrast to the otherworldly showmanship that he exhibits as a competitive martial artist.
A natural-born entertainer, Rideout has made a priority of giving the fans a show every time he steps foot inside the cage, and it is far from a case of style over substance.
YouTube Kaleb Rideout, the results speak for themselves.
July 16th, 2022, saw Eternal MMA produce one of, if not its biggest card in it's almost ten-year existence, with Rideout slated to close the curtains in his championship fight against City Kickboxing product – Kevin Jousset.
Coming off a spinning back-fist knockout over his previous opponent at Eternal 64, Rideout was primed to make another statement in is young professional career.
With the vacant welterweight title on the line, Rideout produced a bell-to-bell performance bodied by a plethora of unorthodox striking, non-stop pressure, high octane pace and endless cardio.
Speaking with Eternal MMA, Rideout spoke shared his thoughts on the biggest win of his career to date.
"I can't explain how I feel," said Rideout.
"As soon as they said I was champion, I literally lost my feet and just collapsed in the middle of the cage. It's something I've been training so hard for. Not just in this camp, but all the camps before that, ever since I was 2-2 as a pro.
"I'm still on the comedown from it, really."
The long-lasting comedown from Rideout's performance has been a mutually felt feeling for those in attendance as well as watchers tuning in on UFC Fight Pass.
Fans were treated to an exceptionally unique display of striking at a relentless clip that included countless spinning back-fists, spin kicks, overhand hammer fists and several other techniques that oozed with style points.
One such technique that Kaleb pulled out of his handy toolbox was something not many of us can say we have seen before – hammer-fist strikes to his standing opponents' knee?
"This is just the start of my style," said Rideout.
"I have got plenty more tricks in my bag that I didn't even get to show. You have only seen little glimpses.
"The standing hammer-fist at the start of the fight that caused massive damage to his face, the damage I was inflicting in all these random positions that I was in. The unorthodox strikes that I was throwing from punches to the legs to hammer fists to the legs – its just the start really.
"I was so glad in a way that we went the five fives, because you could see what I'm actually capable of. My fitness is through the roof. I could have done another five fives after (the fight).
"The only thing that you didn't really get to see was my ground game, which is a bit disappointing. But at the same time, in my opinion, fans don't come to see grappling in the cage. Why would they?
"They want to see striking, so I give them everything I can with my strikes."
"I said it at the end of this fight, and I will say it leading up to every other fight – I will stand and throw down as much as I can.
"I'm hunting for my Robbie Lawler vs Rory McDonald fight."
There is no doubt that Rideout is on a collision course to get his wish at some point in his career. By his own admission, his fighting style and desire to entertain the fans are at the forefront of his mind whenever he prepares to step foot inside the cage. The fact that he is just so damn good at getting wins on his record at the same time has been an exceptionally welcome byproduct of his fan-friendly skillset.
It's one thing to be flashy, it's another thing to put it all together and become a title belt holder – Kaleb Rideout is now both.
To the surprise of many, one judge saw the contest in favour of Jousset to the tune of three rounds to two, while the other two judges saw it in favour of Rideout at 50-45 and 49-46 respectively.
A split decision victory for the first-time title challenger.
"I was very 'fight-aware' in that fight the entire time," said Rideout.
"As soon as that final bell rang, and Kevin and I embraced after the fight, I said 'it's going to be a split decision'. I just didn't know how the judges were going to score it."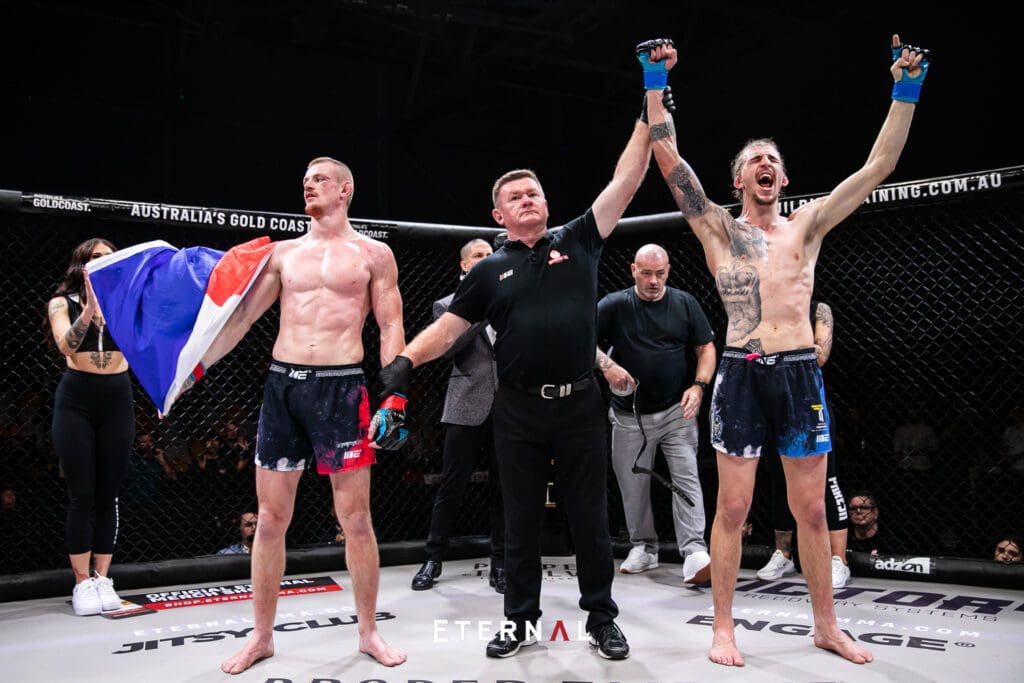 "I knew he had the takedowns, he had the control (time), but I was doing the most damage. So, I could see that being more favourable to the judges."
"I knew I had the rounds with my aggression and my striking, he wasn't landing anywhere near the amount of punches or significant strikes as I was.
"Looking back at it now that I've had time to reflect and watch the fight, it's hard to see the split decision. I think I won four out of the five rounds. But the judges called it a split and I'm not going to argue with it. It's still a win in my books."
Back at home and now with some distance from the title fight, Rideout can see clearly now just how dominant he was for the majority of the contest. By his own admission, however, Jousset was one of if not the toughest out of his professional career.
"The best way to describe (Jousset) – he's honestly like the French Terminator," said Rideout.
"I was punching him hard – I mean, I was hitting him… hard. My right hand is ridiculously swollen. He just kept walking forward.
"I think I hit him with five clean punches and a clean elbow, and he just didn't bleed! His bloody bones, every time I hit him, it just felt like steel."
"His toughness is ten out of ten. I've hit a lot of people with those shots and a lot of them have dropped."
"I knew his gas tank wouldn't be as good as mine, (but) I was surprised in the fourth and fifth rounds that he was still very fit. You could still see that he deteriorated a bit, but the volume was on all day.
"I expected him to shoot more takedowns on me, but the longer the fight went, he very rarely did what I thought he would do. So, it just gave me free reign to stand there and throw."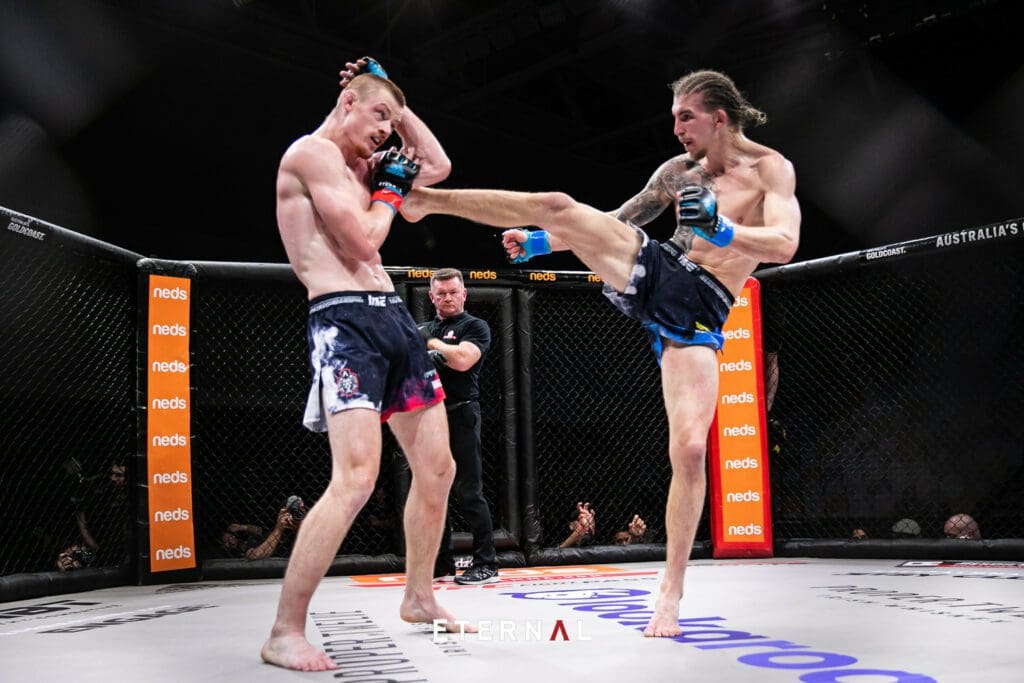 A fan of the game as well as a student of it, Rideout somehow found time towards the end of the fourth round to shoot his shot with a very familiar face at cage side.
Strategising against him was Kevin Jousset's world-renowned coach, Eugene Bareman – most notably the long-time mentor of current UFC middleweight champion, Israel Adesanya.
Not one to miss an opportunity, even with his opponent in a dominant position against him, the man they call "Krazy Horse" seized the opportunity to have a quick word with the City Kickboxing lead man.
"It was just a spur of the moment thing," said Rideout with a laugh.
"He (Jousset) pinned me and took me down against the cage, I looked to the left and I saw Joe Lopez there and I was like 'oh sh*t, hey Joe!'. I was a little bit concussed; I think.
"And then (I saw) Eugene and thought, it's not the right time but (I said) 'hey Eugene, can I get a photo after this?!'. Then we had a bit of a banter war and he (Jousset) got up and kicked me in the ribs, which hurt."
It's a 2022 kicking off on the right foot for Rideout. With two wins from two fights, including his recent title win, the sky is looking like the limit for the newly crowned champ.
Splitting his time between work as a plasterer and training as a mixed martial artist, Rideout leads a typical life of a regional circuit athlete. Three days after winning the championship fight, it was back to life as usual on the tools for the Picton, New South Wales resident. Only this time, with all the attention that comes with the territory of being an Australian champion.
With the welterweight title around his waist, the proud representative of his gym – XXX Fight Academy said the reception back home with his teammates was electric.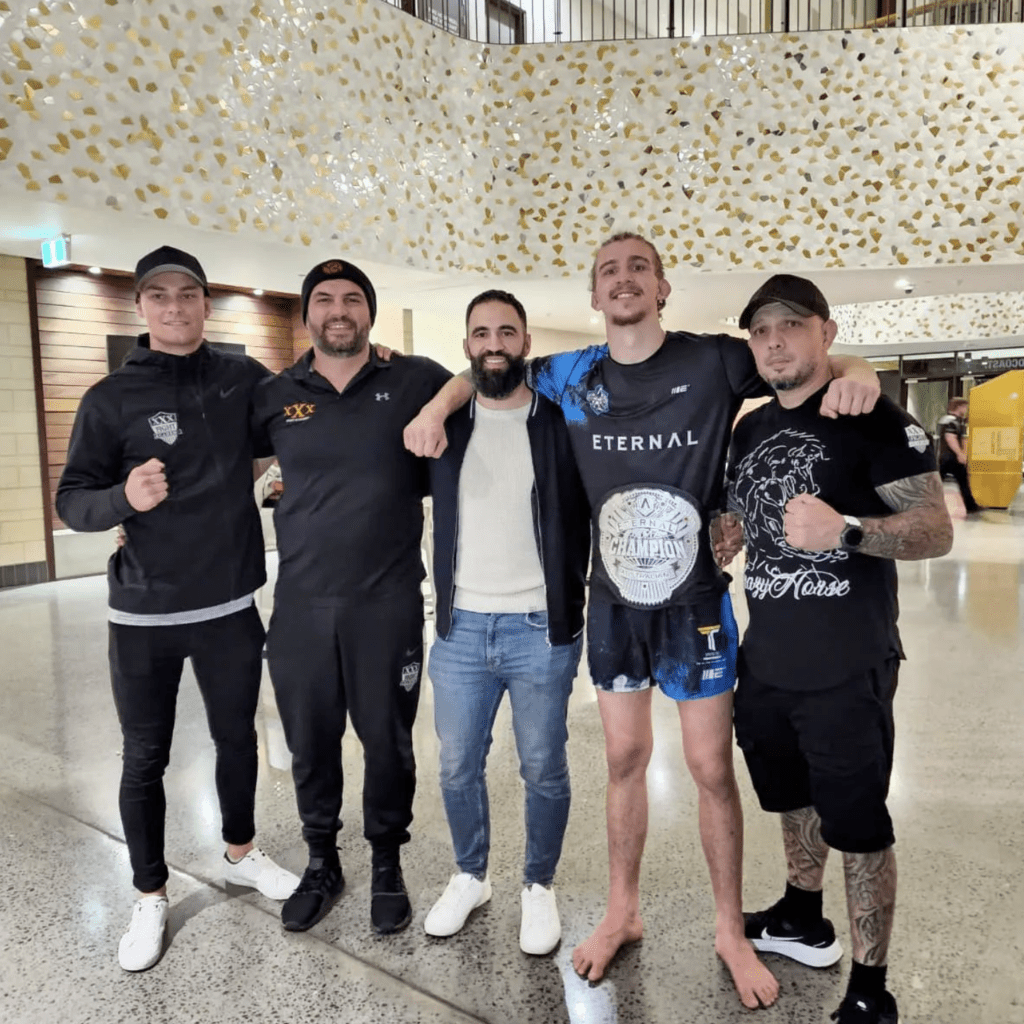 "They absolutely loved the fight because it was so entertaining" said Rideout.
"I feel like a celebrity walking around the gym right now, it's great."
Celebrity aside, Rideout knows that his road as a high-profile combat sports athlete is barely beginning. Now 7-2-0 as a professional, he has put together a run of five wins in a row on his way to the welterweight title.
Earning himself a reputation as one of the most electrifying mixed martial artists in the country, Rideout is ready and willing to face whatever challenge is placed before him whenever the time comes.
With a new addition to the family set to arrive in November, however, Rideout will be looking to face the next challenge either before or after what will be the most important moment in his life.
"My first child is on the way – a little girl," said Rideout beaming ear to ear.
"I'm building a granny flat right now out the back of my missus' parents house for me, her and the little one."
"But as I've said, at the end of the day, It's Cam's (Eternal MMA promoter, Cam O'Neill) call. Whatever he wants to do, I'll just turn up and do what I do best. It doesn't bother me; a fight is a fight at the end of the day."
"I will always be here to entertain."