Eternal 27 saw a young Justin Van Heerden make the walk for just his second professional fight after winning his debut by submission in the first round at Eternal 26.
Fighting against a more experienced opponent in Diego Pereira – who at the time had already competed in four professional matches, Van Heerden would suffer his first defeat at the hands of the Brazilian by way of first round knockout.
Fast forward more than five years later, the former training partners are set to face each other once again. This time, they are set to battle it out for the now vacant Eternal MMA featherweight championship.
With a professional record that now stands at 10-5-0, Van Heerden's recent resume boasts an impressive three-fight winning streak. During this run, all three wins came by way of submission, with his most recent win coming via a signature rear naked choke against an opponent seemingly no one else was lining up to fight.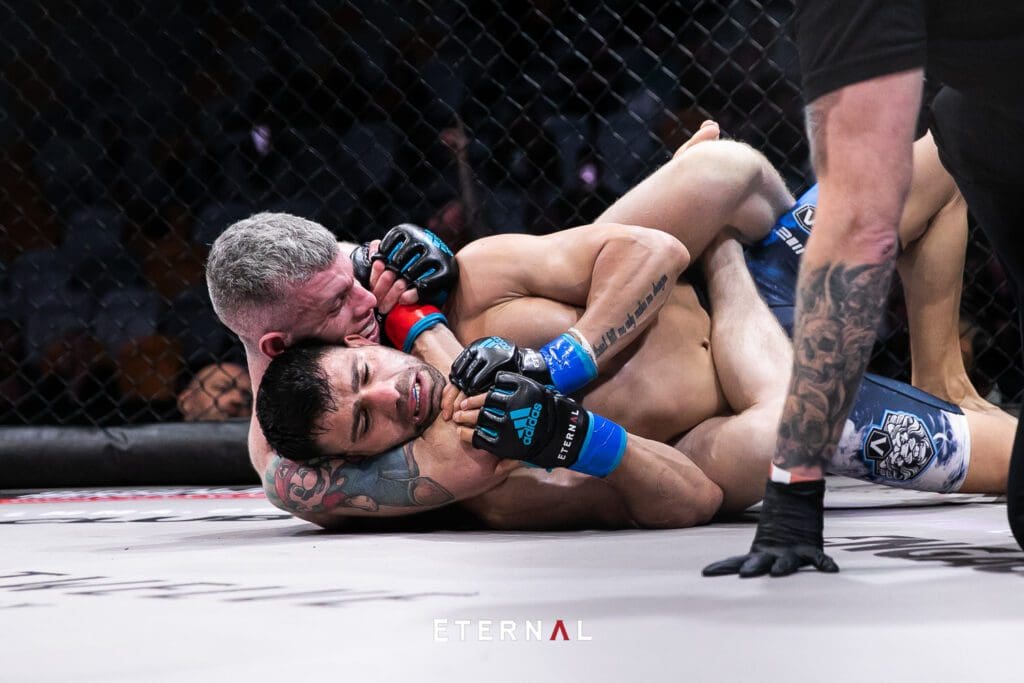 Now with his first chance to become an Eternal MMA champion, Van Heerden is primarily focused winning the belt itself, rather than avenging a previous loss to his fellow title challenger.
"Obviously being that it's a title fight – that's pretty cool," said Van Heerden.
"It's big that's it's on Eternal, it's the biggest promotion in the country. It's got that meaning behind it. Obviously, its shown that if you win that title and hold that title, it can open some pretty big doors.
"In terms of the rematch with Diego and trying to get one back – I'm going to relish the opportunity to do that. But, in terms of me sitting there and thinking like I need to go out of my way to do that? No, not really."
"I'm happy. I'm getting in there and fighting for a title and I'm fighting someone else that's been around for a hot minute doing their thing. But do I think that it's something that I needed to get back? Not really.
"The only loss that really stings when I look at it would be the (Rod) Costa fight. The Diego loss was early in my career, it was my second pro fight. Back then I was barely even training any striking. I was just relying on what got me to the dance and that was my wrestling. I went in there with a more experienced guy, a more well-rounded guy at that time."
"When I called him out after the (Alan) Philpott fight, it just made sense at the time. I wouldn't say I've dwelt on it and thought that I need to get that one back. But I have an opportunity to do that and (also) win a belt. So, it means a bit more than the first fight."
Five plus years removed from their first meeting; it is fair to say that both athletes who will be competing for the now vacant featherweight title have made considerable growth as mixed martial artists. Both men have since gone earn their place amongst the most popular and widely respected athletes in the country today.
For Van Heerden – a native of South Africa who now calls Australia home, the man who faced Diego Pereira in just his second pro fight is all but a distant memory. The man who will step into the cage to fight for his first championship belt will reflect years of dedicated obsession to the craft – a complete transformation from the boy who couldn't count on the resources he has at his disposal today.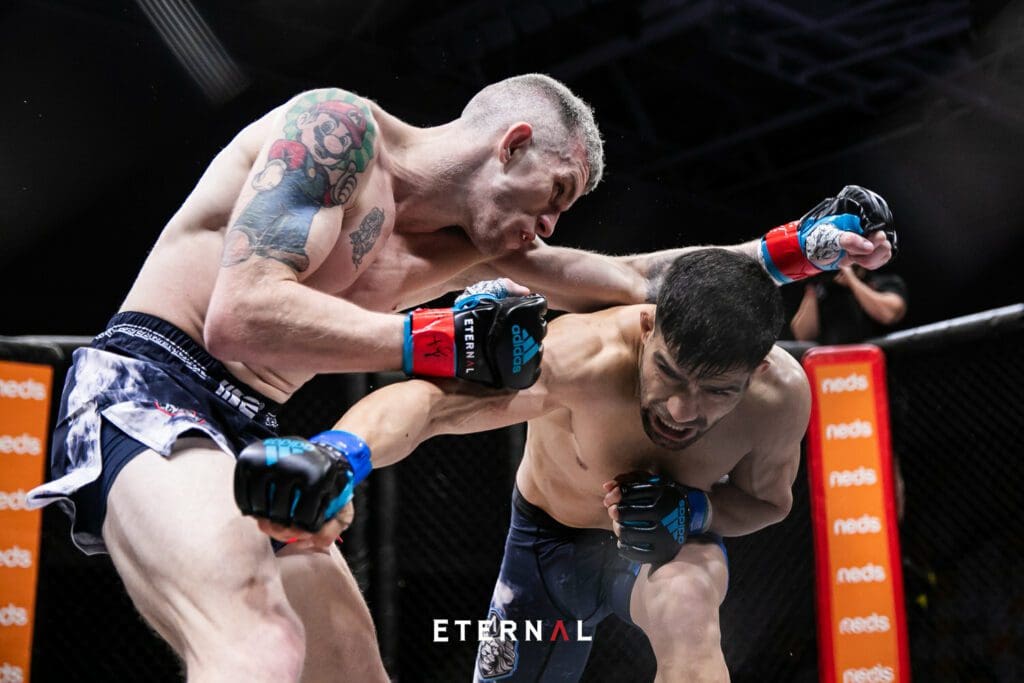 "Vastly, completely different," said Van Heerden of his metamorphosis.
"Obviously, I'm older – I've matured not only as a fighter, but as a man. I was a young guy getting into MMA and I was just relying on a one-dimensional approach. I didn't have the knowledge and the approach I have now. I didn't have the help of my nutritionist; I didn't have the help with my strength and conditioning; I didn't know anything.
"Now, the man that's walking into that cage is a well-rounded mixed martial artist – I think I've shown that fight to fight this year, especially in my last fight with (Mohammad) Alavi.
"If (Diego) is coming into this fight and thinking that it's going to be the same type of fight and it's going to be the same type of guy (from the previous fight) you are getting in there with, you're in for some nasty surprises because I'm dangerous everywhere.
"If there's a lapse at any point, I'm going to put you away."
Training out of Freestyle MMA, it must be almost impossible for any fighter who wants to dedicate himself to the sport to not make exponential growth within their respective skill sets. At the same time as receiving his tutelage under the legendary Joe Lopez – Van Heerden has the enviable resource of training alongside the UFC pound for pound greatest fighter on the planet in Alexander Volkanovski, who of course currently holds the most prestigious featherweight title in the world.
With Van Heerden looking to follow suit and claim Australia's most prestigious belt in the same weight class, he admits that the advice he receives from Volkanovski has been invaluable to his career aspirations.
"I take a lot from the example that Volk sets, and he is always someone that has said 'you have to be undeniable' – I feel like that's what I've done this year. I've worked very hard to take the tough fights and take the people that no one wants to fight – go out there, get the wins and not only get the wins but get the finishes in these fights and make myself undeniable.
"I feel like I've done that, especially with the Alavi fight. He was undefeated, I beat him and made myself the undeniable number-one contender – made myself the undeniable number-one featherweight in the country by a mile.
"This fight here (with Diego) is my fourth fight inside ten months. Another win, another finish – that's four fights, four wins plus an Australian title… Its pretty hard to argue that I'm not the best featherweight in the country and not the most deserving of what's next."
Undeniable is certainly the most appropriate phrase that comes to mind regarding Justin Van Heerden's claims. His surging run of late has painted a picture of a fighter who is beginning to scratch the surface of his high potential – a dedicated student of the game who is yet to enter the prime years of his fighting career.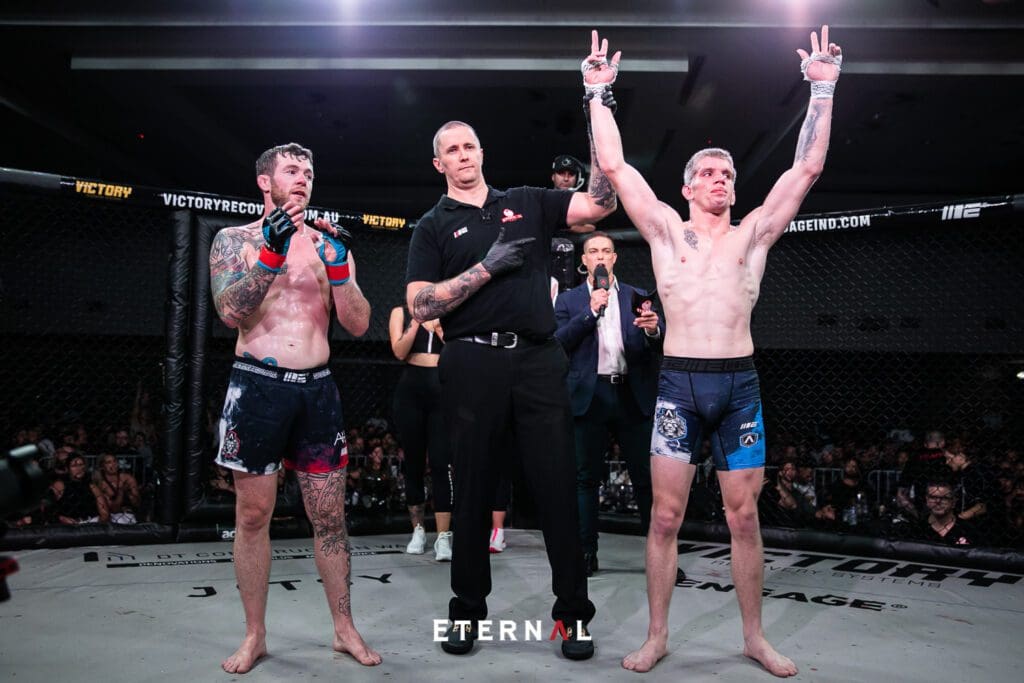 With Eternal 72 just around the corner, Van Heerden assures fan he is looking to keep the momentum in his favour.
"I believe I'm going to get a finish inside the distance," he said.
"I'm going to find a finish and it can come at any point. It could be on the feet, it could be in the grappling, it could be anywhere at any time. I'm trusting in my ability; I'll just stick to what I need to do – go out there and perform the way I perform, and the finish is going to come. I don't need to rush anything. The better part is I've got an extra ten-minutes to do my work, if needed. So, we'll just go on that."
"Anyone watching this fight, anyone attending the show, they can expect that it's going to be an action-packed fight. They can expect that they are going to see a very high-level of mixed martial arts and they can expect that they are going to see a finish – that's what I've brought this year, that's what I've brought fight to fight. I've showcased improvements fight to fight, so it's going to be no different (in this fight).
"If you're watching this co-main event, it's not going to be boring and it's going to be a finish."
Eternal 72 can be viewed Friday, December 2nd live and exclusive on UFC Fight Pass. Fans can visit eternalmma.com to purchase tickets for this event.