Eternal MMA pays tribute to its 'Icons' who have contributed to the growth and success of not only Eternal MMA, but Australian combat sports in its entirety. All the way from the grassroots of local martial arts education to the pinnacle of international competition, we salute those who have been vital in guiding Australian mixed martial arts in its endeavours at every level. 
This week, Eternal MMA is proud to profile Mitch Martin.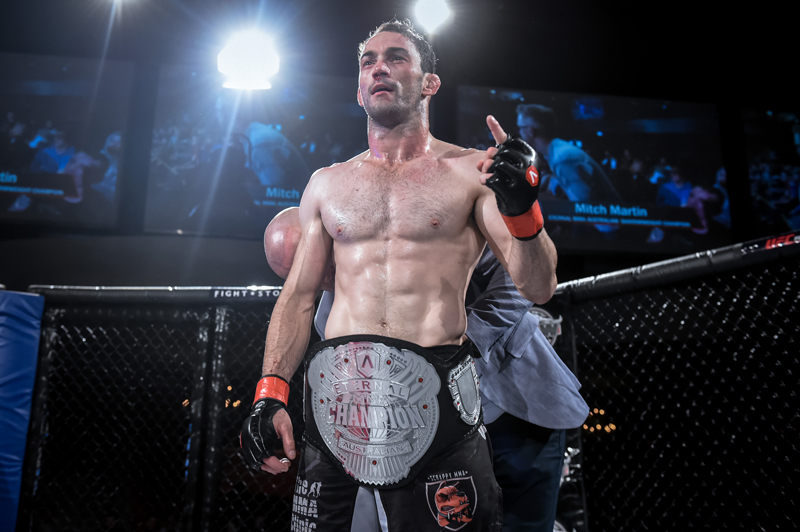 As a professional mixed martial artist, Martin boats a 100 percent win-record at 8-0-0. Having won the Eternal MMA bantamweight championship in just his second bout with the promotion, Martin would continue to defend his title right up until he took a step back from the competitive side of the sport.
A keen outdoorsman with a passion for sustainable living, Martin currently splits his time between living a "hunter/gatherer" lifestyle and training in martial arts on a casual basis.
A true pioneer in the smaller weight classes, Martin is widely regarded as one of the hardest workers in the room – A trait that has also played a major part in him becoming one of the most widely respected athletes in Australian combat sports during his impressive title reign.
Professional career record:
8-0-0
▪ 3 wins via knockout.
▪ 3 wins via submission.
▪ 2 wins via decision.
Eternal MMA record:
7-0-0
▪ 3 wins via knockout.
▪ 3 wins via submission.
▪ 1 win vs decision.
Eternal MMA events:
Seven events in total:
• Eternal 11 vs Ryan Robertson. 
• Eternal 25 vs Mick Addison – Won the Eternal MMA Bantamweight Championship. 
• Eternal 29 vs Tyrell Hogan – Defended the Eternal MMA Bantamweight Championship. 
• Eternal 30 vs Chris Morris – Defended the Eternal MMA Bantamweight Championship. 
• Eternal 38 vs Jason Petropoulos – Defended the Eternal MMA Bantamweight Championship. 
• Eternal 41 vs Kairin Moses – Defended the Eternal MMA Bantamweight Championship. 
• Eternal 48 vs Luke Morris – Defended the Eternal MMA Bantamweight Championship.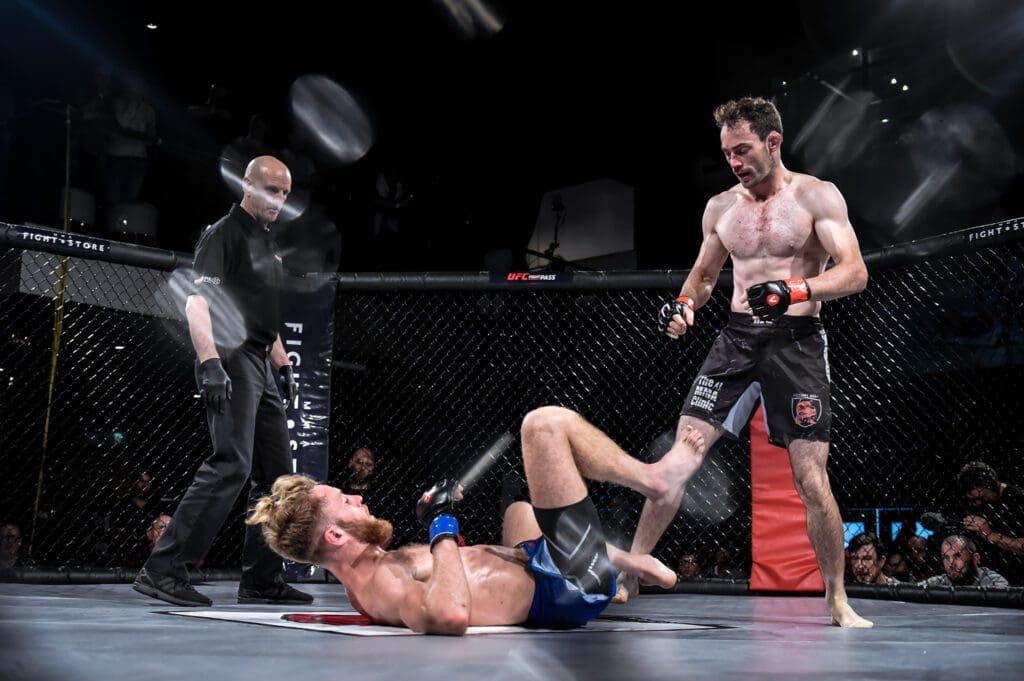 Eternal MMA achievements/accolades.
• Eternal MMA Flyweight Champion.
▪ Five successful title defences.
Fond memory fighting for Eternal MMA:
Mitch: There's nothing but good memories from fighting on Eternal, obviously except for the weight cut – that sucked! Everyone's friendly, everyone's supportive. All the crew – it's all very professional. Not once was I there and I left with a bad taste in my mouth. It was just a really healthy environment. There was no bad competitiveness. Everyone was a gentleman (or gentlewoman). Nothing bad to say about any of it, to be honest. It was a really good, competitive sport on a professional platform. The main thing that Eternal did was give a good name to the sport; that's how I felt. 
Toughest Eternal MMA opponent:
Mitch: That's a good question. No fight is easy. None of them were easy. I've come away with concussions from most of my fights. The one that stuck with me the most was versing Jason Petropoulos. He was a very strong opponent, and he was dominating for most of the fight, pretty much right up until the end. He was a tough guy; he wasn't giving up. I felt the most exhausted after that fight, I would say. 
Standout performance fighting for Eternal:
Mitch: The Kewl Bonez (Chris "Kewl Bonez" Morris) one was pretty textbook. I felt that I executed that (fight) pretty good. That was a first round (stoppage). But every fight that I'm in, there's always something I pick and work on and try to build on for the next one. I'd have to say the Kewl Bonez was definitely the sharpest one, I felt good going into that. I felt ready, I felt confident. That was probably the one I'm most happy with. 
Current or past Eternal MMA fighter you enjoy watching:
Mitch: All the guys from my gym; I love watching them. Obviously, I'm around those guys and some of them I help prepare for fights a little bit. Jack Della Maddalena with getting the recent UFC contract – his fights were always top-tier performances. I loved watching his fights. Brentin Mumford was another good one; he always brings a good fight. Whether it's his performance or bringing his heart, he's always a good one to watch. One of my personal favourites was Callan Potter. Not only because he was a really good dude, but his heart is unstoppable. That guy just won't take a step backwards. I really looked up to him with a lot of my fights. Just the pure dedication he had was really influential. 
Greatest career achievement:
Mitch: Probably the confidence that it (mixed martial arts) gives you in life. I feel like I don't have anything to prove. I feel quite happy walking away from arguments or fights. Any confrontation, I feel more than happy just walking away. The biggest thing that I've taken outside of the cage is a more relaxed approach to life. (Inside the cage) I was ranked number one in Australia for the bantamweight division on Tapology for a couple of months, which was pretty cool to look at; that made me smile. 
Current involvement with mixed martial arts:
Mitch: I'd say "casual". It's not something that I put as a priority. Which is good, because it has been a priority for a good amount of time in my life and a lot of my other hobbies and lifestyle was put on hold because of that. So, I didn't want to have any pressure to come back or to train. I am enjoying it more with a casual approach. Sometimes I might train three, four, five, six times a week. Others, I might miss a week's training because I've been busy, or I've been away.
What do you hope your legacy will be as a competitive martial artist:
Mitch: You only get one shot at it. No champion has ever been a quitter. You can't go in there half-arsed. You have to go in there with the mindset that it's either win or die. My coach would always say "never come out with anything, leave it all in the cage". I've taken that into all my fights.