"Watch me." 
The resounding message was loud and clear from Jack Jenkins during the post fight formalities following his successful title defence at Eternal 64.
A dominant five-round display from the champion was punctuated with a statement of intent, as he took the opportunity on the microphone to remind the naysayers that this is just the beginning. 
The consensus was that Rod Costa was going to be by far and away the biggest test for Jenkins up  until this point in his professional career and at least on paper, that was an accurate assessment. What transpired in the cage however, painted somewhat of a different picture.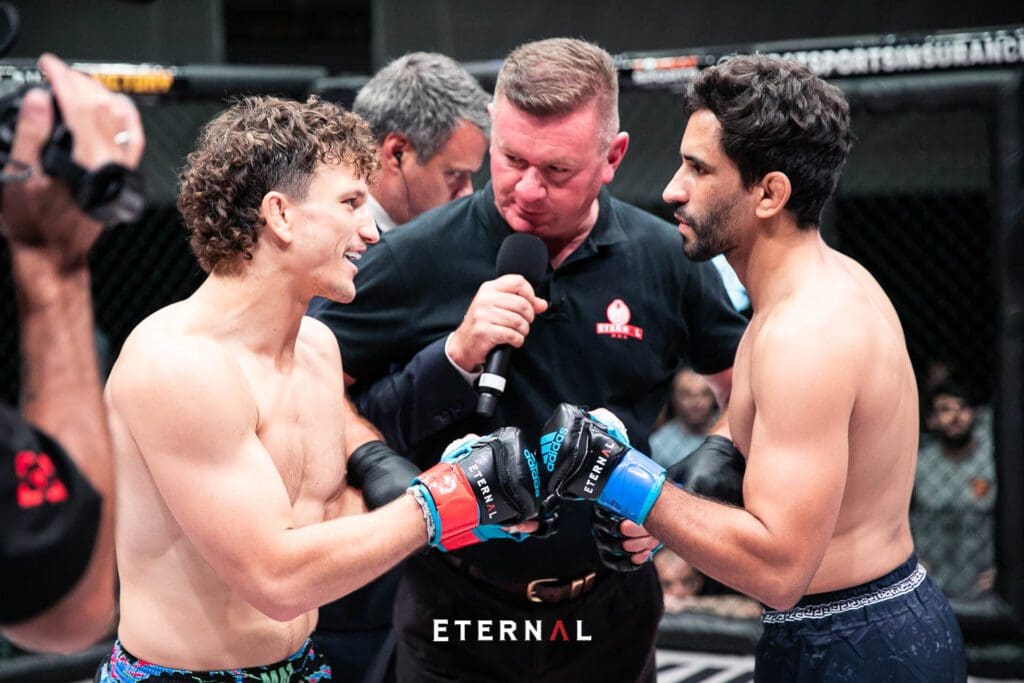 Let's not get it twisted, Rod Costa is as high level as it comes in terms of what Eternal MMA and by extension, what Australian MMA in general has to offer. A world champion Brazilian Jiu-Jitsu black belt with a much-improved striking base, coupled with an unwavering in-ring confidence and a recent catalogue of impressive wins, Rod Costa was the clear number one contender to Jenkins' belt.
By the end of the night on March 19th we were reminded just how true the adage is – there are levels  to this game. The sheer fact of the matter is, Jack Jenkins has evolved levels above his competition in  Australia within his weight class. That's not hyperbole – that is fact, proven with a superior display of  technique, power, speed, cardio and fight IQ against one of the toughest veterans in the country. 
From the opening bell until the closing curtains (save for a late takedown from the challenger in the  final minute of the fight), it was all one-way traffic from the champion. The opening round provided  early answers as to what direction the highly anticipated bout was going to take – elite level boxing from the champ seamlessly mixed in with patented calf kicks, constant stance switching, head movement and range management all had Costa on the back foot from the get-go.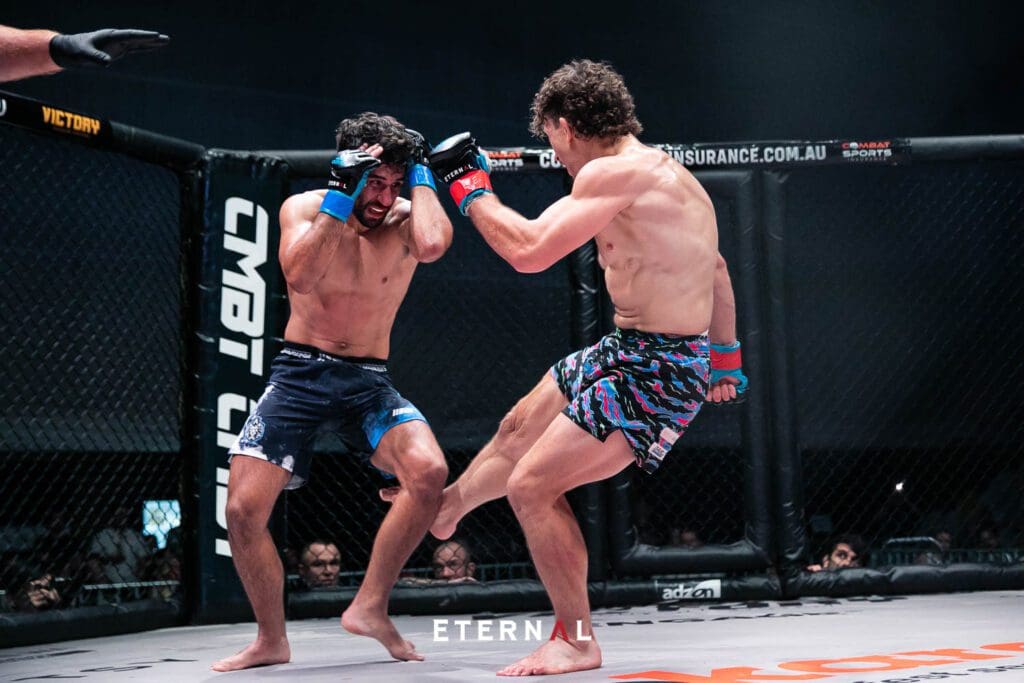 For the viewers at home and at cage side, it was apparent that Jenkins had raised the bar in his striking game once again. Landing head and body shots at will, Jenkins put on a master class with his hands with deadly accuracy while never overexerting himself. The jab was precise, the combinations were ever present and the extensions on the body shots from both hands were a sight to behold, finding a home for them to the liver and rib cage of Costa on multiple occasions.
Of course, it wouldn't be a Jack Jenkins fight without the use of devastating leg kicks to his opponent. It should be noted that prior to the fight, Costa went on record stating that he would never quit as a result of the heavy leg kicks he may endure from Jenkins. Credit to the Scrappy MMA product, he held true to his word, but by the end of round one it was clear that his lead leg was already severely compromised due to the onslaught of shots they had received from Jenkins.
The leg kicks would be a reoccurring theme through the remainder of the fight, with only the heart of Costa keeping him on his feet as both legs were severely damaged by Jenkins in each round. It was the perfect plan from Jenkins, the damage sustained by Costa to both legs would cause him to adopt a square posture in the later stages of the fight, seemingly without a lead leg in his stance for much of the remainder.
On the occasion that Costa was able to find himself a window of offence, it was largely dealt with by  the slick head movement and distance management of Jenkins at almost every juncture. Takedown attempts were turned away with relative ease by the champion, thwarting any chance of Costa  getting the fight to the ground where he is known to do his best work. 
But therein lies another challenge for anyone who faces such a well rounded mixed martial artist as  Jenkins. For as good as Costa is on the ground, it's seemingly a matter of "pick your poison" when it  comes to where the biggest threat lies when facing a man of Jenkins' skill set. He doesn't have any  perceived weak spots in his game at this point in his career.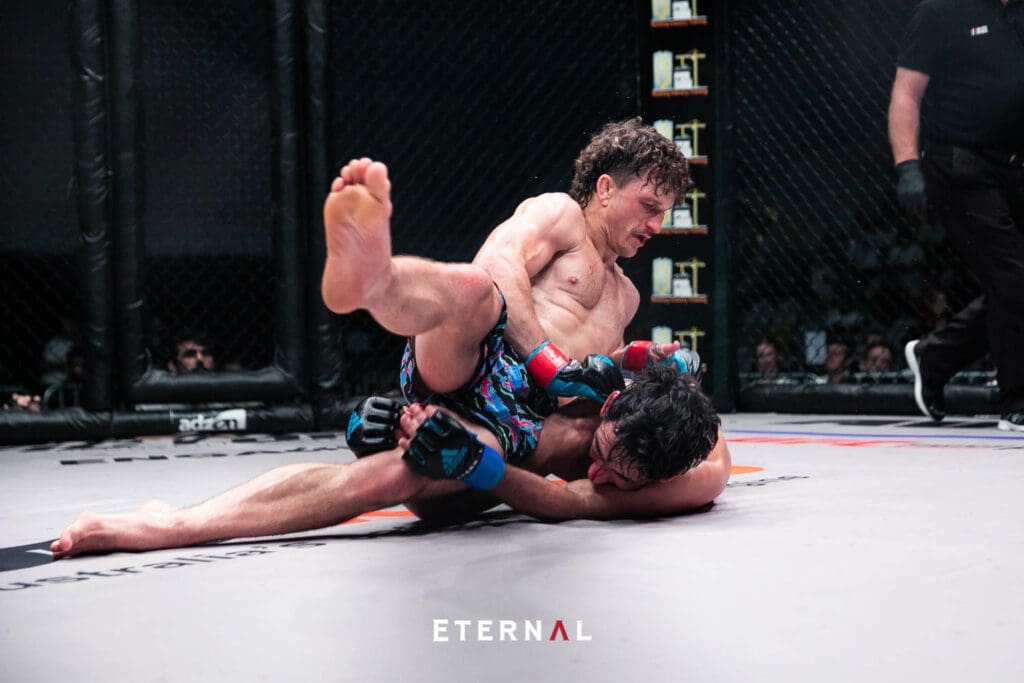 It wouldn't be until the dying minutes of the final round before Jenkins found himself facing any kind of adversity from his opponent. The relentless will of Costa to battle through four and half rounds out on his feet saw him able to mount one final act of desperation with a takedown against the cage. It was a case of too little too late however, Jenkins merely had to cause a stalemate in the dying seconds as he cruised to a unanimous decision victory.
A country boy at heart, Jenkins was on the first flight back home to Victoria the morning after his title defence. The big city lights of the Gold Coast may set the perfect scene for the champion to show what he is made of in the cage, but it is back home in the quiet countryside where Jenkins finds himself again.
Now back in his hometown of Bacchus Marsh, Victoria – Jenkins was able to reflect on his performance from the serenity of his own home. Speaking with Eternal MMA, Jenkins cut a figure of calm confidence as he summed up his big win while setting his sights on the immediate future.
"My mindset hasn't really changed from the immediacy after the fight through till now. It only took me five minutes after the fight before I turned to one of my friends and said, 'this is want I want to do, I need to get back to training by Wednesday-Thursday and start getting ready for whatever's next.'
"My attitude hasn't really changed on (my outlook on the fight) since the fight itself to be honest. I'm really happy with that performance, but this is just the start for me so there's no time to take the foot off the gas, so it's just straight (back) into it."
The challenge that was put in front of Jenkins at Eternal 64 came as nothing as surprise to himself or his team. Rod Costa has made a name for himself as being one of the hardest opponents to put away in the sport, a prospect the champion was more that ready to deal with.
"It played out pretty much exactly as my coaches prepared me for, to be honest," said Jenkins.
"We (our team) spoke and we knew Rod was tough and wasn't going to go away easily, so we trusted in the fact that my conditioning would hold out for the full five rounds – If I needed to take it to the end of the fifth, I would still be there and still be able to stick to my game plan, which was to use my hands to keep him on the outside, then punish him with my kicks when I got a chance to.
"So, it went pretty much exactly as we prepared for, I just don't think that you can ever prepare for someone to take as much damage as Rod did and keep coming (forward). So, credit to him for that, he was as tough as they come."
As impressive as the striking display was from Jenkins for the entire length of the fight, it was nothing new in the eyes of the team from Absolute MMA. While the sharp-handed skills were on full display for the full twenty-five minutes, Jenkins believes that while this may have been his best
performance to date, the heavy arsenal he possesses has long been a part of his tool belt behind closed doors.
"Definitely it's the sharpest I've felt," he said.
"I think Cam O'Neill from Eternal made a comment to my striking coach Andy, he said 'wow, that's the best Jack's ever looked, he's improved so much'. I think Andy replied and said, 'he's been that good for a long time, I think that was just his first chance to really show it.'
"But there were definitely minor improvements. It wasn't (as if) from the last time everyone saw me  I've just turned my boxing around and done a one-eighty and gained all these skills, that's not the  case at all. It's just probably the first time I was able to find the range early with my hands instead of  my kicks and put the pressure on with them." 
"That's what I'm most happy with about the fight – that I got to fully show what my hands are  capable of. The fact that I was able to mix up the levels, changing from the head to the body to the  leg. The stances – going from southpaw to orthodox and just giving him all those different looks, it  just showed the variability of my skill set and that I can do it at a high pace for five rounds."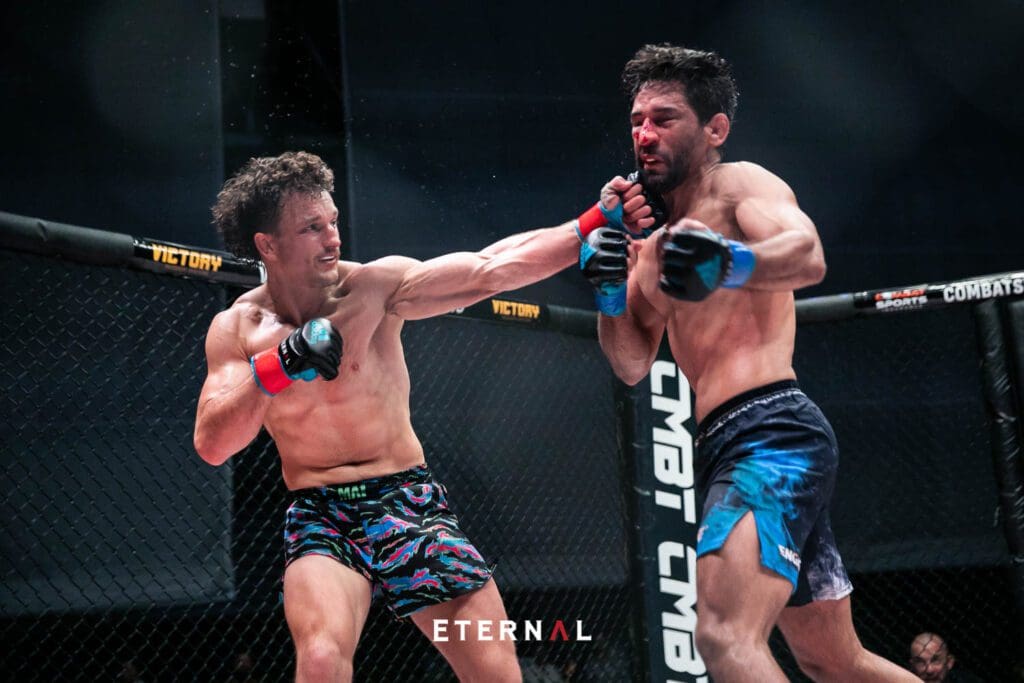 Perhaps the only thing as powerful as the performance itself was the message that Jenkins had for his detractors in the post fight interview with in-ring announcer – Luke Toohey. There was no waiting around for a line of questioning, Jenkins simply had a strong message for the doubters he believes have followed him at every juncture in his career.
"I felt that I had a bit of a chip on my shoulder," said Jenkins.
"I felt like some of the pundits and these MMA pages were talking about this fight like Rod was the favourite and that this was Rod's fight to lose. I just felt that it wasn't the case at all."
"I was doing a lot of running as I always do to get ready for a fight and every time I thought about someone saying, 'Rod's the favourite' or 'Jack's running from Rod', all of that sort of stuff, I just thought 'wait and see in this fight, watch me, you're going to see.'
And "see", everyone did. An eye-opening performance for not only local fans, but dedicated fight fans all around the world eager to see the new breed of international fighters coming through the ranks. With Eternal MMA now being broadcast across the globe on UFC Fight Pass, it was the perfect platform for Jenkins to showcase his abilities to a wider audience.
Of course, it is no secret as to where Jack Jenkins sees his long-term future. Long standing aspirations to fight with the best in UFC are still at the forefront of his plans – an uncompromising mindset that is unlikely to waver any time soon. With his recent dominant displays on home soil and a belief that he is the clear best Australian featherweight on the local scene, Jenkins believes his chance may come sooner rather than later.
"I've never fought anyone younger than me," Jenkins professed.
"I've always fought dudes older than me. Every single one of my fights, they've all been older than me.
"If you look at anyone younger than me, there's not a coach in Australia who's going to let one of those young up and comers at featherweight fight me before I leave. The writing is on the wall that
I'm going to get a UFC shot, so why would you let a young kid who's coming up fight me if you can just wait for me to get my shot and go?
"As far as I'm concerned, since the pandemic started, I'm the featherweight that showed up at every chance and took on the challenges and won the fights and won them all dominantly.
"I'm not just beating these guys – I'm breaking them, so I think it's my turn to get my shot."
If there are still any doubters after his latest performance, one may simply turn to the current reigning UFC featherweight champion for his opinion on Jack Jenkins. Fellow Australian – Alexander "The Great" Volkanovski relies on Jenkins as an occasional sparring partner in preparation for his own fights.
With Jenkins slated to return to New South Wales to help Volkanovski prepare for his next title defence at UFC 273, it was the champ himself who was one of the first to send Jenkins a word of congratulations after his big win at Eternal 64.
"Alex messaged me after my fight and said that he thought it was a flawless performance and a masterclass, so I was really happy to get that feedback from him. Obviously getting praise like that from the champion of the world means a lot.
"In the coming days if I can get of this swelling out of my hands, I'll probably head up to Wollongong and help him finish off his camp."
With his shot at an international career seemingly on the horizon, Jenkins has a firm understanding as to how his skill set matches up with the current crop of talent on the UFC roster. An avid fan of the sport itself, Jenkins has always kept an eye on his future competition and who he believes he is comparable to as a mixed martial artist.
"I think I'm top fifteen ready right now," said Jenkins emphatically.
"You've got to go in there and earn your stripes, but I think I'm top fifteen ready right now. So, it's just a matter of getting in there and proving it."
"I probably sit somewhere between a Chad Mendes and a Jose Aldo," said Jenkins when asked who international fans could compare his style to.
"I probably kick like an early version of Jose, but I probably move a bit more latterly and go to the body a bit more like Chad Mendes. Those were the two main guys when I really started getting into the UFC – I think I blend a style between those two."
There's a lot to like for fight fans when it comes to Jenkins both in terms of his acumen as a combat sports athlete and as a human being. A professional who carries himself with an astute confidence without ever being cocky, a humble competitor who will always give his opponents credit where it's due. Jack Jenkins really does embody what it means to be potential representative of Australian MMA on the biggest stage of them all.
The current state of MMA in Australia is being touted as being in somewhat of a "golden age" by  media and fans alike. Jenkins plans on being a part of the new wave to join the ranks and put an  even bigger stamp on the map for this corner of the world.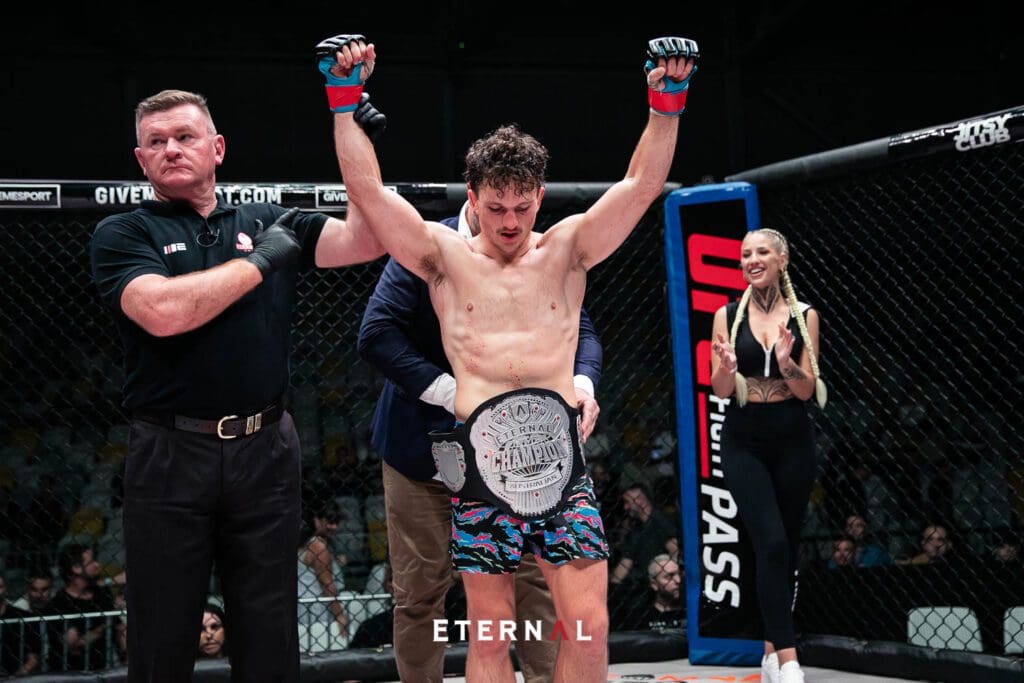 As for his own legacy, Jenkins knows exactly what he wants to leave behind when it is all said and done.
"I want to be a world champ," he said.
"First and foremost, I want to win that UFC belt. I want to fight in Vegas, I want to fight at Madison Square Garden, and I want to sell out Marvel Stadium." 
Any doubts that Jack Jenkins will achieve all his lofty goals?
Watch him.