Eternal MMA, Australia's premier Mixed Martial Arts organisation, today announced that street inspired fight wear brand ENGAGE, will become the new exclusive outfitting and apparel partner for the 2022 and 2023 season. The new two year deal comes after ENGAGE became a main sponsor of Eternal MMA back in 2020.
The team at ENGAGE have just debuted the new fight kits for the upcoming season, available in red and blue colour-ways to coincide with the corner of each respective fighter. Eternal MMA Fighters will be able to choose between a number of different styles based on their personal preference, including ENGAGE's world renowned Grapple & Hybrid Cut shorts.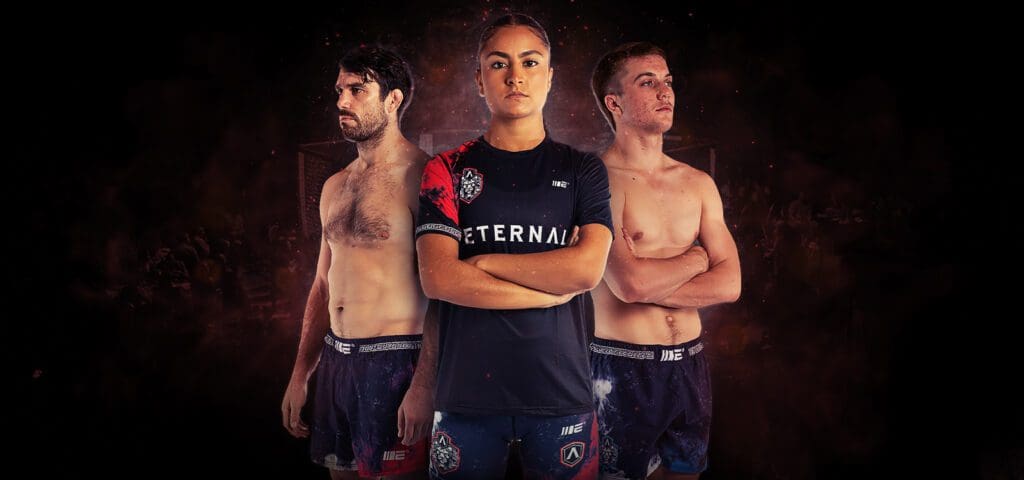 "We've been standing by Eternal since 2018 and to watch them grow over the years has been very rewarding. We're very happy to be apart of Eternal for the next 2 years and beyond. No one does it better than Eternal and ENGAGE. We're looking forward to watching combat sports continue to flourish in Australia and New Zealand." said ENGAGE founder, Ash Belcastro.
"It's a partnership that really excites us, two Australian born companies with big ambitions that are making a name for themselves on a global scale. The support that ENGAGE has provided a lot of up and coming fighters in this region has been paramount to their success and this is another huge step forward" said Ben Vickers, Eternal MMA co-founder.
UFC Middleweight Champion and ENGAGE's major shareholder, Israel Adesanya also weighed in about the partnership, stating: "Grass roots MMA can be a ruthless game – I've seen fighters do it the hard way too many times. Eternal is a breath of fresh air. They're pushing the fight game up levels at a time… ENGAGE have been with me since the beginning and this deal will help them support the next generation of UFC champs. Two of the realest in the game."
The ENGAGE Fight Week and Fight Night kits will feature ENGAGE's highest quality garments. Like all of ENGAGE products, the fight kits have been tested and developed by world-class trainers, fighters and UFC champions. Years of dedication to making the best fight wear on the planet. The range is packed with Core-Tech features that have earned them a reputation as one of the best fight wear brands in the world.

For more information on ENGAGE, visit: engageind.com.