There is often a time during a mixed martial artist's career where they truly find out who they are as an athlete, who they are as a competitor, and maybe more importantly – who they are as a warrior.
A moment in time that can be retrospectively looked upon as vital growth experience for a fighter when they need to remind themselves exactly what they are capable of. You know you have the skills, the training, the courage to lock yourself in the cage with another human being and go to war. But what happens when you face adversity at the highest level in one of the toughest fights of your life?
It can be said that it is the measure of a combat sports athlete when he can dig down into his soul and will himself to a place, he maybe didn't realise he could take himself to. After all, until the fibre of your very being is tested to its limits – how do you truly know?
For Eternal MMA's Flyweight king – Stephen 'AstroBoy' Erceg, that moment in time may very well have been in the proceeding minutes after his most recent fight – a three round war with a highly touted prospect and potential star of Australian MMA in Cody Haddon.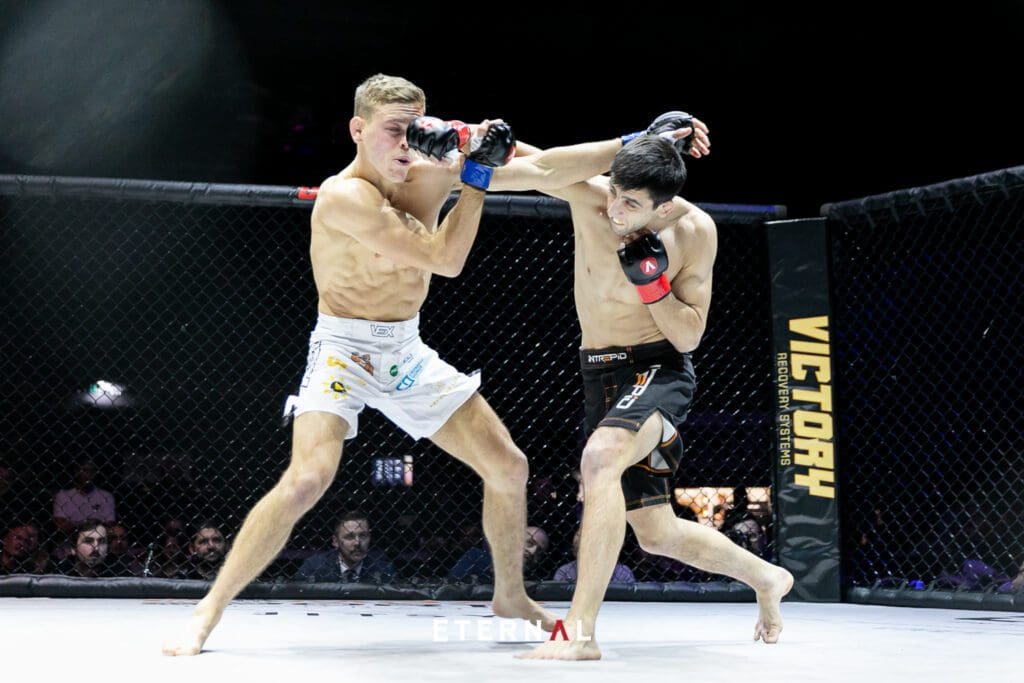 A fight that came to pass after the originally scheduled rematch with Paul Loga unfortunately fell through due to injury, there was something of a common feeling amongst fight fans when the bout with Haddon was first announced – was the risk-reward factor truly worth it? What was there to gain for Erceg in taking a late notice fight against a dangerous and hungry young talent with nothing to lose?
But herein lies the answer…
"If I'm going to be the best in the world, I have to be able to beat people like this, young and up-and-coming guys. And if I can't beat him, I shouldn't be where I think I'm going to be so, nothing to lose, everything to gain"
These were the sentiments shared by Erceg on 'Eternal Insiders' prior to the main event showdown at Eternal 60. Words that speak to mindset of a true champion, who's confidence in his abilities allow him to take on challenges that some may view as too much of a risk. This wasn't a risk in the mind of one Stephen Erceg. This was an opportunity to show who the man is. A martial artist that can win in multiple weight classes. A competitor always ready to stand and face whoever is put in front of him.
By Erceg's own admission, Cody Haddon was a much tougher out than he had given him credit for.
Victorious by the way of unanimous decision, a clearly spent Erceg took stock of the fight in the centre of the cage with Eternal MMA announcer Daniel Maudsley. As he ruminated on his thoughts, he shared with the crowd that he "thought he had him in the first round"- referring to a rear naked choke he seemingly had locked in tight against his bullish young opponent. Surely this was it? Surely a quick night at the office and on to the next we go…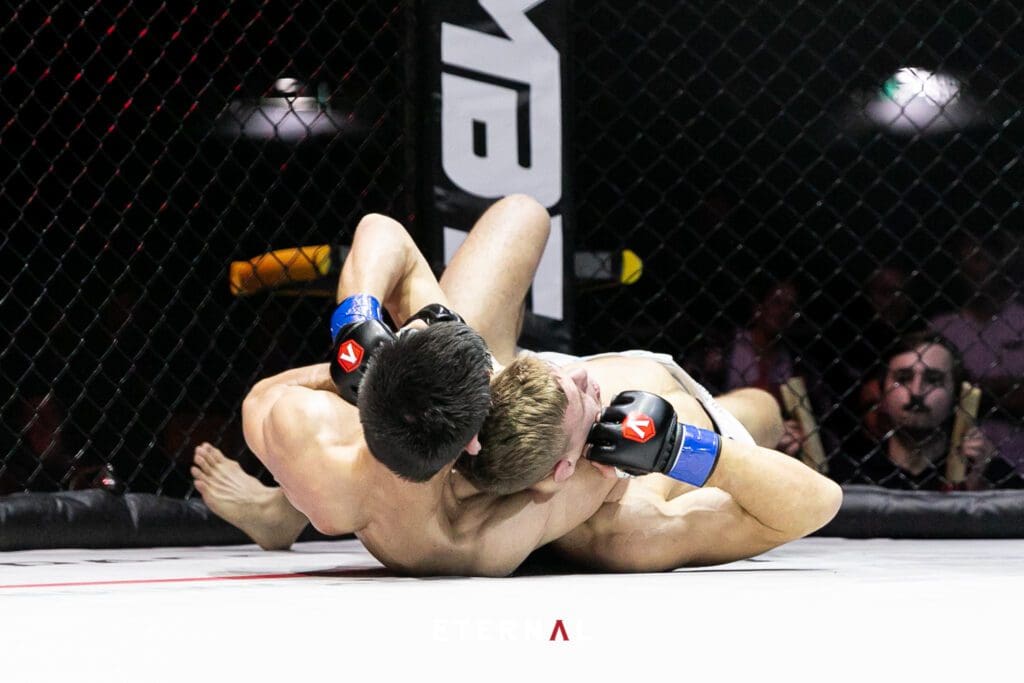 It wasn't to be, as Haddon hand-fought with all his might to break the submission attempt and earn himself a trip into round 2. This was going to take something extra. This was going to take a 3-round effort at a fast and furious pace.
With Erceg eventually getting his hand raised at the final bell in one of the most exciting fights we have ever seen in Eternal MMA history, it would see his current win streak move to 6, with the previous 5 all being at his true home at Flyweight.
Now with a professional record of 7-1-0, it's an impressive run that has seen him dominate his opponents at almost every juncture, with five of his seven wins coming by way of finish.
A well-rounded fighter whose strength is in his ground game, now boasts 4 submission wins on his pro record. But what makes him so dangerous is that his stand-up game is arguably just as sharp as his grappling skills. It's quickly become a matter of 'pick your poison' for many of his opponents, Erceg already claims a win via knockout against his next opponent in title challenger, Paul Loga.
Perhaps the biggest statement win to date was the submission win against then champion, Shannon Ross at Eternal 52, the crowning moment in his surging run to his first title shot. A win via rear naked choke by Erceg was something he predicted in the lead up to their title fight. But what made it even more impressive was the calibre of his opponent. At the time, Ross was undefeated at Flyweight with 5 wins in that weight class. A streak that would culminate in a round 3 knockout victory over mutual opponent Paul Loga.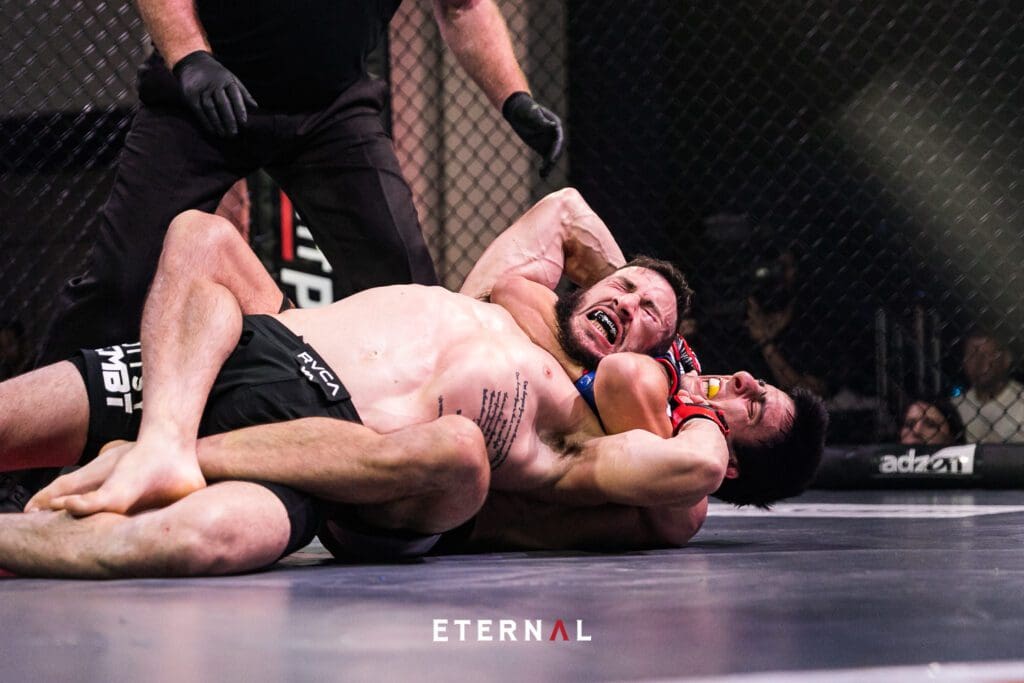 That run would be brought to a sudden halt, as the Jiu-Jitsu brown-belt did what he does best and picked up the submission win in the very first round. Showcasing his vast skillset, Erceg mixed up his strikes to the head and body, softening the legs of Ross with sharp kicks, all the while utilising his combinations to good effect.
A dangerous and powerful striker, Ross gave Erceg plenty to think about early even while spending most of the fight on the back foot. But it was Erceg who would get the better of the exchanges with a perfectly timed right-hand counter to the side of the head of Ross, dropping him to the canvas.
The fight would never leave the mat and it would never make it out of the first round.
Deadly, calculated, ruthless.
Fast forward to October, with another hard-earned victory under his belt and a rematch with Paul Loga on the horizon, Stephen Erceg's attention is now firmly back on his weight class that he calls home. It is clear to Erceg that the battle with Cody Haddon was an experience that levelled him up in all the ways that truly matter.
Speaking with Eternal MMA, Erceg gave his thoughts on how the fight with Haddon elevated him as a mixed martial artist.
"You always learn something from every fight. There was a lot of things in that fight, mostly from a heart perspective. You know you've got the skills and everything. But you watch something Volkanovski vs Ortega last weekend, you see those guys get put in the positions you're like, could I even do that?
"I was that tired after the third (round), could I go to the fourth like Ortega did or get out of the triangle? When you get put in those moments and you get to look back and you're like oh man, yeah, I am that tough too. I can dig deep when I'm absolutely f*****."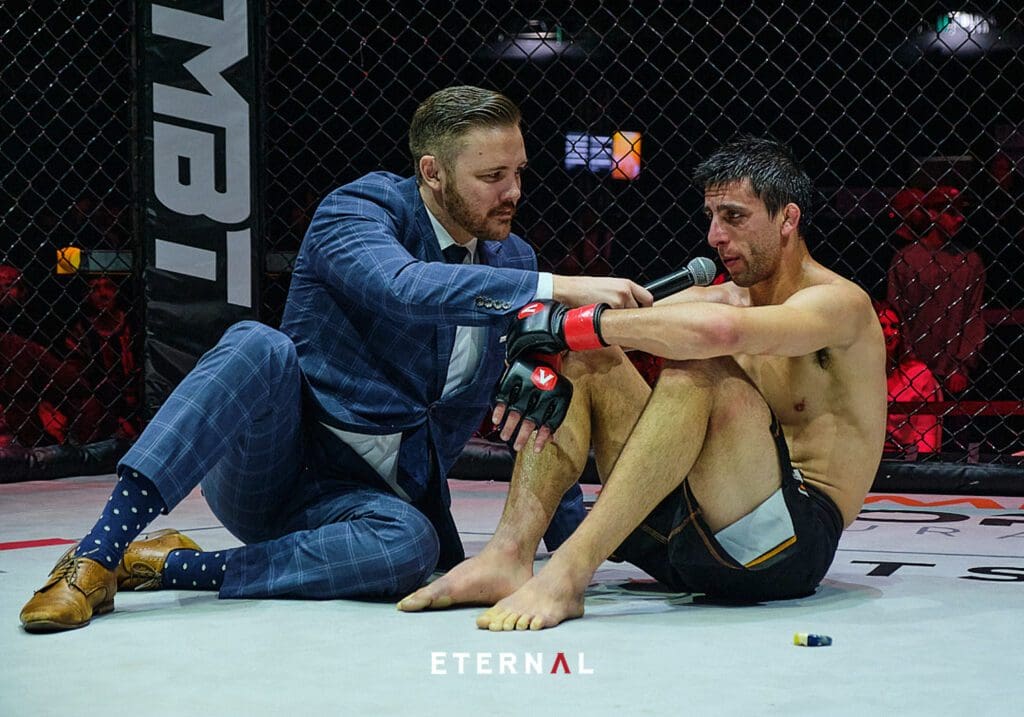 After speaking with Erceg, it became apparent that his qualities not only as a competitor, but as a human being, could be in-part attributed to a close unit and support system within his camp. The relationship shared with his coach (Wilkes Martial Arts and Fitness Academy head coach, David Wilkes) and his father Matthew, is something that has been voiced by Stephen after past fights. It is his belief that the guidance provided from the pair have been the biggest contributing factors to his success.
"After watching one of the UFC events where Brock Lesnar fought, I just told Dad I really want to do MMA. So, he found an MMA gym and took me to (that) gym."
"I quickly realised that at that gym it wasn't a 'fight' gym, it was a martial arts gym. It was 'Mixed Martial Arts', but it wasn't (necessarily) for competition. So, my dad and I both did that together for a long time. And then eventually, one of the guys from that gym got booked to do a sparring day. I didn't realise that you could fight from our gym at the time, so I was obviously very excited.
"I told my dad that I wanted to fight, and I'd just turned 18 at that stage. Obviously, I told my mum and everything as well… Mum was obviously against me fighting.
"Dad was the first one to say, 'look, he's 18 he can do what he wants', and so he supported me in that decision. Obviously, my mum's there to support me but, she's obviously worried about her little boy getting beat up and all that sort of stuff. So, she was just trying to protect me in a different way."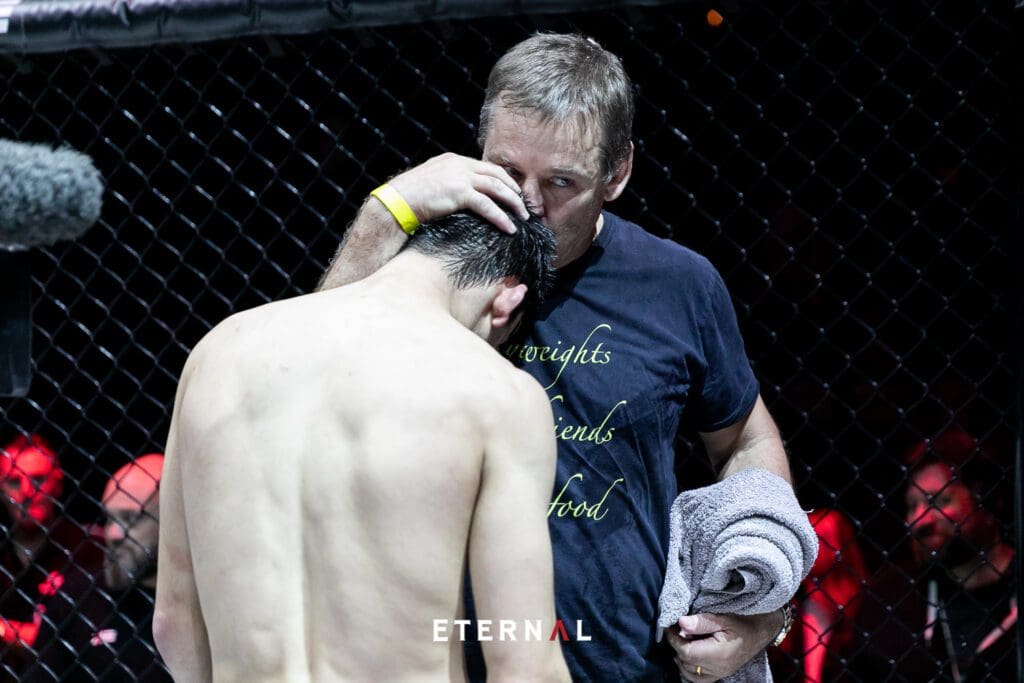 "(Dad) obviously held pads for me, he was there in my corner. He's been there, always. He helps coach at the gym now. He's been doing it as long as I have, so he coaches the MMA class at the gym now as well. Which is obviously very helpful for me because it means I can spend more time training.
"I go to my parents house once a week or so. I can talk to him about different things, we have a very close relationship in that way."
Of course, every athlete needs a symbiotic relationship with a coach in order to reach the upper echelons of their respective crafts. For Stephen Erceg, David Wilkes figures as the man behind the pads on a weekly basis and has been vital in Erceg's meteoric rise to flyweight champion. Though the coach himself was also initially taken by surprise when it came to his attention that Erceg had plans to fight inside the cage.
"He had fought competitively for a long time." – said Erceg on his coach.
"When I said I wanted to fight, I think it sort of took him by surprise too. And he goes 'look, if you're going to fight, you need somebody to hold pads and coach you. Do you want me to do that for you'? And I said, 'I'd love it if you held pads for me'. So, twice a week, every week he'd hold pads and all that sort of stuff in the lead up to the sparring day. I had my sparring day; it went well and then we kept doing the same thing (going forward)."
The coach-student relationship for Wilkes and Erceg would eventually lead to a job offer being tabled to the man they call 'AstroBoy' at the same gym where he trains. Another piece of the puzzle falling into place that would help solidify a solid base of work and training to support a burgeoning career in mixed martial arts.
"He's been very good." said Erceg.
"I work at the gym. He gave me a job at the gym. He's helped me build my life around martial arts and fighting. So, without those two (Erceg's father and Coach Wilkes) I couldn't even dream of doing what I'm doing right now."
It's this support network that will continue to play a key role in the lead up to Erceg's upcoming rematch against Paul Loga. Only this time, there is silverware on the line as Erceg will be looking to make his first title defence since he first won the flyweight belt from Shannon Ross.
A highly touted matchup prior to their first meeting would end in quick fashion, with Erceg winning by knockout in the very first round on the main card at Eternal 47. While the fight may have ended early, it was not without its early challenges for Erceg, as Loga pushed a heavy pace from the opening bell – pumping his jab to good effect and landing some seemingly heavy right hands-on Erceg's chin. Of course, it wouldn't be the story of the night, as Erceg literally punched his ticket for a future title shot with a swift left hook to the chin of Loga, leaving the referee no choice but to step in.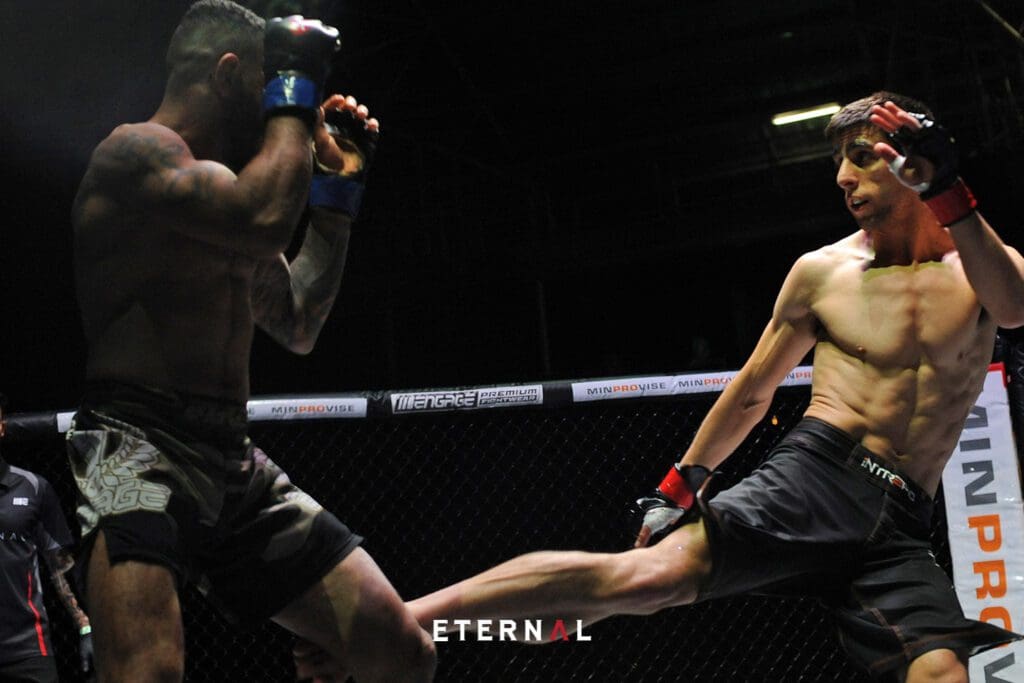 Since then, Loga has gone on a two-fight win streak of his own, and earning himself a rematch with the now champion, Erceg. A prospect that has the champ eager to prove once again, just who the king of the hill is at 57 kilograms.
"It's something I wanted to do, fight him again." – said Erceg.
"I know to start with he was landing good shots, and it was just all of a sudden I landed this one shot and put him out. It's not like it was super dominant and clear to everybody that I was a level above. So, I want to make sure this time that, not only that everybody knows – but he knows that it's my title, I'm the better guy and I'm coming to take him out."
It's this type of attitude that embodies what it means to be a true champion. Erceg is cognisant of the fact that – while there were certainly no question marks surrounding his first victory over Loga, there may still be a question as to who the true best fighter in the Flyweight division is.
In his mind, he already knows the answer to that question. But this time, Erceg wants to leave no doubt.
"I want to finish him on the feet. That's where his strength is, and I think I'm better than him there."
The desire is clear for anyone to see. This is a man who wants to put on a show and take his stature amongst fight fans to another level, while also gaining the respect he deserves from his peers. Another notion that should have fans salivating is the idea that Stephen Erceg's recent foray into a higher weight class may not be his last. With no issues competing at either weight, a game Erceg has one eye set on a potential matchup with the cream of the crop in the Bantamweight division.
"The home for now is at Flyweight. The only reason I'd go (back) up to Bantamweight is to fight Shaun Etchell." remarked Erceg, regarding his fighting future.
Etchell of course is the current reigning champion in the Bantamweight division.
But for now, Erceg's focus is firmly squared on the upcoming rematch against Paul Loga for the undisputed Eternal Flyweight Championship at Eternal 62 in his home city of Perth.
With an unwavering confidence, a loyal team and a healthy run of momentum on his side, we still don't know just how high the ceiling is for one Stephen 'AstroBoy' Erceg.
On October 30th within the confines of the cage inside HBF Stadium, we may just get another piece the answer.