It was with an enormous amount of excitement that I jumped out of my bed at 5am on Wednesday 17th of March. I can assure you that it's not often I am excited to wake up at 5am! The first ever 'Eternal Fight Weekend' was the cause of that excitement. An ambitious and ballsy move from the Eternal Team to put on two shows over two nights in the same venue, where four championship belts would be retained or rehomed. I can tell you sitting here post the event, we pulled it off!
Even travelling felt weird, living in WA every trip is a marathon, COVID had put a stop to my frequent travelling (I'd been on one plane trip since we kicked off 2020 with the three shows in three weeks). I definitely think travelling is like training, you get better at it the more you do it. Add to the usual discomfort of being sandwiched between two, usually oversized, FIFO workers the good old facemask and the hitleresque air stewardess shouting at you if it isn't covering pretty much all your face and the fact that due to budget constraints the entertainment has been switched off, it makes for a torturous five hours. I've always been a terrible sleeper and struggle to sleep in my comfortable bed, so sleep is out of the question but I was excited and the trip passed really quickly.
Arriving at the beautiful Mantra at Sharks Hotel is always nice, I have stayed there so many times now I know all the staff and am made to feel super welcome. Up to the room, quick shower, dump bags and first meeting with Cam in the books it's a restless night's sleep and up for weigh-ins for Eternal 57. As seems to be the case this year we had a late pullout, this time in the bantamweight tournament. To add insult to 'injury' our replacement missed weight by nearly three kilos and the tournament was off and poor Shaun Etchell was without a fight but as small consolation would get first crack at the winner of Meech vs Hibberd which would now be for the belt. All other fighters made weight at the first time of asking and we had ourselves a show! The rest of the day was spent checking in teams for Saturday and prepping the venue for Friday night. Two shows in two nights seems full on, but add to that all the associated work that goes with it and you have two very stressed promoters running around like blue arsed flies.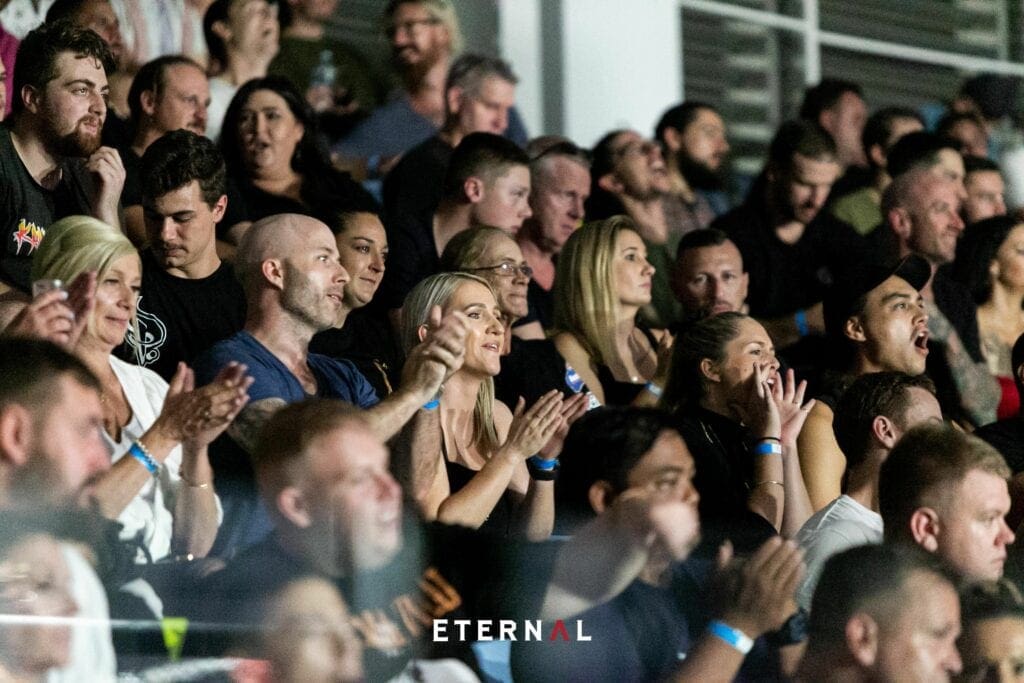 Friday morning and we were up with the sparrows to supervise the cage going in then back to Southport Sharks for Saturday's weigh ins'. Don't worry, I'm also confused and I was there. Saturday weigh-ins ran much smoother than Friday's with all fighters making weight at the first time of asking. Friday's card was strong but Saturday's card was the best I've ever seen in domestic MMA in my 10 years down under. Post weigh-ins we headed back to Carrara Indoor Stadium to get things underway. I won't go into the fights but you can catch them here but i will say the standard across the board from Fight 1 to Fight 8 was exceptional. Special mention must go to the Absolute MMA team with Sam Hibberd winning the bantamweight strap in spectacular fashion and Jack Jenkins with his first defence of his featherweight title, making short work of Jesse Medina in the much anticipated rematch. First night in the books and what a night, the atmosphere was through the roof and there were less than half the expected crowd for Saturday in attendance, which meant Saturday night would be wild. No time to celebrate, bed and an early rise for the crescendo.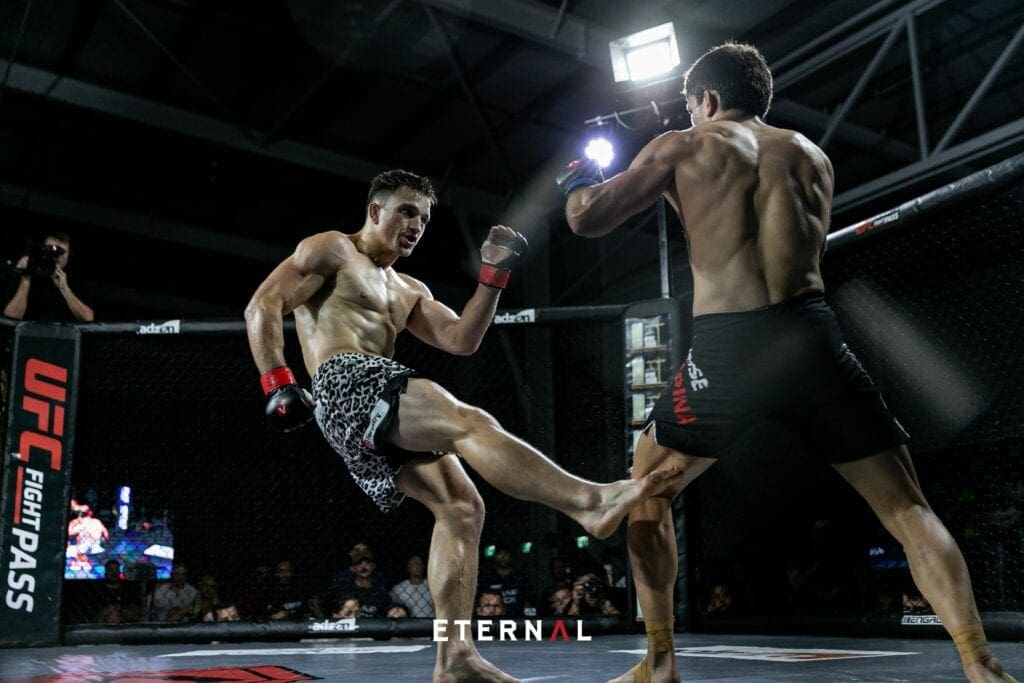 I must just say that the Eternal 58 event was the finest fight card, on paper, we had ever put together. Every fight had the potential to blow the roof off the venue. Add to that close to 2000 fans and the stage was set for fireworks. Every single fight was above and beyond expectation and the bar was set high in Bout 1 and continued to rise all the way to what was one of the most intense main events we have ever witnessed. John Fraser stepped up to the biggest challenge of his career and took everything the vicious Kitt Campbell threw at him, weathered the early storm and paid Kitt back in spades in the late rounds to get his hands on the middleweight title recently vacated by now UFC fighter Isi Fitikefu. Fraser will be a hard man to dethrone and I look forward to his first defence. Congratulations must also go to Dan Hill with a come from behind fourth round submission of the hugely talented Josh Togo. Hill taking the lightweight strap from the Australian Top Team man. 
Eternal 58 was phenomenal and all fighters and coaches should be remarkably proud of their fighters. The standard in Australian MMA right now is outstanding. Now there will be some people reading this saying "But what about the slippy canvas?" and I would like to take this opportunity to thank all the heroes on the internet with their opinions on what we should do and how we should have had a different material and all the other brain busting ideas. For those people let me tell you this, if you were upset, frustrated or pissed off by the canvas multiply your emotions by a million and you may get somewhere close to how Cam and I felt about it. We have used that canvas for 2 years and 8 shows and never had an issue, we also poured our heart, soul and money into this landmark weekend only to have to nearly call it off. Here at Eternal we are good, the best in the business but we can't control the weather. The humidity was through the roof and it made the canvas like an ice rink. Credit to the fighters who changed game plans and pushed through those terrible conditions. Mumford and Dimps put on one of the finest scraps I've ever seen and they had the worst of it so props to those two beasts. Mumford will get the next shot at Dan Hill's strap.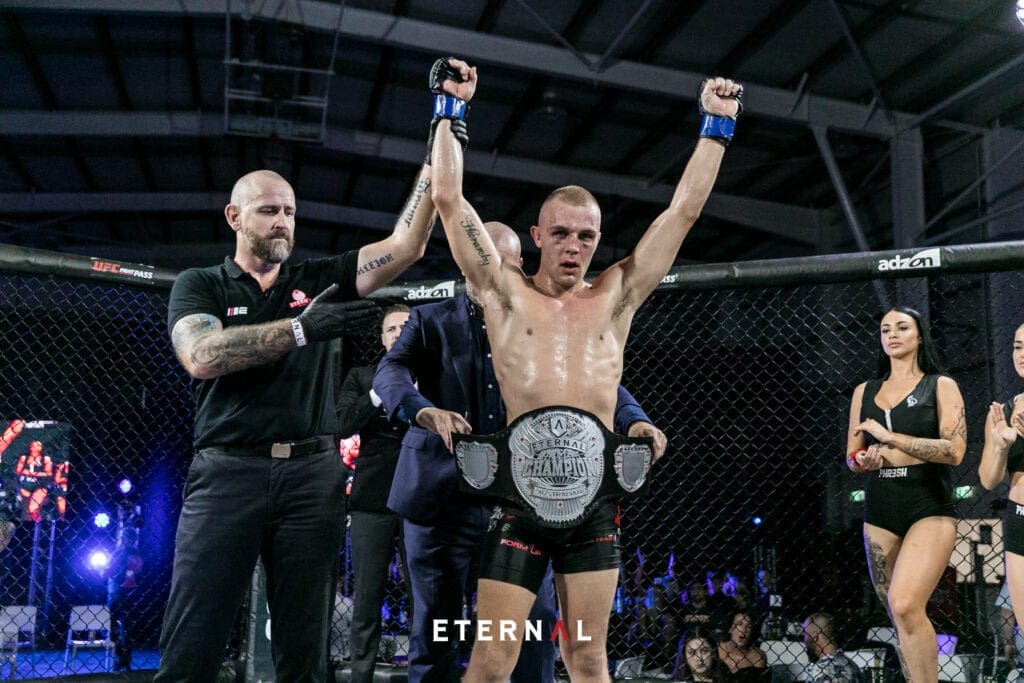 I'll be honest and say I wasn't so excited about the length of the trip home but knowing i'll see the wife and kids helps with the monotony of it all. Also, being exhausted helps with the plane sleeping situation. In summary Eternal put on the biggest weekend of MMA that has ever been seen at a domestic level in Australia (outside of the UFC and even then I'd say it was close) and we put over $60,000 into the pockets of the fighters. This is what makes me proudest about the whole thing. I have always said Eternal is a show for the fighters run by fighters (Albeit many moons ago for Cam and I to have laced the gloves up in anger) and we feel very strongly about giving back to the sport we love so dearly. I need a rest but I can't wait to do it all again, which won't be a long wait as we go again in Melbourne, May 7th.