June 16th will see Eternal MMA return to Queensland with a stacked fight card at the GC Sports & Leisure Centre.
Occupying one-half of the co-main event at Eternal 67, Justin Van Heerden will be looking to secure his third victory in a row against undefeated Eternal MMA debutant – Mohammad Alavi.
A fourteen-fight veteran of the game with seven of his professional bouts taking place inside the Eternal MMA cage, Van Heerden has become one of the mainstays of the featherweight division in Australian MMA.
Known for his exceptional grappling and suffocating Jiu-Jitsu, the man they now call "Lockjaw" has been living up to his name with two impressive submission victories to kick off his 2022 season on the right foot.
The most recent of those wins came at Eternal 65 – a triangle choke in the second round against highly talented striker and widely respected UK and Australian MMA stalwart, Alan Philpott, saw Van Heerden's stock rise considerably amongst fans pundits alike.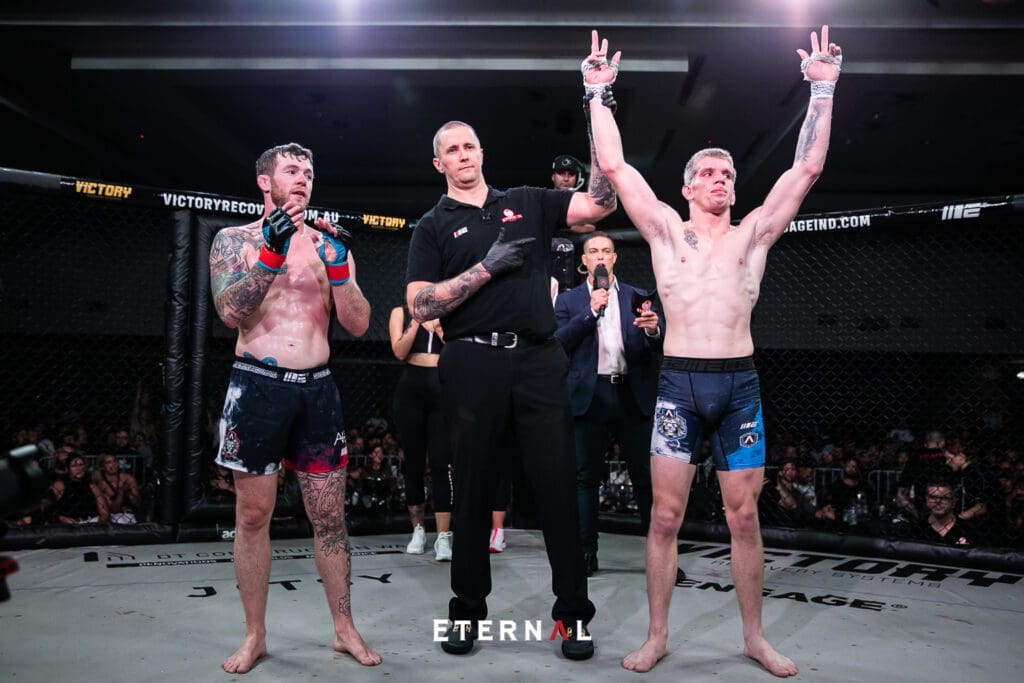 Speaking with Eternal MMA, Van Heerden reflected on his success that he feels has been discredited by his most recent opponent.
"He (Philpott) is sitting there on this podcast saying that he was winning the fight, he was outclassing me, he was piecing me up the whole fight, he had me hurt and nearly put away and that's how he end up getting put in the triangle."
"I had to respond to that (and say) 'look man, here's the facts. You hit air for most of the fight. You hit me cleanly probably two or three times.
"I made the adjustments at the end of the second round when I shot a takedown and got a hold of him. That sequence of me finishing that flight – that's something that I was able to do in a calculated way because of the preparation and the work that I did leading up to that fight.
"I was in camp for my last fight and Volk (Alexander Volkanovski) was in camp for (Brian) Ortega – obviously Ortega is a very good Jiu-Jitsu guy, so throughout the whole camp I was trying to throw up submissions from all sorts of crazy positions.
"Ultimately that finish on Philpott – that came as a result of that work and the improvements that I made as I was helping my teammate improve for a title fight."
"I have this chip on my shoulder because people keep putting me as an underdog in these fights, and that's fine, keep doing that because I'm going to keep proving people wrong,"
2021 saw Van Heerden find a new gym in Freestyle MMA, home to UFC Featherweight champion, Alexander Volkanovski, as well as world renowned MMA coach, Joe Lopez. The duo of Volkanovski and Lopez would form the spearhead of Van Heerden's coaching, before a longer than expected stay in North America would prevent the team from being in Van Heerden's corner for his first run of fights under the Freestyle MMA banner.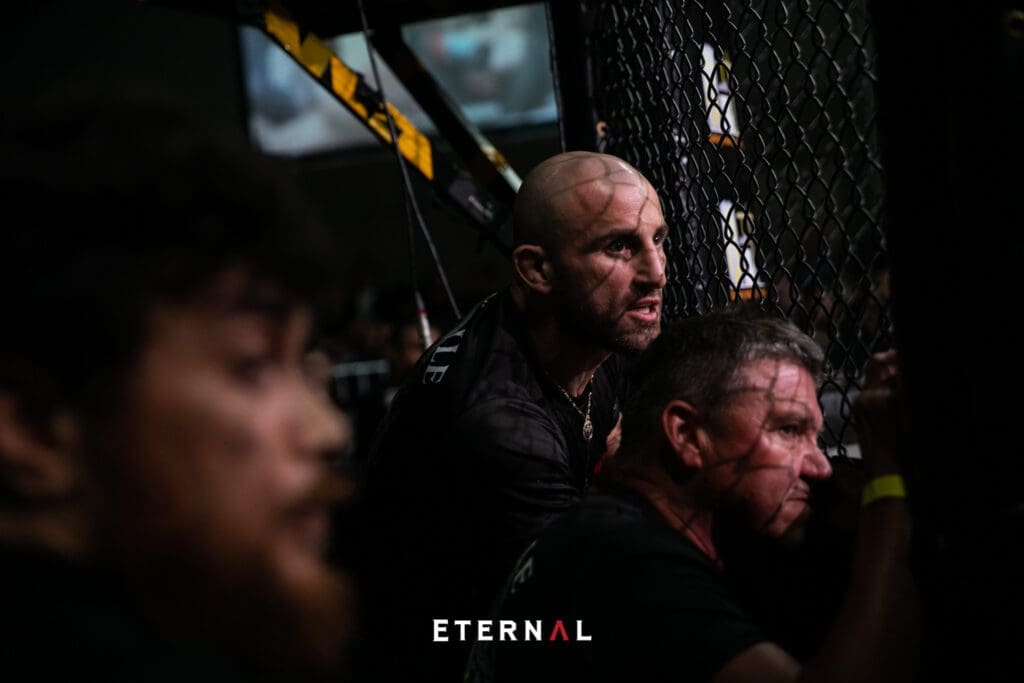 A disappointing first-round TKO loss to Rod Costa at Eternal 60 would be quickly turned around over his next two outings, a run that Van Heerden attributes to finally having his main coaches back in his corner.
"Every fight, every time you compete, you want to improve, build on things, identify the things you did good, identify the things you did bad," said Van Heerden
"Post the fight with (Rod) Costa, when I came into the fight after that with Josh Riley and then my last fight with Philpott, it was the first time I could have my coaches in my corner."
"Joe and Alex were away for my first few fights under Freestyle and that makes a difference. I'm pretty experienced, I've been around the game for a bit now, but to not have your coaches with you giving those adjustments (and) identifying the things in the heat of the moment during the fight, that's a bit of an adjustment you have to make yourself."
"I look at that fight (with Costa and think) if I was to run that fight back with my coaches by my side, I don't see it going the same way.
"I think that's evident if you look at my last two performances. You could see that having Joe and Alex there with me in my corner, you could see the mid-fight adjustments that I made. I was able to capitalise and get the win and also finish the fight in both instances."
The benefit of having such a high calibre of training partner and coaching team in his corner is clearly not lost on Van Heerden. With Volkanovski in the prime of his career and Lopez continuing to be one of the masters of breaking down situations with his fight IQ, Van Heerden believes it is the perfect melting pot for him to succeed when combined with his own wealth of experience in combat sports.
It is through these combined minds that Van Heerden forecasts an even bigger leap in his performances in the near future.
"I think that's why people would have seen the leaps I have made from fight to fight, especially so far this year in such quick succession," said Van Heerden.
"That's why this fight (against Alavi) I think people are going to see the leaps of improvement again.
"The Justin that's going to walk into the cage on July 16th would run through the Justin that fought Alan Philpott inside one round.
"It's not even the same standard or the same sort of level. I'm not the same person, I'm not the same fighter. That's what you want at the end of the day, and I feel like that's the real benefit.
"I'm in a place at Freestyle with my training partners, with the team that I have, with the coaching that I have – I'm able to continue to make those improvements because I'm just approaching it the same way.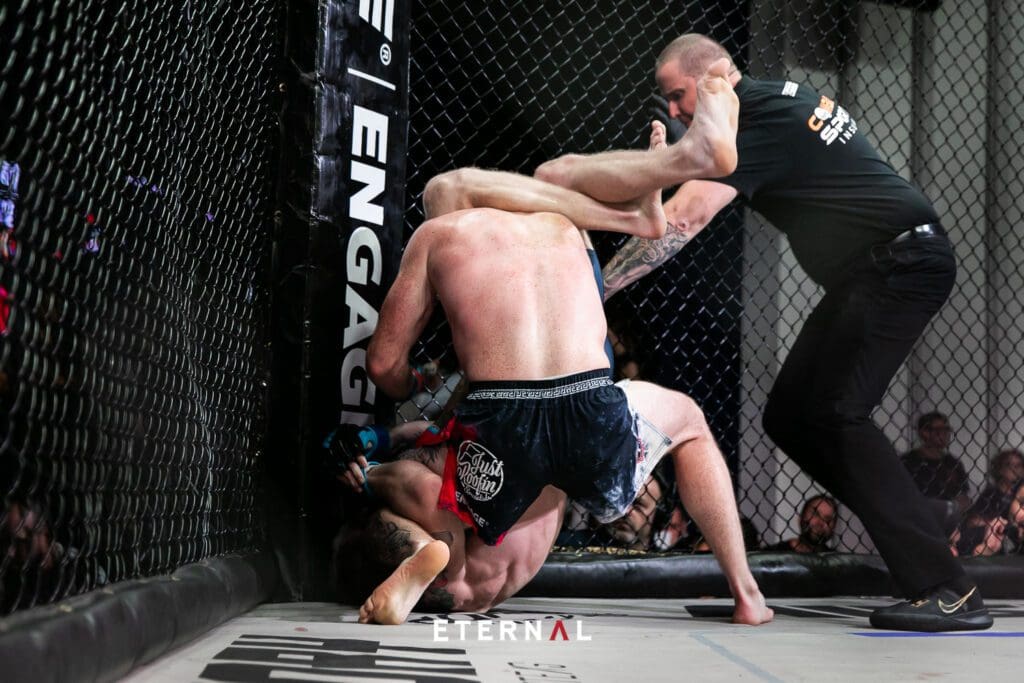 With four wins from his last five fights that have resulted in three finishes, Van Heerden believes that he is nowhere near his fighting prime or anywhere close to where he potential truly is. Still just twenty-eight years of age, the South African native fully expects to have many more fights ahead of him in his career.
Of course, his immediate future holds a matchup with surging fellow featherweight, Mohammad Alavi. While he was complimentary of Alavi's skill set, Van Heerden believes that it won't be nearly enough to prevent him from getting his hand raised.
"I'm a complete mixed martial artist," said Van Heerden.
"I'm fighting a dangerous guy, he's undefeated. But I think that this fight is going to be another opportunity for me to showcase the levels of improvement I have made across the board.
"Obviously, the wrestling, the grappling and that side of things is always going to be in my back pocket. That's always going to be sharp – that's always going to be something I can rely on. When it comes to my fight IQ, my distance management, my abilities on the feet now and the timing that I have.
"The speed, the power – all that stuff is going to come through."
While Van Heerden is confident in the evolution of his complete skill set, he admits that he feels no need to reach for style points in the pursuit of victory.
"For my ego, I don't need to go out there and try to showcase something just for the sake of it or just to impress a few people and show that I can do something, I can capitalise on the opportunity's as they present themselves."
"At the end of the day, if I want to take a hold of this dude, put him on his back and smash his face in for fifteen minutes, I can do that."
It's no secret that Freestyle MMA has got its bases covered both internationally and locally when it comes to solid representation in combat sports. Of course, Alexander Volkanovski – the crown jewel of the Windang-based gym, recently defended his Featherweight title for the fourth time with a resounding decision win against Max Holloway at UFC 276.
While Volkanovski is holding it down for the team overseas, Van Heerden is looking forward to continuing to make his own waves in his now adopted home country of Australia. A natural featherweight himself, Van Heerden believes a victory at Eternal 67 against Mohammad Alavi should leave no questions as to who the main man is in his weight class.
"It puts me as the clear number one featherweight in the country," said Van Heerden.
"The only other fight on the regional circuit that would make sense next would be (Eternal Featherweight champion) Jack Jenkins, but as far as I know, he's off to the races.
"I think a win over Alavi puts me in a clear position of being the number one featherweight in the country and sets me up nicely. I'll move to 10-5, I'll be on a three-fight win streak and hopefully another finish.
"I think people forget – I'm 4-1 in my last five with three finishes. I'm 8-3 at featherweight, a couple of my losses were up in weight on short notice."
"After this fight there can be no excuses. He's a dangerous dude, he's on a win streak, 7-0 and hasn't experienced much adversity up until this point.
"If I go out there and perform, beat him, finish him – which is what I'm aiming to do, that puts me as the best featherweight in the country."
Questioned as to how he sees himself getting his hand raised, Van Heerden visualises two clear paths to victory, with either outcome seemingly sitting just fine with the Brazilian Jiu-Jitsu brown-belt.
"I'm either going to find an opening early and put him away with a submission or TKO, or it's going to be fifteen minutes of brutal, brutal damage."
"If you haven't already, I suggest you sort out your UFC Fight Pass, unless you are going to be at the event itself. Eternal MMA is the biggest promotion in the country for a reason. They are putting these crazy cards together and it's an absolute privilege for me to be in a co-main slot again."
"Pay attention, stay tuned. I'm going to go out there and put another cracking performance on, get another finish and make my friends, family and all those supporting me a whole lot of money in the process."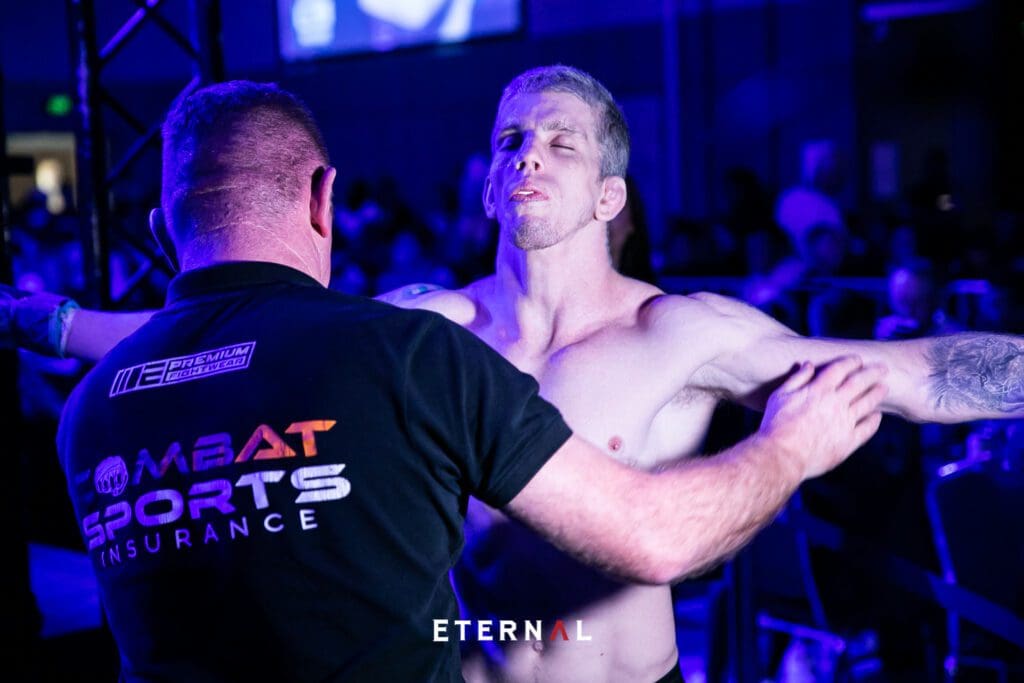 – Eternal 67 main card will be streamed July 16th live and exclusive on UFC Fight Pass.