May 7th, 2022 will forever be known as the date that one of the greatest – if not the greatest mixed martial contest in Australian combat sports history was witnessed by fans live at Southport Sharks on the Gold Coast for Eternal 72.
Two of the most electric lightweights in the country stood toe to toe for fifteen straight minutes without conceding an inch until the final horn sounded. A relentless display of striking coupled with seemingly endless cardio from both combatants had the crowd in attendance on their feet for almost as long as the contest lasted.
Wins and losses aside, Josh Kuhne and Dimps Gillies would leave the arena with their stock elevated astronomically higher than what they came in with – and what they came in with was already experiencing a boom time.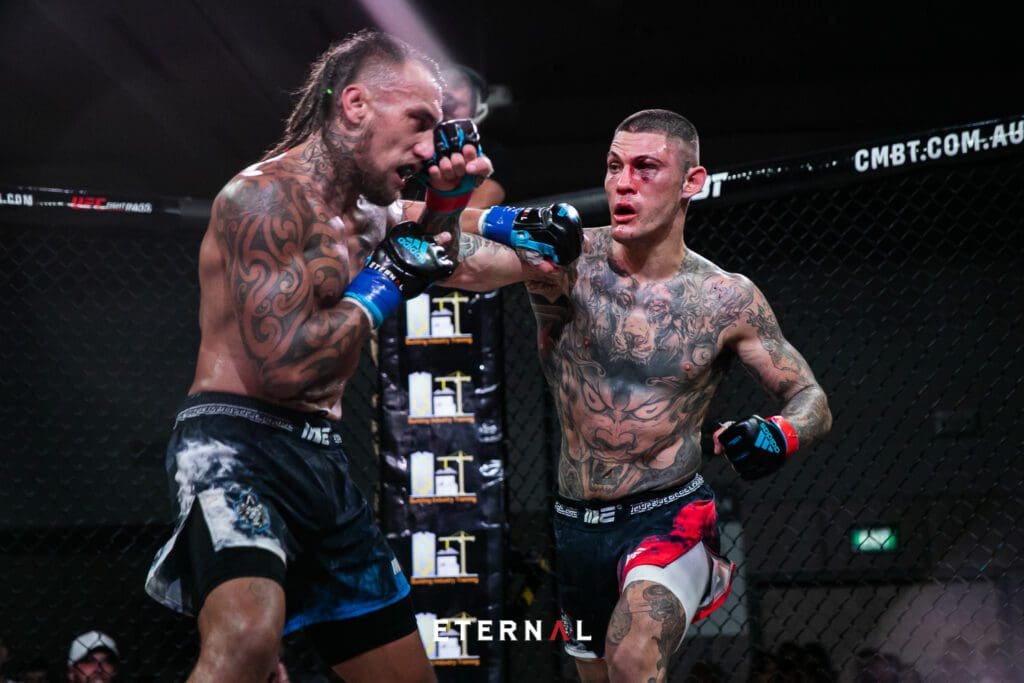 "I have never seen anything like that in my life! If you are not on your feet at home in your living room, get off your couch and get on your feet for these gentlemen!"
Appropriately stunned words immediately preceding the fights conclusion from co-promoter and stand-in commentator, Ben Vickers.
"Violence personified here tonight at Eternal 65!"
Echoing's not remotely in the realm of hyperbole from lead commentator, Tanera Nathan.
Making the walk for just his fourth professional fight in his young career, Kuhne would finally find a challenger who would escape his wrath beyond the first round. Not only that, but Gillies would also fight the Kamikaze firepower with his own brand of evenly matched weaponry to outlast Kuhne and hand him his first defeat.
As the old saying in combat sports goes; you either win or you learn. It is Kuhne's firm stance that he drew nothing but positives away from a fight that will live long in the memory of fans for years to come.
"Officially on my record, it's a loss. But for me that was a massive gain – a massive win," said Kuhne.
"I knew where I was lacking in so many departments, but it was a matter of going through the experience to be able to (understand it properly).
"I was lacking a bit of experience in there, a bit of composure, I wasn't sticking to the game plan. There was a lot of things that I felt like I was aware of, but I had to go through the motions to really feel the repercussions of not seeing those things done.
"I'm still pretty new to the game. I've been getting blasted going through this MMA journey, taking fights actively and running my way up through the rankings pretty quickly.
"I was rushing a bit, so I took a bit of time to step away and slow things down; think about my process, look at everything as a whole and not feel that rush."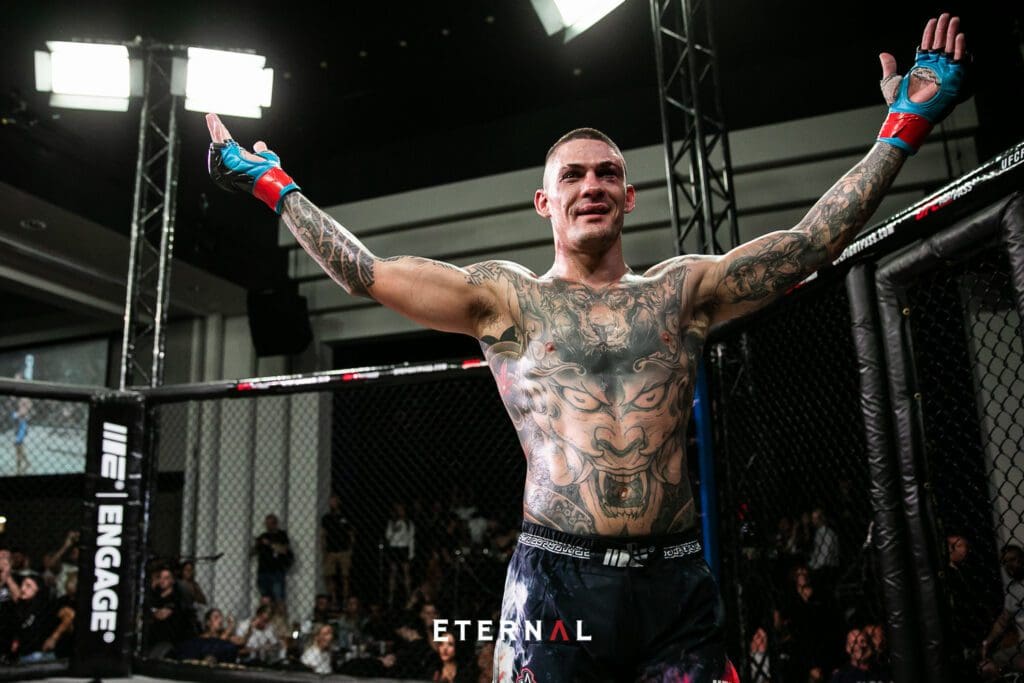 The time after the fight with Gillies allowed Kuhne to think clearly about what he wants from the sport and what he can do best benefit his career opportunities in long run.
Having fought as high as welterweight during his amateur outings, Kuhne would go on to compete exclusively at lightweight for his first four professional bouts.
Running through his first three opponents relatively unchecked, Kuhne made the discovery during his rampage on the 70 kilogram division that he could make an even further drop in weight class for his future fights.
"I knew that it was possible about two fights ago that I could make featherweight, but as per most things leading into my last fight it was an 'if it ain't broke, don't fix it' (mentality)," he said.
"Now that I've taken my last loss against Dimps, I wanted to come back and make improvements in every aspect that I could and take the sport as professionally as I could. That's meant going down a weight class, being big for the division and being extra disciplined with my diet.
"The other thing is too, if the UFC is looking for featherweights for a call up – they'll have a featherweight. If they're looking for lightweights for a call up – they'll have a lightweight. I can complete in two weight divisions, and I think that's pretty appealing."
At this stage of Kuhne's career, it is beginning to paint the picture of a theme centred largely around one aspect…
Sacrifice.
A family man with a supporting wife and twin boys at home, Kuhne also runs his own tattoo business on the Gold Coast. A rewarding lifestyle and commitment, but certainly not without its challenges as he pursues his dream of being a full time competitive mixed martial artist.
On top of the extra discipline required to make weight in a smaller division, Kuhne made the choice to move his fight camp south from the Gold Coast all the way to Freestyle MMA in Windang, New South Wales – home of UFC pound for pound king and reigning featherweight champion, Alexander Volkanovski.
Taking him further away from home and his family, Kuhne concedes that it was the best choice he could make in order to push himself to the next level.
"It been massive," said Kuhne of his new camp.
"To be surrounded by a lot of other good featherweights, lightweights, obviously the likes of Alex himself; there's no better training partners or coaches. I've got Joe Lopez there looking after me; he's mad old-school. I get a lot from learning and training with him. He keeps me disciplined.
"Overall, it was a massive move for me. Being away from home, being in New South Wales, being away from business, being away from my kids and my wife – everything. But to be away at Freestyle and to do my camp there, it was pretty rewarding. I've definitely felt the benefits from it."
Looking ahead to his matchup with Abdalla Biayda in a new weight class at Eternal 72, Kuhne is adamant that the devastating power he exhibited as a lightweight will be making the journey down with him.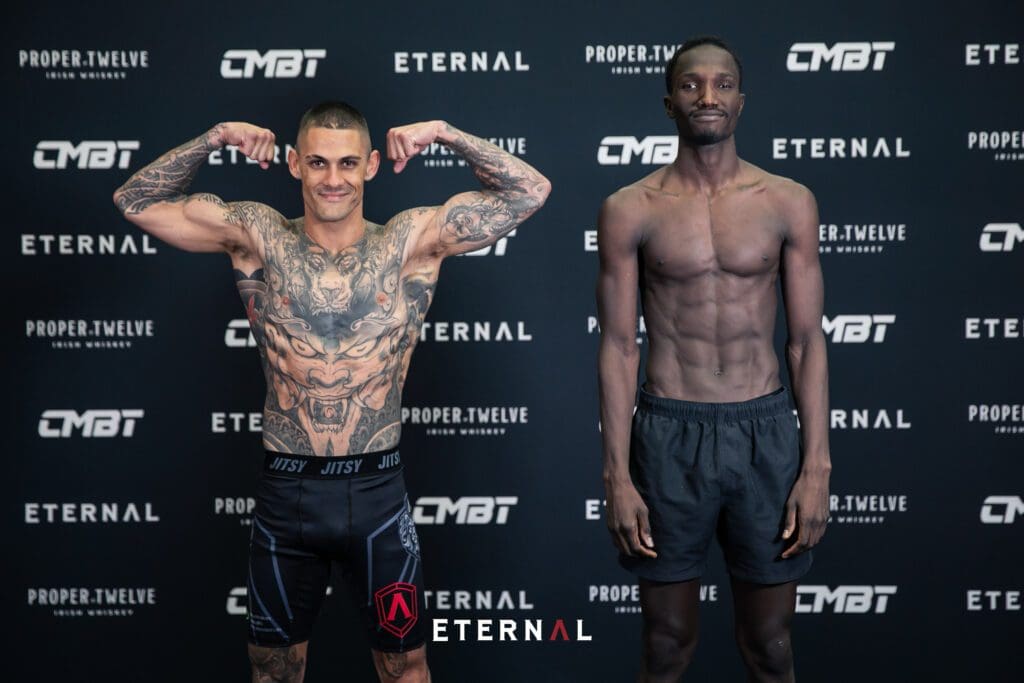 Known for his relentless striking onslaughts from the opening bell that all six of his first opponents as an amateur and professional failed to withstand, Kuhne warns that the extra weight cut will have no negative impact on the firepower that he possesses in his hands.
"That power is going to be maintained one hundred percent," he professed.
"When I rehydrate, I feel like I'm going to be the same size as I am as a lightweight. Because of how the weight cut is, where I normally sit and what I walk back in at; I feel like I'm going to rehydrate exactly the same as I would at lightweight, but as a featherweight.
"To say I'm going to be too big for the division? Yeah, I'm going to be big. These featherweights? I don't know how they are going to handle this power."
It's a chilling prospect for any competitor who dares to share the cage with Kuhne at any weight, let alone in a weight class that he will have a potentially distinct size advantage in. With a renewed focus on conditioning, diet and an overall approach to the game, Kuhne assures that his newfound home at featherweight will still see him accompanied by the Kamikaze spirit.
"I go out there and I press the action, that's still me," he said.
"You are still going to get the Kamikaze performance (but) there's going to be an element of professionalism that wasn't there last time, implemented this time."
"They put me on this platform for a reason, there's a reason people tune in watch my fights. I make people feel those raw emotions. I make people feel like they are in the Gladiator times. I want people to feel those raw emotions when they see me fight.
"That's what I do when I get in there. I'm there for the people, I fight for the people and I'm an entertainer at heart."
Eternal 72 can be versed Friday, December 2nd live and exclusive on UFC Fight Pass. Fans can visit eternalmma.com to purchase tickets for this event.