The title fight main event for Eternal 72 will play host to a rare circumstance.
Not only have the two men involved already faced each other but did so in the very last fight they competed in prior to the middleweight title fight they will square off in this coming Friday.
Eternal 69 saw Middleweight champion John Martin Fraser step in on weeks' notice to face New Zealand native – Mat Myers, who needed a new dance partner after his original fight was scrapped due his opponent sustaining an injury.
According to Eternal MMA promoter Cam O'Neill, there was absolutely zero hesitation from either camp when it came to accepting the late notice catchweight bout.
On paper, it was a risky proposition for Fraser to accept. A year and a half removed from his last fight and with no training camp to sharpen his blade, the Welsh export put all but is championship belt on the line to save the fight and get himself back inside the cage.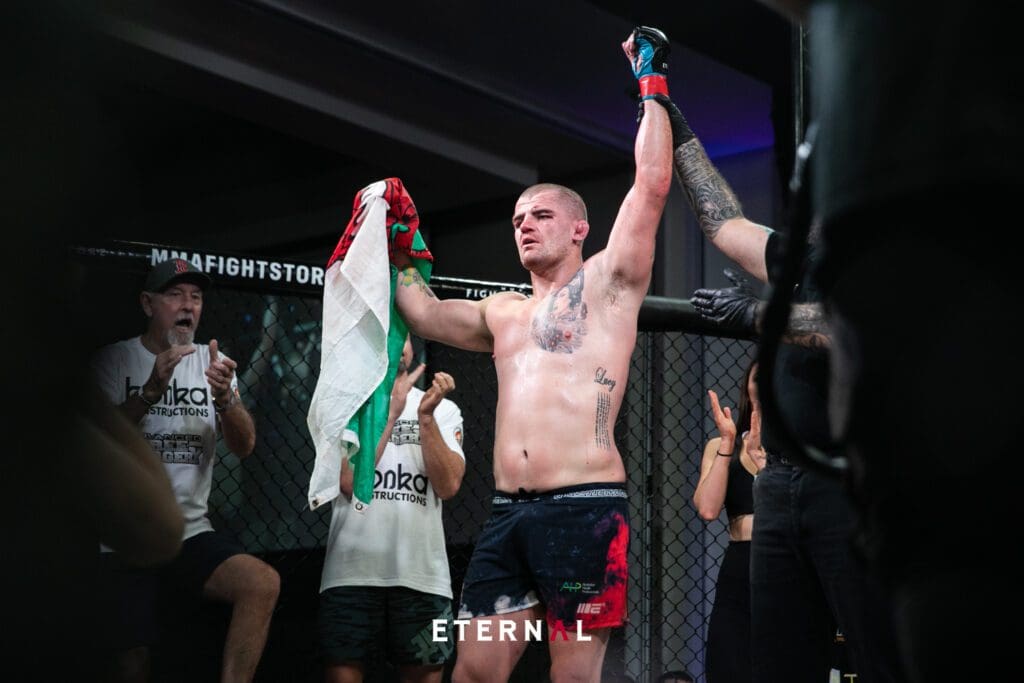 Speaking with Eternal MMA, Fraser shared his sentiments on stepping up to plate and facing Myers for what would ultimately be the table-setter for a future, higher stakes fight between the pair.
"I one hundred percent wanted to take that fight," said Fraser.
"I'd had eighteen months off after the Kitt Campbell fight; that was the last time I fought. I'd had two training camps that were wasted. When I went back to the UK, I was training to fight on Cage Warriors, that (fight) fell through because the guy had a sickness. The second one, I had an injury. Three months later I ended up having hand surgery.
"I wasn't planning on fighting until December because of my hand and I hadn't had the (training) camp. But as soon opportunity was offered to me, I just thought that this was a sign that I need to take this. I'd be daft not to."
"I just want to fight. You get sports fighters, and you get 'fighters' fighters – I think I'm a fighter's fighter."
A fighter's fighter no doubt John Martin Fraser is. After a battle of attrition with Kitt Campbell at Eternal 58, Fraser ground and pounded his way to a stoppage victory in the fourth round that subsequently earned him his first Eternal MMA title.
What proceeded the championship winning fight would be a sixteen-month stint back at home in Wales. Training at Shore MMA, Fraser rounded out his skillset to become a more complete fighter.
No longer just a striker, Fraser worked hard on his grappling game. Levelling up in all facets of MMA in order to better prepare himself for the challenges that lay ahead – both abroad and at home.
Now back in Australia, Fraser feels he is as prepared as ever to meet his first title defence head on.
"You're just going to see a different fighter," he said.
"Watching that last fight; I don't like watching it in terms of seeing my performance on the feet. I was fat and slow.
"It was literally the Monday after that last fight that I was back in the gym, back hitting pads and just getting prepared for this next fight. I'm the fittest and strongest I've ever been at the moment, so, you are going to see the better version of myself."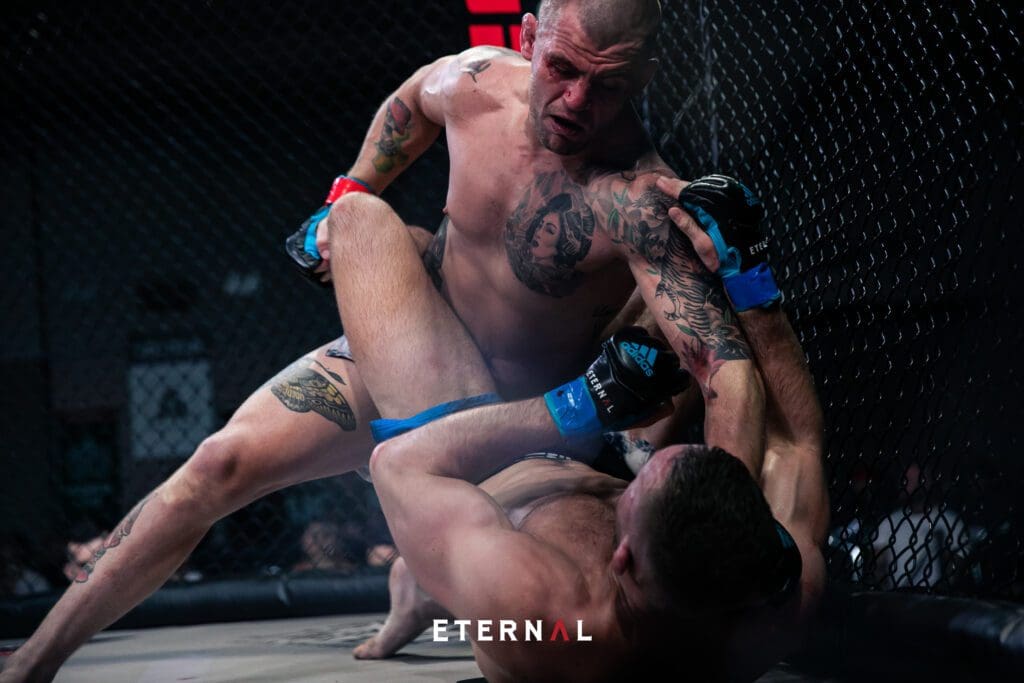 Anyone who has spent five minutes talking to John Fraser about mixed martial arts know that he is about as real as it gets.
A straight shooter with no presumptive notions about his recent victory over Myers, Fraser is taking no extra confidence outside of him own improved abilities into their title fight on December 2nd.
"I think this one is just a brand new fight," he said.
"A few people have said (to me) that I must be going in there full of confidence because I've beaten him before, so it must be an easy fight? Not at all. At the end of the day, fighting is fighting. We've both got a chin, we've both got a pair of arms and legs and a neck to choke each other.
"You just never know what's going to happen. That for me is the most exciting thing about fighting. You can do everything right, you can have the best camp, you can go in with a hundred and ten percent belief and confidence in yourself. But you could make slip and you end up getting put to sleep."
"I have helped my own confidence, but that's the reality of fighting. That's why fighting is exciting to me. The way I have prepared for Mat this time; it's like a completely new fight."
The time between fights has been not only beneficial to Fraser's skillset, but also his mental approach to the game. Months on the sidelines grinding in the gym while simultaneously missing fights due to injury, the fire inside Fraser continued to burn as he marched towards a return date.
Now with a first title defence in his sights, the 6-2-0 champion has clarity on what a win against his familiar foe could mean for his long-term career.
"I think it's undeniable that I'm the best in Australia and I think there's a pretty good argument to be made that I hold my place in the UFC. I don't think I'd look out of place there at all. That's going to happen, whether it's after this fight or the fight after that.
"Whenever it is, I'm going to end up there."
Not one to look past an upcoming opponent, Fraser assures Eternal MMA fans that they will be without doubt getting their money's worth for the high-level main event that will close the show for Eternal 72.
"You are going to see a high-level performance, it's going to be an exciting fight," he said.
"It's just not one to missed. We both come to bring the fight. Mat's a game opponent, I'm a game opponent. I'm going out to finish him and he's definitely coming out to finish me. So, it would be a mad one to miss."
"I've prepared for everything. I'm ready to go five rounds but I definitely see it in my head that I'm going to knock him out in the first round."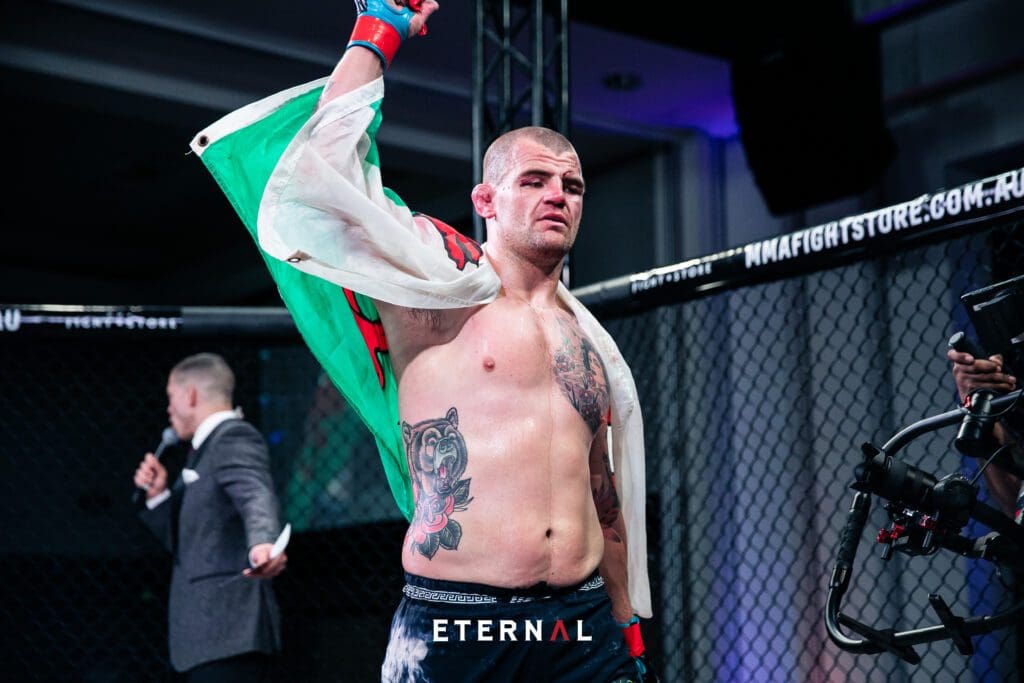 Meeting him across the other side of the cage in the blue corner will be the man who would argue to the contrary.
A native of Whangaparaoa, New Zealand now residing in Victoria, Australia – Mat Myers has been forging his own path in mixed martial arts on route to his first fight for a title.
After moving to Australia with his parents at the age of seventeen, Myers was seeking a fresh start in a new country that would put him on a better path than he was heading down back at home.
It would be in Australia that he would meet his now head coach at Adrenaline MMA – Cris Brown.
For Myers, it would be a major turning point in his life and the biggest contributing factor in becoming the man who is is today.
Fast forward ten years later after attending the gym every day since, Myers is slated to headline an Eternal MMA card against a man that he was more than familiar with prior to their first meeting.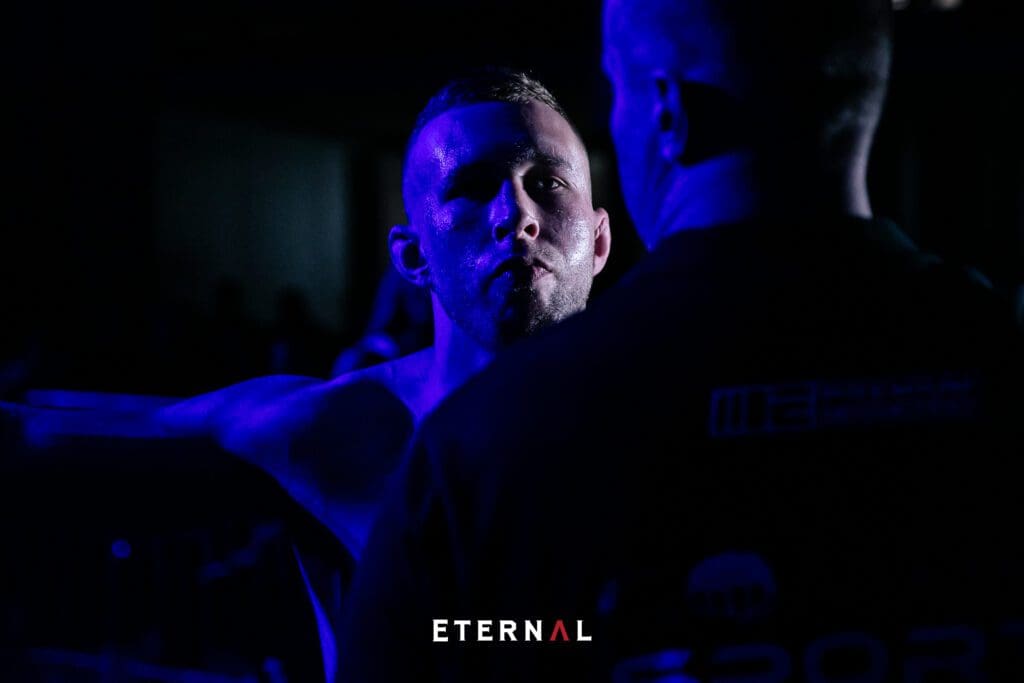 "I've been watching John for a while," said Myers.
"I was a welterweight before this last fight that we had, and I had planned on moving up (to middleweight) for a while. But I didn't expect to be fighting guys like John straight away.
"I remember watching John multiple times with my mates at barbecues, getting on the piss and watching Eternal fights. My best mate: John was his favourite guy to watch.
A fan himself of Fraser's work inside the cage, Myers concedes that being in awe of the Welshman's performances in the past resulted in him needing to overcome some mental hurdles when he was eventually tasked with becoming his next opponent.
"It was the unknown monster," he said.
"You watch him knock all these people out and he's this scary Welsh guy. Standing toe to toe with Kitt Campbell – someone I've trained with before and beating him at his own fight. That's Kitt's bread and butter; stand in front of people and trade. John beat him at that.
"He was this guy that I'd watched for a long time and rated highly – I still do. Just to get in there with him, be me and not have that fear was what I took away from it (the first fight) most. He's a human being. He's just a man."
"I've probably watched the fight five or six times. That fights done, he got me, I'll hold myself accountable for that. We've made adjustments to the mistakes that I made in that fight that ultimately got John the win, I think.
"It's just another fight. It doesn't matter if it's the same guy or not. That's the way we are taking it."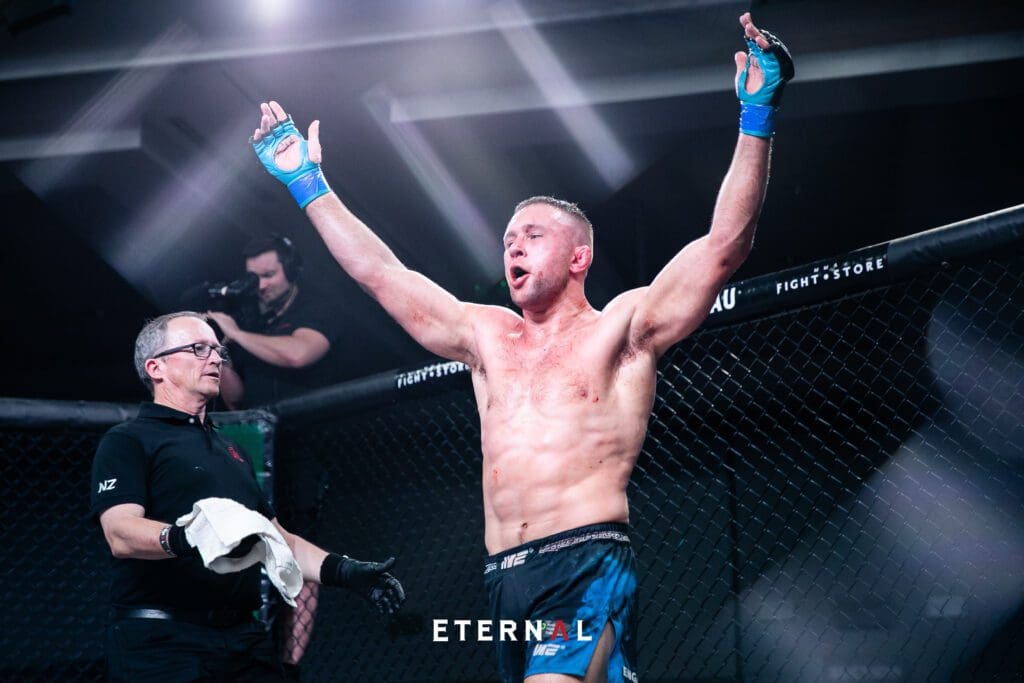 It's hard not to make comparisons to the two men involved in the main event for Eternal 72, especially when it comes to a fighter's mentality. As has been stated on record many times in the lead up to the contest, both men were willing to face each other on a moments notice with zero questions asked.
It's the same way that each have carried themselves from the start of their career up until their scheduled title fight.
While the concept is not foreign to Myers, he believes that the region has an issue of fighters being too selective with their potential opponents.
"Fighters fight. I'll fight anyone," he said.
"I think that in Australian MMA we have a really bad culture of ducking people and picking and choosing our fights. I understand that this is a business, and you need to build your way up. But at the end of the day, if you're good enough to be in the UFC – you're good enough."
"That's just the way I live. I'd rather be that guy in thirty years knowing that I gave it a good crack. I didn't just pick and choose. I'd rather know that I gave it everything I could. I tried my best to be the best and put myself out there."
It's a refreshing attitude not often seen at this level in mixed martial arts. This is a cutthroat business. A split-second lapse in judgement can alter a fighter's career trajectory without warning. The reverberating effects of wins and losses are the lifeblood of a combat sports athlete.
It's what makes the mentality of fighters like John Fraser and Mat Myers that much more special. It's a part of the reason why the two will get to square off again at Eternal 72 immediately after their first fight. A middleweight championship bout on the biggest stage of Australian MMA is just reward for two fighters willing to put it all on the line when the opportunities come knocking.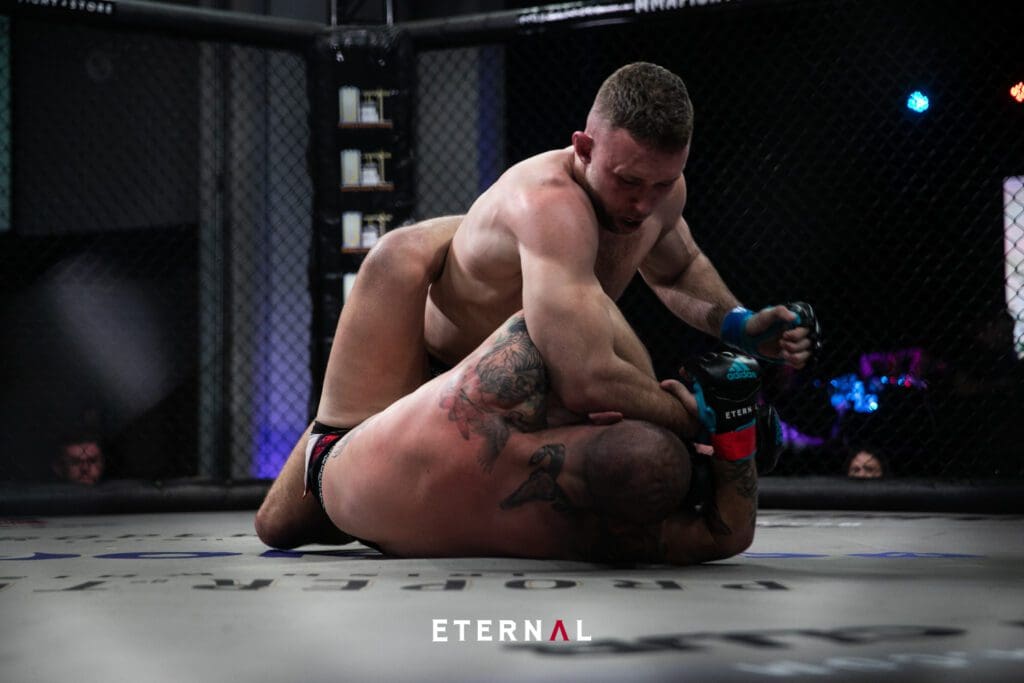 For Myers, it's an opportunity to not only win his first championship, but also a chance to repay the faith that he has been given by his coaches and training partners since he first arrived at the gym.
"As fighters, we make a lot of sacrifice," he said.
"For me, (the title) would mean a lot. But even more so for my coach and the people at the gym – it would mean everything. I came into our gym as just some skinny little Kiwi fresh off the boat; a tough kid that liked to punch-on.
"Ten years later, I'm fighting for the most prestigious belt in the country."
In order to claim the belt, Myers knows that he will need to summon the best performance of his career. Having already faced the hard-nosed Welshman, Myers feels that he is ready to showcase the necessary improvements made when the lights are at their brightest.
"Knowing John; he's a tough customer," he said
"I was hitting him with a lot of big elbows underneath. Even on the cage, I felt like I hurt him once or twice in that (first) fight. He just doesn't stop. He'll keep going, he doesn't care, nothing fazes him. He's just really tough.
"I don't see one certain way (to win), but I do see myself rocking him at some point and that being the decider. I can't sit here and say I'm going to put him away flat out, because many have tried, and many have failed. But I know I'm going to win.
"That's the only thing that I know for certain. I'll be getting my hand raised at the end of it. Whether he's got his consciousness or not, I'll be getting my hand raised."
"To my friends and family; I'll apologise is in advance because I'm ready for a war, I'm ready for violence."
Eternal 72 can be be viewed on Friday, December 2nd live and exclusive on UFC Fight Pass. Fans can visit eternalmma.com to purchase tickets for this event.