As Australian combat sports primes itself for a highly promising 2023, Eternal MMA reflects on a year gone by in which so many positives came to fruition for the country's leading mixed martial arts entity.
2022 was certainly a banner year for the Gold Coast based promotion. A year that saw incredible match-making lead to even better fights, highlight-reel finishes, new champions in several weight classes and former local stars find success on the international stage.
In total, Eternal MMA produced nine fight cards across the states of Queensland and Western Australia, visiting three different venues in the process including four shows at Eternals spiritual home – Southport Sharks.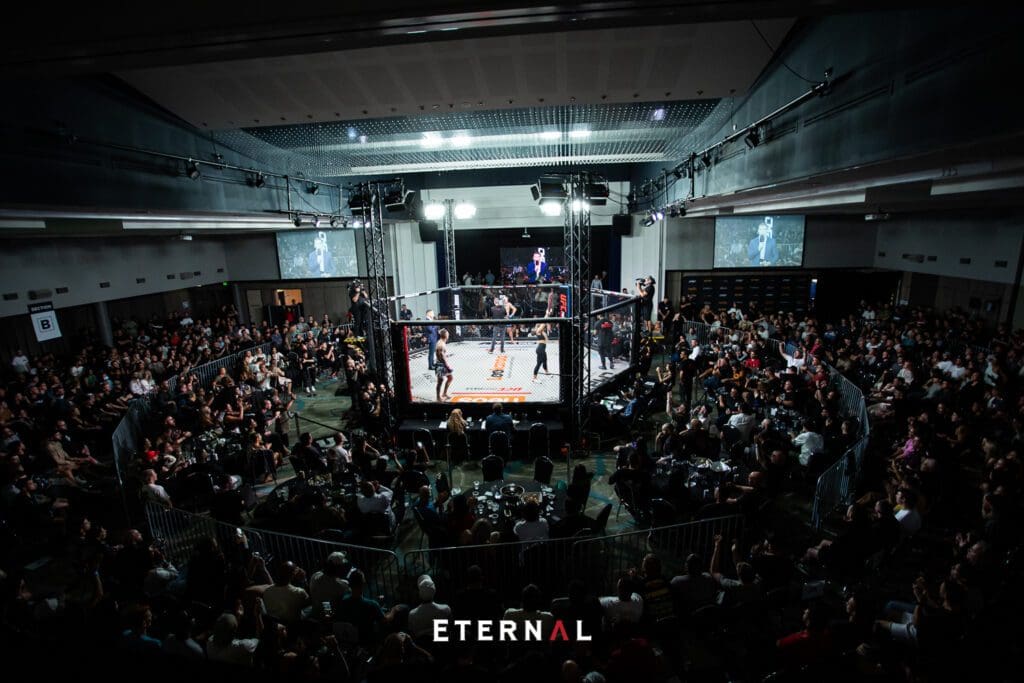 During this run, Eternal MMA saw a total number of one hundred and fifteen fights take place across seven different weight classes for both professional and amateur athletes.
Of those fights, six new champions were crowned against one successful title defence across five divisions, with the lightweight belt changing hands to the challenger twice in the same year.
It would be in the very first event for 2022, however, that would see the championship-level cream rise to the top and prove their pedigree once again. In what would ultimately be his final fight inside the Eternal MMA cage, Jack Jenkins put on a five-round masterclass to retain his featherweight crown against the now Eternal MMA bantamweight champion – Rod Costa.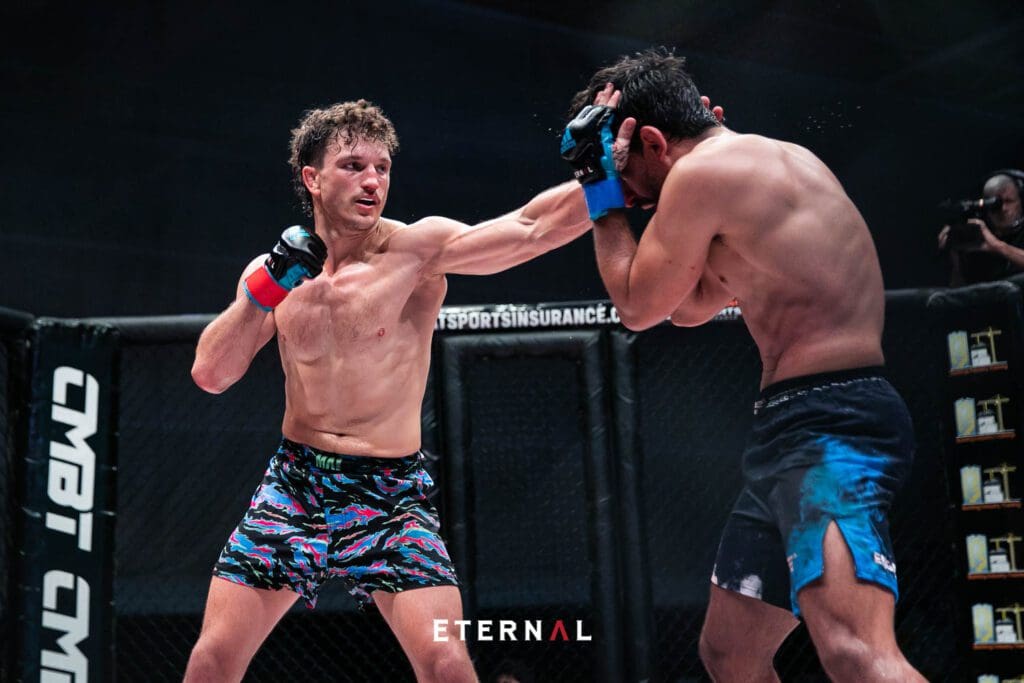 A striking display of considerable virtuosity from Jenkins in the main event at Eternal 64 earned him not only his second title defence, but also a shot at a UFC contract as a contender on Dana White's Contender Series; an opportunity that he would make good on with a decision win against his opponent.
The following event in May would see the Eternal 65 main event go down in history as one of, if not the greatest fights in Australian MMA history. With no belt on the line, Dimps Gillies and Josh Kuhne took centre stage in a three-round main event showdown that saw neither fighter concede ground until the final bell.
An onslaught of striking from both combatants left each of them battered and bruised at the fight's conclusion, with Gillies ultimately getting his hand raised via decision.
While there could only be one winner, there were no losers as both fighters stock rose astronomically in the aftermath of the bloody war, earning themselves 'Fight of the year' honours for Eternal MMA.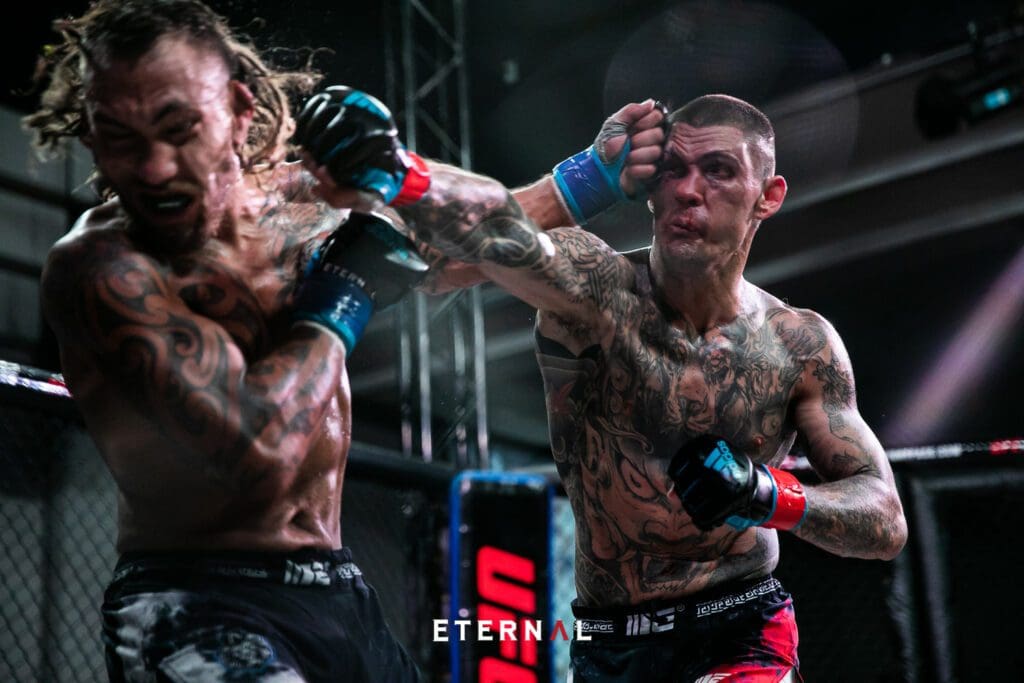 More impressively, the bout would also earn fight of the year accolades at the UFC Fight Pass awards show – a fine recognition for both athletes on the world stage and a further testament to the Eternal MMA match-making prowess.
Ahead at Eternal 66, a devastating injury to Jack Becker would see him lose his lightweight title to challenger Aidan Aguilera in the opening seconds of the first round. A broken leg suffered by Becker as the result of a checked kick by Aguilera saw the title change hands in jarring scenes, with Aguilera himself left feeling unsatisfied to win in such unfortunate circumstances.
It was a bitter blow for Becker. Seemingly on the verge of his own call-up to the UFC with another win on home soil, the former champion instead left to pick up the pieces during a lengthy rehab stint – A challenge he immediately faced head on with typically positive mindset.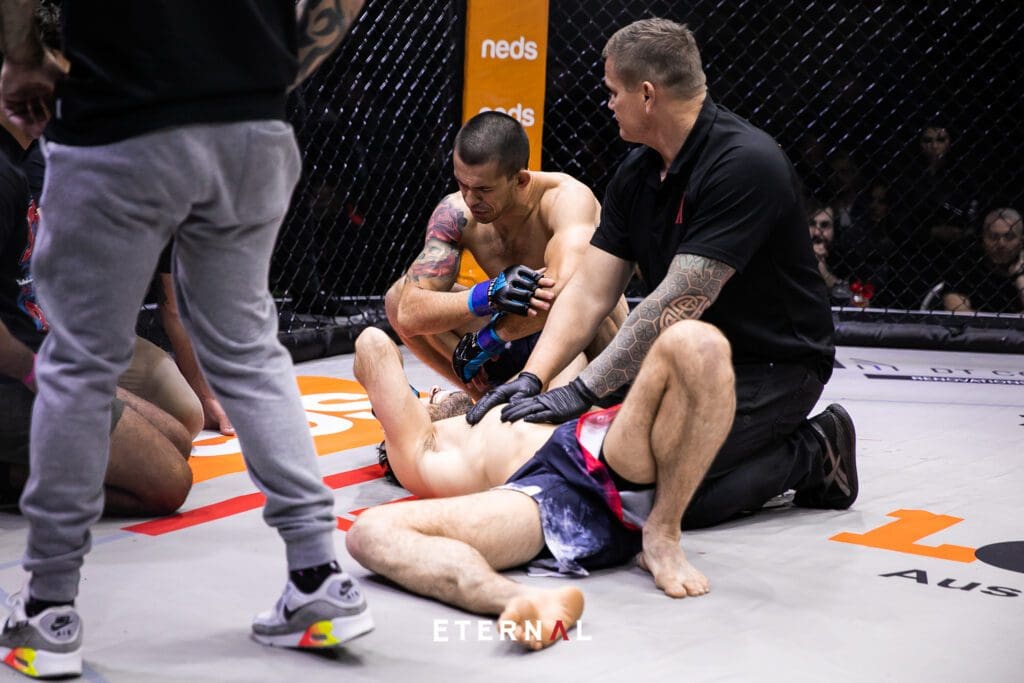 Eternal 67 was staged as the scene to crown the successor to now UFC prospect Jack Della Maddalena's vacated welterweight championship. Kaleb Rideout would emerge victorious in a five-round thriller against City-Kickboxing's Kevin Jousset; a performance that would see Rideout establish himself as one of the country's most exciting talents.
Punctuated by some highly unorthodox – yet highly effective techniques, Rideout orchestrated a high-octane striking performance to outlast a highly dangerous Judoka in Jousset in one of the most entertaining fights of the year, earning himself his first professional title win in the process.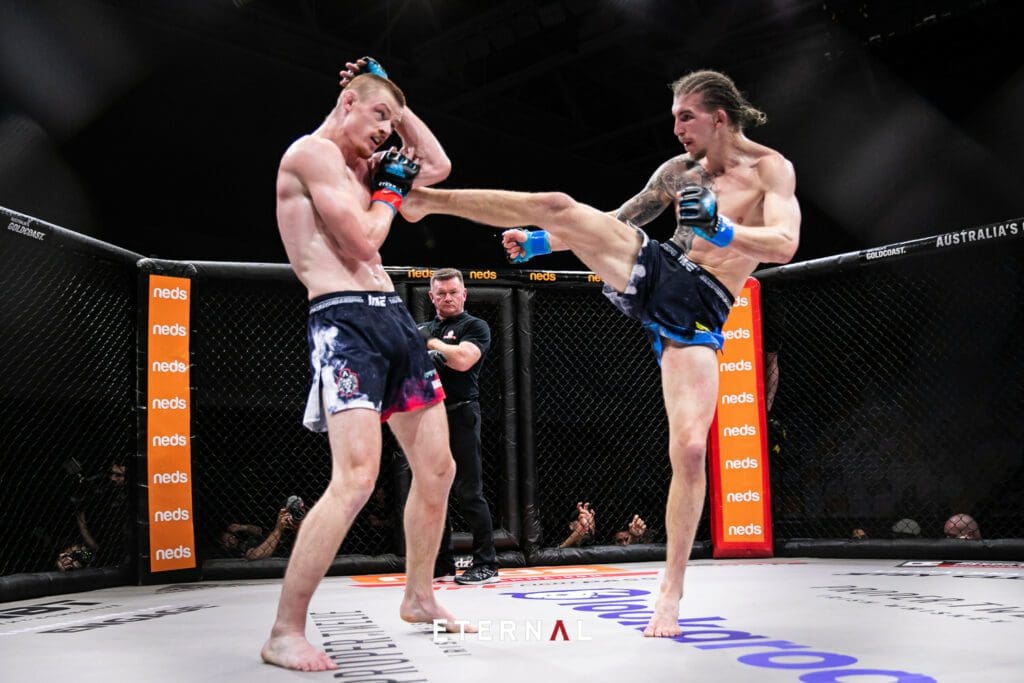 Rod Costa would use Eternal 68 as the table-setter for his eventual championship win at Eternal 71. Up-and-coming Victorian prospect Michael Mannu would face off against Costa in the main-event for what was viewed as a number-one contender match for the Eternal MMA bantamweight title.
Riding out the on-display kickboxing talents of Mannu for the first round and a half, Costa would eventually drag Mannu to the bottom of the lake to secure a second-round submission win – a signature guillotine finish for the former IBJJF worlds medallist.
The result would see Costa move on to challenge returning former Eternal MMA bantamweight champion Shaun Etchell for the title at Eternal 71. Doing what he does best, Costa weathered an early storm from Etchell and claimed an impressive comeback victory via rear naked choke submission in the second round. The victory would be a just reward for Costa's decision to move down in weight class after an unsuccessful bid to capture the belt in his usual featherweight domain.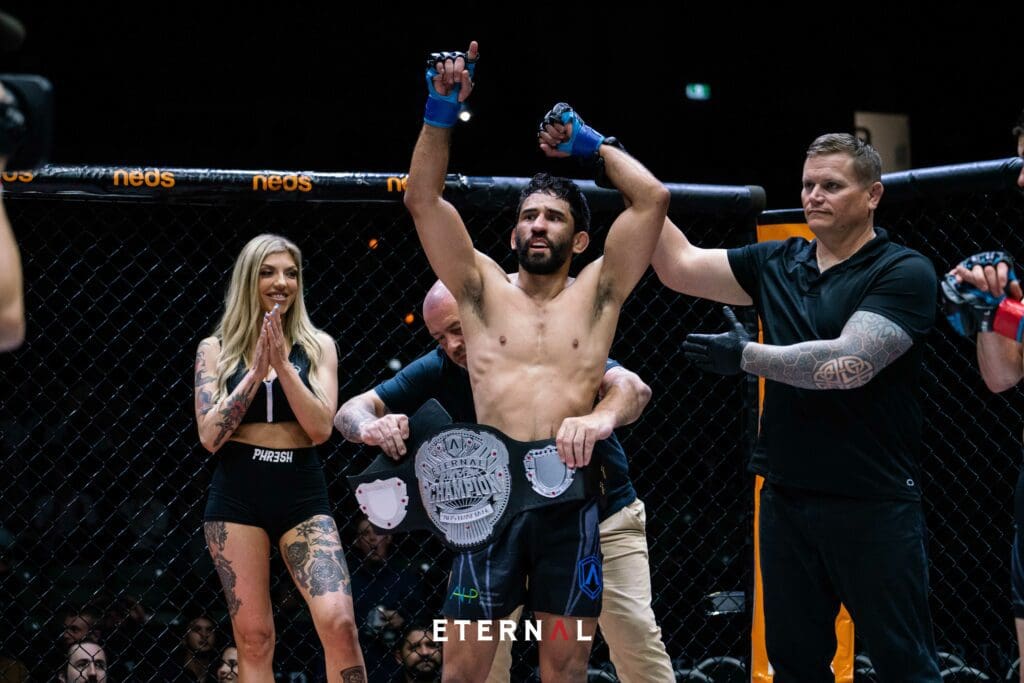 Sandwiched between the two aforementioned events, Eternal 69 would play host to Aidan Aguilera's first title defence since capturing the belt at Eternal 66. Unfortunately for Aguilera, it would be a short-lived title reign.
Known for his superior grappling, the challenging David Martinez overwhelmed his fellow BJJ black-belt opponent to win via rear naked choke submission in the second round – his second reign as Eternal MMA lightweight champion now in full swing.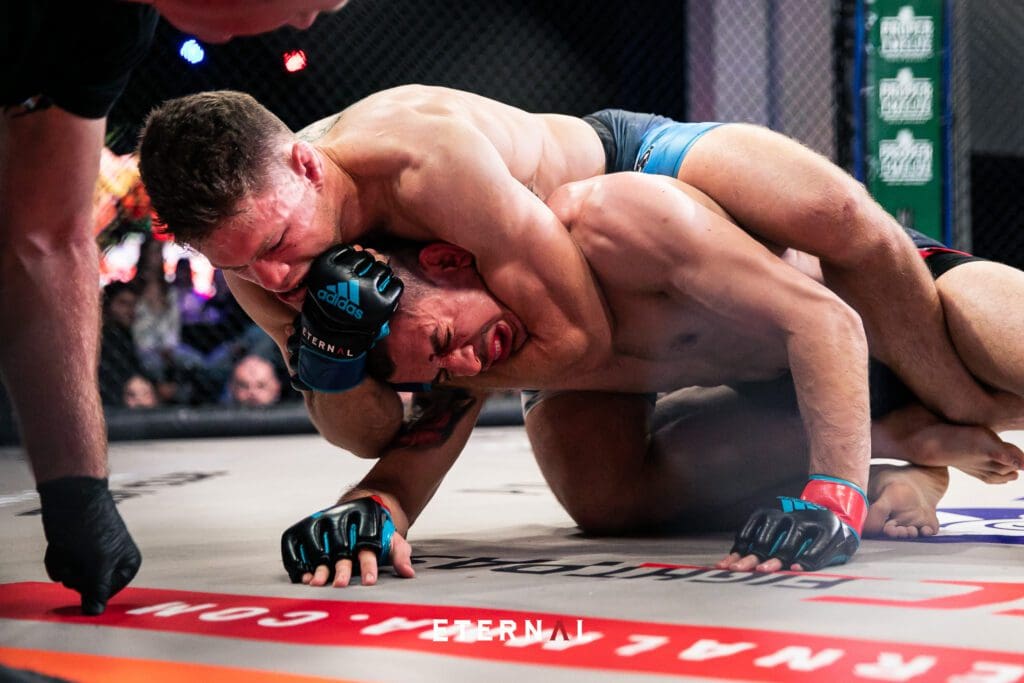 The final event for 2022 would see the Australian leader play host to a pair of rematches in both the middleweight and featherweight divisions at Eternal 72.
In a rare circumstance, the two fighters in the middleweight title fight main event would square off again immediately after previously fighting each other at Eternal 69.
With their previous matchup a late notice catchweight bout, the rematch would see John Martin Fraser put his middleweight championship on the line in the main event against Mat Myers after besting him in their previous outing via decision.
This time around, however, Myers would square the ledger with a first round TKO– a devastating spinning back kick to the liver of Fraser ended the championship fight in the first round. For Myers, it would be his first title win in his first attempt at silver wear.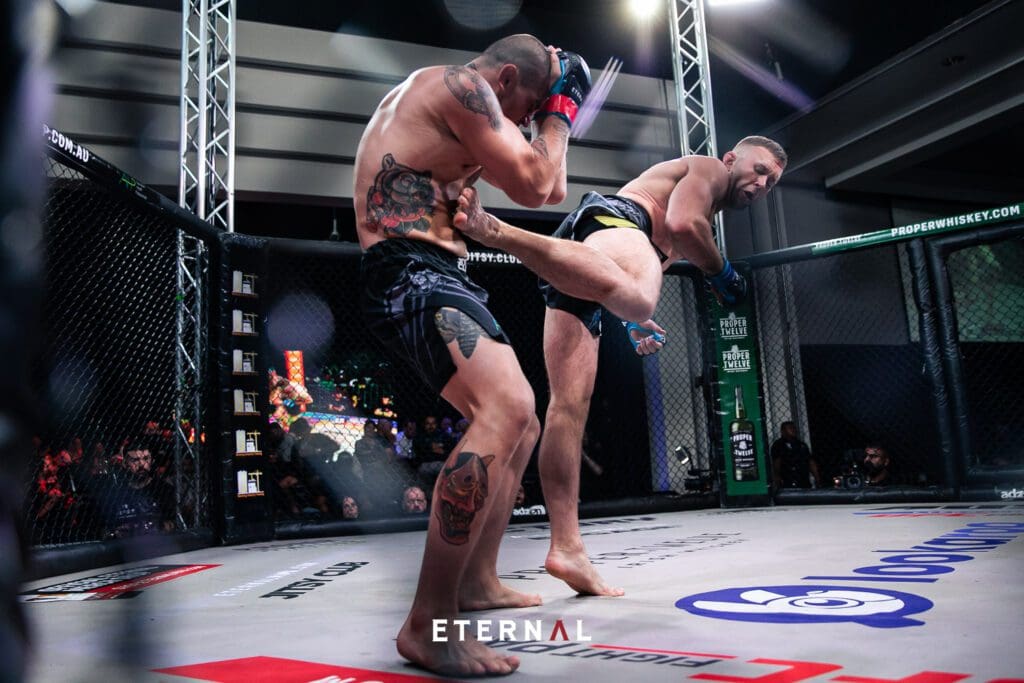 The co-main event would also see a rematch with a championship belt on the line, though in contrast, this particular rematch was more than five years in the making.
Having previously been finished by Diego Pereira at Eternal 27 in 2017, Justin Van Heerden would also get revenge on his rival and former teammate to claim the featherweight championship left vacant by the departing Jack Jenkins – winning a hard-fought contest via decision at the bout's conclusion.
The title belt around Justin Van Heerden's waste would punctuate a stellar 2022 for the South African native – four wins in four fights would also earn him 'fighter of the year' honours under the Eternal MMA banner.
It was a run that saw Van Heerden finish all three of his opponents in 2022 in the lead up to his first title fight, with submission wins over Joshua Riley, Alan Philpott and Mohammad Alavi showcasing a level of growth as impressive as anybody can claim fighting in Australia today.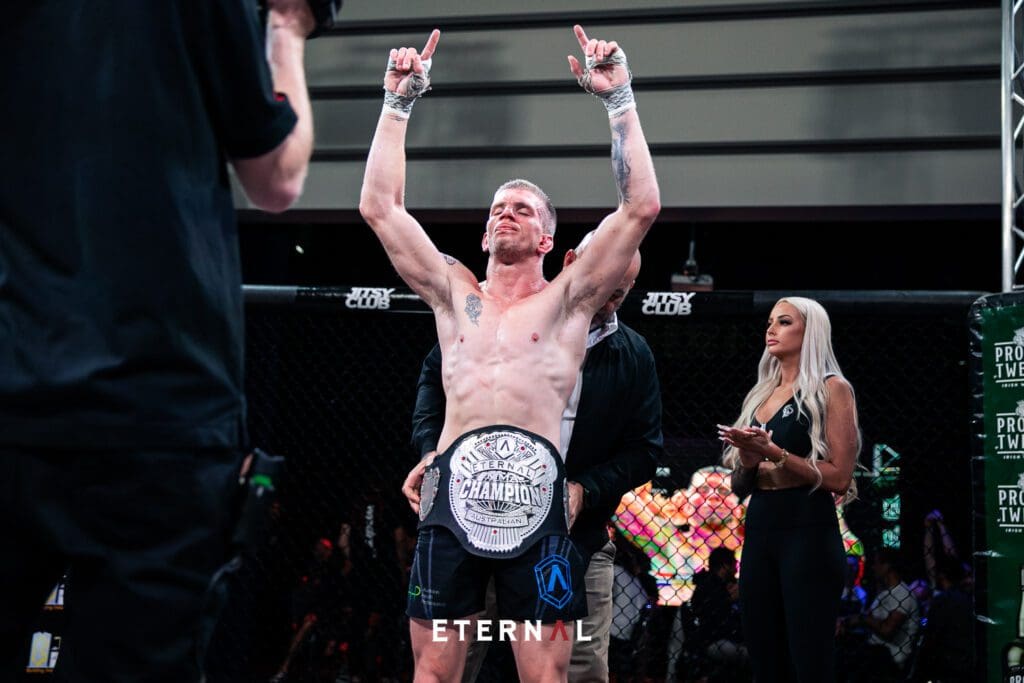 In conclusion, 2022 would see the following fighters end the year as a champion:
Bantamweight: Rod Costa.
Featherweight: Justin Van Heerden.
Lightweight: David Martinez.
Welterweight: Kaleb Rideout
Middleweight: Mat Myers.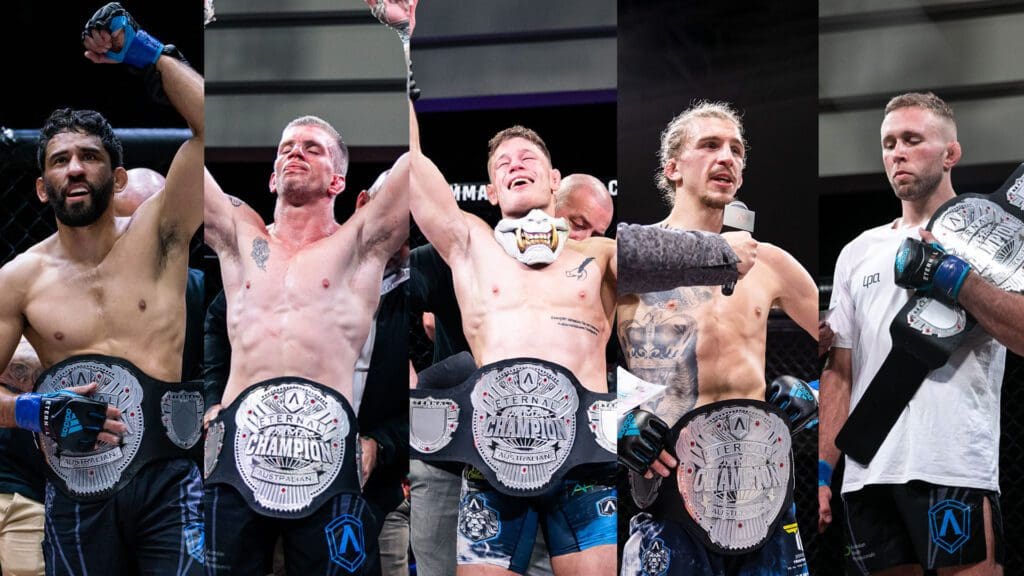 It wasn't just on home soil that major accomplishments were achieved. In a testament to the platform that Eternal MMA provides its athletes, several of its former fighters also found varying rates of success at an international level.
Certainly, from a competitive standpoint, it is no secret that Eternal MMA has consistently provided Australian MMA with the highest level of competition to its participants – giving each fighter who chooses to complete their fighting apprenticeship under its banner the best chance of preparing themselves for the big stage.
Former Eternal flyweight champion, Shannon Ross would earn himself a contract in the UFC via the route of Dana White's Contender Series. In a fight that Ross would lose by decision, he still showcased more than enough for the UFC boss to award both himself and the winner a contact.
Ross would eventually be slated to make his debut at UFC 284 in Perth alongside fellow Australian DWCS contract winner – Jack Jenkins.
Staying with Australian DWCS alumni, former Eternal MMA middleweight champion Jack Della Maddalena put together a historic 2022 to remember. A three-fight winning streak to start his UFC career cherry-topped by three first-round finishes was enough to earn him both UFC and ESPN rookie of the year honours.
A true rising star of the sport, Della Maddalena burst on to the scene and captured the imagination of MMA fans all around the world, with many circles touting him as future contender for a UFC championship.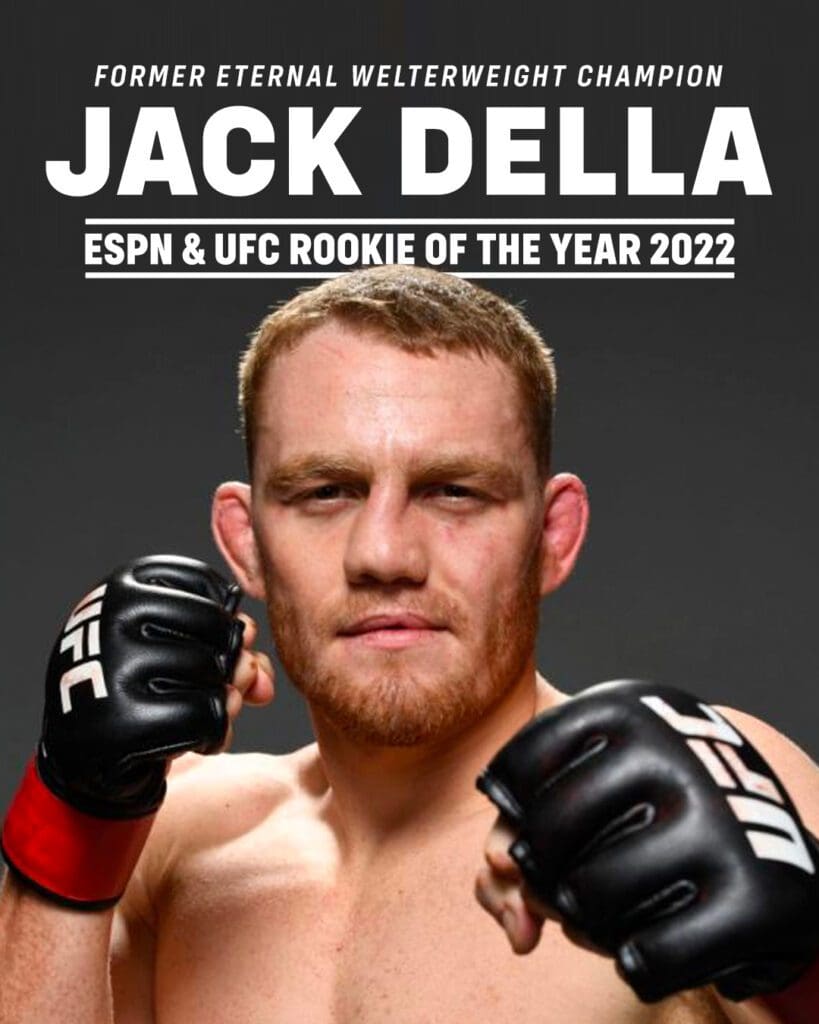 Fans will also recall 2021 as the year that former Eternal MMA strawweight champion Casey O'Neill would break through and claim for herself the UFC rookie of the year title.
With Della Maddalena following O'Neill's lead, it would make it two years in a row that two former Eternal MMA stars simultaneously went 3-0 to begin their UFC careers and go on to claim the award for rookie of the year – again making it hard to deny that Eternal MMA creates the best opportunities for Australian fighters to turn themselves into international success stories.
With a monumentally impressive year in the rear-view mirror, Eternal MMA turns its attention to what promises to be an even better 2023, starting with a stacked line-up at Eternal 73.
Adding some flair to the occasion, the card will take place the day before the UFC makes its return to Perth for UFC 284 – a spectacular double-header for fans looking to take in a full weekend of MMA littered with both present and potential future local stars of the UFC.
No doubt each fighter on the Eternal 73 card will be looking to make a big impression as the biggest combat sports show on wheels rolls into town.
It will be a weekend not to be missed.