Diego Pereira (6-4) is a natural performer. Need proof? Just watch any of his past fights. The Brazilian fighter who now calls Australia home holds the record for the fastest knockout in Eternal MMA history, finishing Nix Agulto nine seconds into their bout with a vicious kick to the head. His last performance in the cage – a spirited loss to Jack Jenkins for the Eternal featherweight championship – was voted Eternal's best fight of the year and the first fight in the promotion's history to see a fourth round.
But in a year halted by the COVID-19 pandemic and subsequent fight cancellations, 'El Pantera Negra' (The Black Panther) makes his return to the cage this weekend when he fights Abdalla Eltigani (2-0) at Eternal MMA 61, a fight which he hopes will put his MMA career back on track.
Conventional wisdom would assume that Pereira has an easy task ahead of him on Saturday night – a consequence of his opponent's relative inexperience – but there are dangers to fighting untried opponents. For one, tape on Eltigani is scarce, making him an unknown quantity to a degree. This is also the biggest fight of Eltigani's young career, a prospect which makes him a dangerous opponent.
But Pereira understands this conundrum better than most and is preparing diligently for Eltigani by formulating a game plan based on the little tape available.
"We're solid. There's a few fights on Fight Pass, a few on YouTube. And though I haven't fought any one as a professional with his physicality – being tall, lanky, a kickboxer – but as an amateur I have. And I feel like my IQ is on another level right now."
Pereira also expects to finish Eltigani. "I think I'll finish it inside two rounds, but I'm ready for everything. I'll be ready if the fight goes the distance, but I have too many weapons, too many ways with which to win the fight, and though he's a very talented young man, he's never faced the high-level guys that I have, and he doesn't have the experience that I have."
This will also be the first time that Pereira has fought in over a year. In his last outing – the loss to Jenkins – Pereira suffered both a broken jaw and a hairline fracture in his right fibula, with both occurring early in the fight.
"We went to war in that fight; we made history; it was the first time that an Eternal fight had seen the fourth round.
"I suffered some pretty gnarly injuries, but I wanted it so bad. I had trained so hard, but it got to a point where my jaw was so loose that any touch to it hurt… I wanted to keep going but it was an instinct of survival where the body took over and shut down."
However, the injuries sustained during the fight became a blessing in disguise, allowing Pereira to reset and evaluate the shortcomings in his past performances. He believes a major factor in his past defeats was how he approached the sport. Until now, he had neglected the mental aspect of combat and instead focused on the physical and technical aspects.
"The mind is like a computer: it runs everything, so if you know how to manipulate that feeling before you get to the event through breathing and visualization, it's going to help the performance a lot more. Technically I was already at a high level, but it's been about understanding things which help when it comes to situations where it feels like you're about to jump off a cliff. It's risky. You have that cold feeling in your stomach like you're on a roller coaster."
---
Growing up in Guararapes, São Paulo, Pereira lived with his mother, grandmother, and siblings. Throughout his childhood, money was always scarce. "Where I grew up in Brazil was a rough area. I come from poverty; we had enough to get by, but it was always a tight situation – we were always living cheque to cheque."
School wasn't a priority in Pereira's life either, instead he left school to work odd jobs to support his family. "At 16 I dropped out of school and my mother told me that if I wasn't going to go to school, then I would have to work and help around the house which was fine by me."
Pereira's first job was working part-time delivering food on a bicycle throughout his hometown, a job his mother had sorted for him. "I thought it was amazing. The restaurant had amazing food and they would feed us too, and at the end of each week I would have some money. Some went to my mother, and some went to myself so I could play video games and eat food we usually couldn't afford like biscuits and candy."
As a teenager, Pereira didn't care for MMA. In fact, he knew nothing about it. He hadn't heard of jiu-jitsu, nor the Brazilian icon, Royce Gracie. "To me it didn't exist. I didn't seek it; I didn't have friends who did it. I'm sure it was popular, but to me it didn't exist. I wasn't watching any TV; I was oblivious to it."
Pereira was introduced to combat sports through capoeira, the Afro-Brazilian martial art dating back to the sixteenth century, first practiced by slaves during Portuguese rule in Brazil.
The martial art is distinguished by its acrobatic play, its extensive use of groundwork, as well as sweeps, kicks, and headbutts. Though unlike most martial arts, capoeira is more akin to a dance than a fight. As such, music is an integral feature and functions as its soundtrack, to culturally guide its participants through lyrics which acknowledge slavery, spirituality, and the sport itself.
Later, through a government initiative which aimed to keep Brazilian youth off the streets, Pereira was introduced to kung-fu and ballet. "At the time I was only interested in doing kung fu, but to do kung fu I also had to do ballet and as a kid I didn't want to do ballet. And as a kid you have all these misconceptions about it, but it was amazing."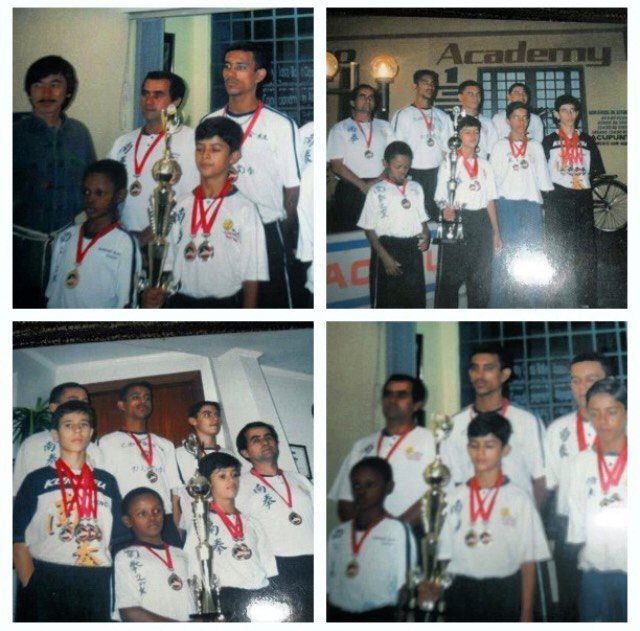 ---
Pereira's journey to Australia began around this time too, a move which irreversibly altered his life. "My uncle was here in Australia already. He moved to work in the meatworks, because at the time Australia needed skilled workers in the area, so they had to outsource guys to come over here and work, and my uncle was one of those people."
Realising how much the move would benefit Pereira and his siblings as it had for him, Pereira's uncle planned for Pereira and his siblings to settle in the country. "My uncle was supporting us a lot at the time and figured that we could come to Australia as his dependents. To do so he had to prove that we depended upon him financially, and at first my older brother was able to leave and joined my uncle working in the meatworks."
Two years later, his uncle offered Pereira the same opportunity as his brother, but it was dependent on Pereira returning to school. "At the time I quit my jobs and went to night school to finish my high school degree. So, I went back, started studying more; I went to a different city and started living with my aunt, and before I could complete my studies, my uncle called me and said I was good to go."
In Australia, Pereira joined his uncle and elder brother and began working at the meatworks. This is where Pereira first became aware of mixed martial arts. "A guy I was working with told me about Anderson Silva, who was the champion at the time, and whether I was familiar and I wasn't, and that's how I got interested in MMA. Then when I got home I started researching and digging, finding out about Brazilian jiu-jitsu, Muay Thai, and I thought maybe I should do that."
Once discovering MMA, Pereira began searching for a gym and trained around Queensland for the next few years.
With the support of his uncle, Pereira was able to quit his job and dedicated himself to mixed martial arts full time. He ventured back to Brazil to train at the legendary Rio De Janeiro gym, Nova União. Home to some of Brazil's greatest mixed martial arts talent, including Jose Aldo and Renan Barao.
But having adjusted to life in Australia, Pereira found it difficult to live in Brazil. "I really loved the training, but I didn't like the environment. I wasn't living in the slums of Rio, but there was too much traffic, too many people and I began feeling lonely, so I started thinking back to life in Australia and decided I didn't want to be here anymore."
Afterwards, Pereira returned to Queensland and became an Australian citizen. This allowed him to begin searching for gyms in the United States to continue developing his craft, something that wasn't possible in Queensland.
"After looking around, I came across Jackson Wink MMA Academy in Albuquerque, New Mexico. They had dorm rooms which I thought sounded perfect because I could sleep upstairs, go downstairs and train. So, I figured out how much it would cost, and I contacted them and got accepted because you had to be invited."
When Pereira arrived at Jackson-Wink, he understood how different his life would be for the next few months. "Every time you go down the stairs you see guys like Andrei Arlovski, Jon Jones, Alistair Overeem, Holly Holm, all of these stars. And then to see Greg Jackson, Mike Winkeljohn, all these guys you'd see coaching in the UFC, it was like wow I've made it. I'm actually here.
"Living in that environment was extremely new and extremely outside of my comfort zone. For the first month I hated it, sometimes I felt unsafe, there were some weird dudes there, some crazy motherfuckers, but it was a good growth period for me personally. I figured out that I was my own man and that I could handle my shit there."
In Queensland, the gym Pereira has called home for the past decade is Southside MMA. He credits his coaches Paul Stolyar and Damage Maea – affectionately called 'Uncle Dez' – for his development in the sport.
"They've influenced me so much, Paul's such a passionate coach and such a selfless being and we've done so much growth together. Those two are the heart of Southside MMA, if not for them the team would have fallen apart. They've influenced me so much, not just as an athlete but also a person through how they carry themselves in and out of the gym.
"And Uncle Dez was so supportive. When I was overseas, he would help me out financially whenever I needed it and he always believed. And when I got back he was the first to stick his hand out and help me and start doing pads."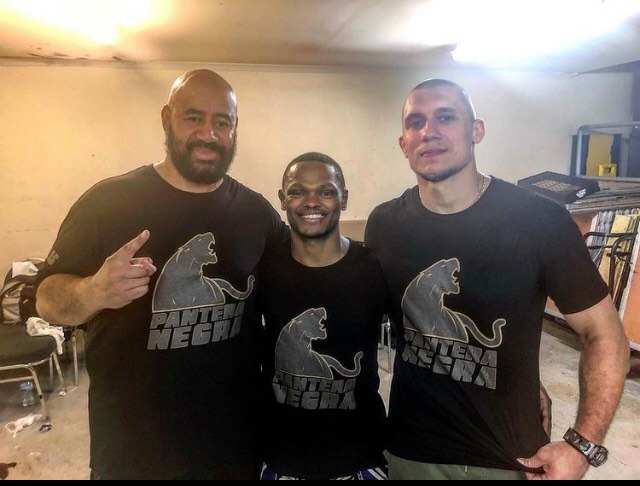 All these experiences have led Pereira to Eternal MMA 61 this Saturday.
"I'm now reaching my prime, I'm 29 so right now I have everything coming full circle: the mental, the physical; I'm comfortable in my own body. Everything is coherent now.
"I'm constantly running scenarios in my brain: everything from the walk out; the music; the taste; my heartbeat; can I feel those emotions? Can I hear the people screaming my name?"
'Will there be any signs of rust?' I ask. "No rust." Pereira tells me.
Stream the Eternal 61 main card live on UFC Fight Pass – Saturday Sep 11.