Eternal 67 is shaping up to be one of the most impressive cards on paper in recent memory – a trend that has seen the promotion grow to new and exciting levels with each passing event.
Of course, with that comes the opportunity to showcase new and exciting talent both Australia and other counties around the world.
With the promotion making its return to the Gold Coast on July 16th, the co-main event of the evening will play host to the Eternal MMA debut of an Iranian-born juggernaut in the form of Mohammad Alavi.
Speaking with Eternal MMA, Alavi shared his thoughts ahead of his highly anticipated matchup against Justin Van Heerden.
"I'm really excited for this fight," said Alavi.
"I was supposed to fight for the featherweight title last year, but because of (the coronavirus pandemic) it was cancelled. (But) I'm really excited, Eternal is the biggest show in Australia – it's a good platform for me to show my skills to everyone."
Undefeated at 7-0 with six of his seven wins all coming by way of a finish, the now New South Wales based powerhouse is earning himself somewhat of a reputation as the "boogeyman" amongst the Australian featherweight rankings.
While he has been able to showcase his high-level talent against each of the opponents he has faced so far, it is Alavi's belief that he is being avoided by most active featherweights in the country at present.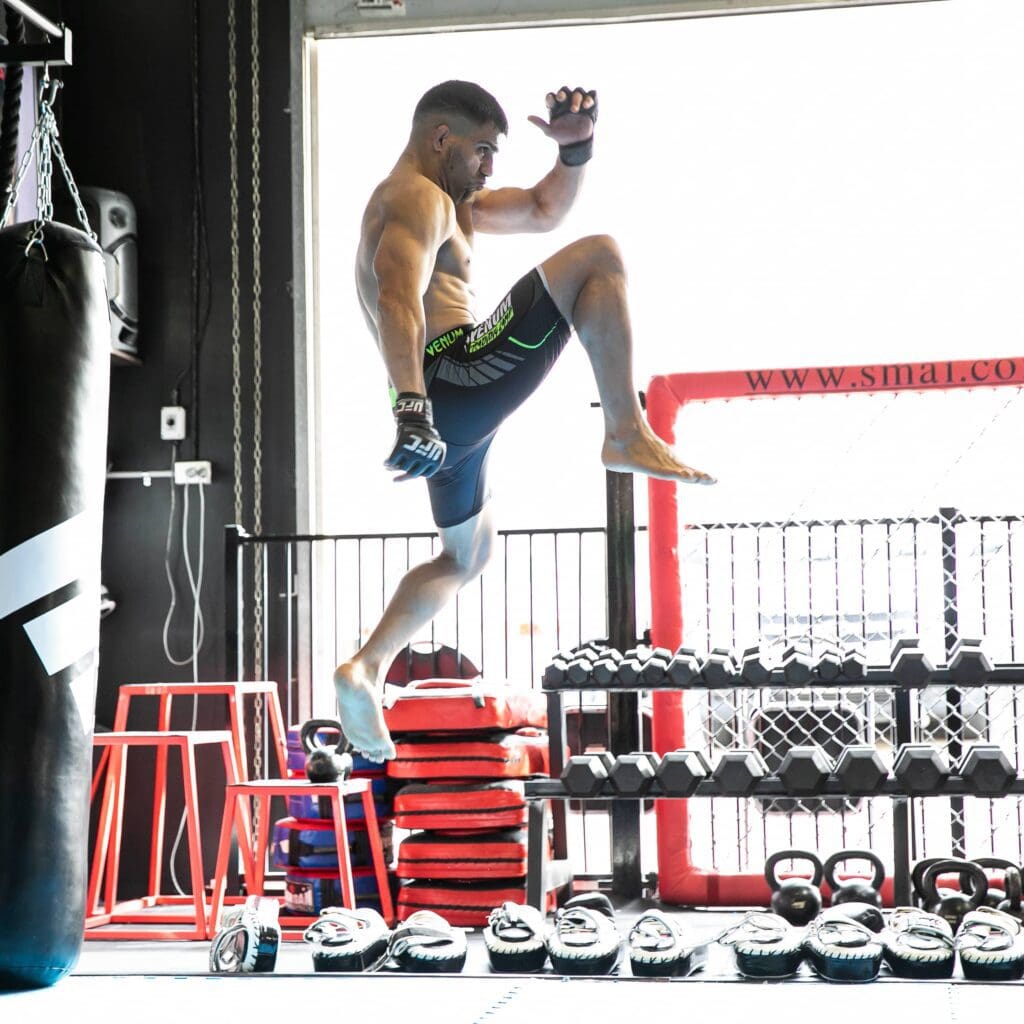 "I believe I'm the best featherweight in Australia," he said.
"It's really hard to get a fight. I want to fight with the best, whoever they think is number one. But all the top ten or top five Australian featherweight's – they don't want to fight me."
"Even for this fight, they promised me it's going to be a title fight, but I think the champion doesn't want to fight me. That makes me feel like I'm the best featherweight because everyone is ignoring me, they're ducking me."
"I think I'm the most avoided fighter at featherweight."
Although Alavi has felt frustrated by what he believes has been four years of struggling to find matchups, he concedes he feels the alleged avoidance is a compliment on his skillset. With lofty ambitions of his own to compete at the highest level, the man they call "Scarface" believes that there are some fighters who are turning down matchups in order to preserve their own record.
"It's kind of a compliment but it's really frustrating," he said.
"I want to fight with the best, I want to fight for the belt, whoever is number one or number two, whoever is better than me. I want to fight with everyone!
"It's hard because they don't want to lose their belt. They don't want to fight with me because nowadays everyone is looking for easy fights. They want to keep their records clean to get into the UFC.
"For me, I don't care. In featherweight, I'll fight anyone. Whoever in Australia or New Zealand, I don't care."
"Thankfully, Eternal found me an opponent, so I can finally fight."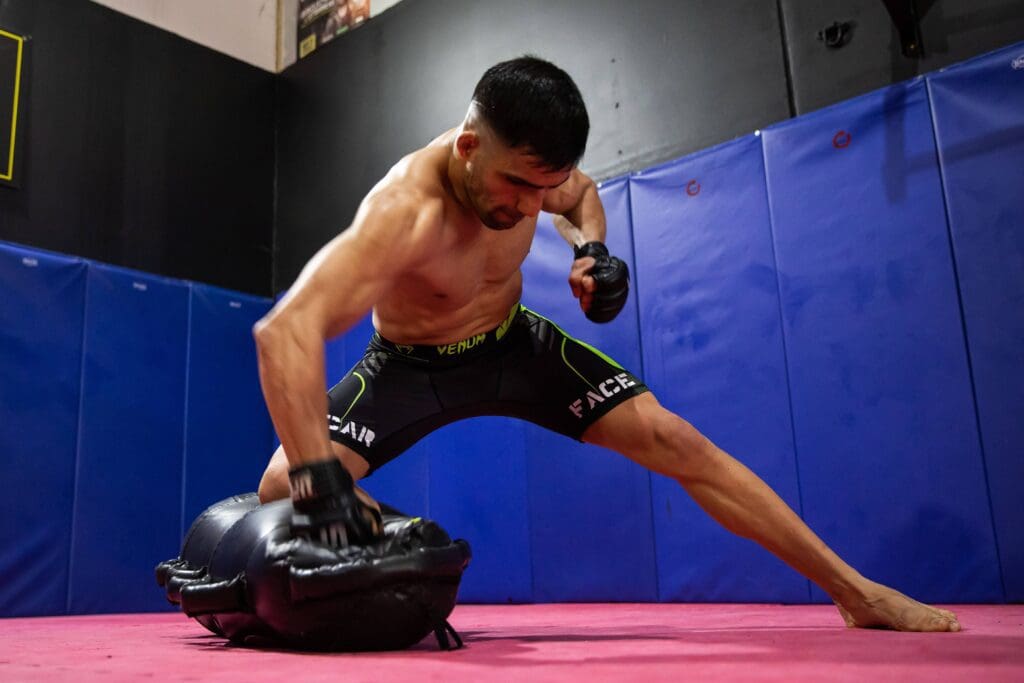 With Alavi feeling cold-shouldered by most of his potential matchups in Australia, the ever-ready Justin "Lockjaw" Van Heerden was more than happy to answer the bell – a revelation that surprised nobody familiar with the Freestyle MMA product.
"I know him, he's been around for a long time, he's an experienced guy," said Alavi of his next opponent.
"He's a good fighter, he's experienced, and I respect him because he accepted to fight me. I really appreciate him."
While the respect for his next opponent was evident, Alavi was not about to mince his words when it came to his intentions inside the Eternal MMA cage.
"I respect this guy, but he said I'm not on his level and he's going to break me, so I'm going to punish him. I'm going to show him what his level is and I'm going (for the) kill. I'm going to finish him as soon as I can. I'm going to make sure all the people (watching) enjoy what's going to happen."
"After this fight, I'm going to be 8-0. I'll have finished all my opponents. So, after this – because I'll have proved I'm the best featherweight in Australia, I really believe (I'll be) ready to fight in the biggest show in the world – the UFC.
"So, let's see what's going to happen. If they give me the chance, I'm going to show the world how good I am."
"Just make sure 16th of July, be there, or watch on the stream because it's going to be a beautiful finish."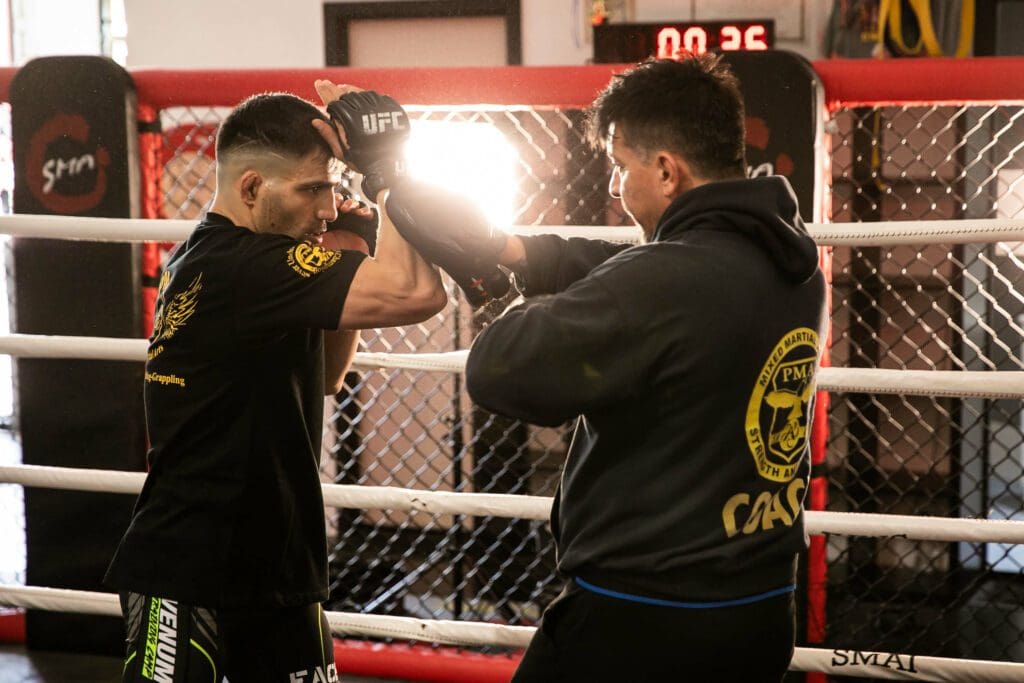 – Eternal 67 main card will be streamed July 16th live and exclusive on UFC Fight Pass.