Eternal 72 carries more than one storyline for Diego Pereira, as he continues preparation to fight for the Eternal featherweight title on the Gold Coast in Queensland.
A former title challenger already in his career, Pereira will be looking to make good on his second attempt at championship status. Across from him also contesting the now vacant championship will be his former teammate and streaking contender – Justin Van Heerden
A man he has already knocked out in devastating fashion.
The last four years has seen Pereira fight a virtual who's who of the Australian MMA scene, a path that has led him back to once again compete for a title. A win against the highly regarded and well-travelled veteran Alan Philpott at Eternal 69 cemented Pereira as one of the contenders to the belt vacated by the UFC's newest Australian signing – Jack Jenkins.
It was a statement win for Pereira. A build up to a fight that was rife with animosity from both parties, culminated in Pereira submitting Philpott with a rear naked in the second round after a back-and-forth contest in the opening stages.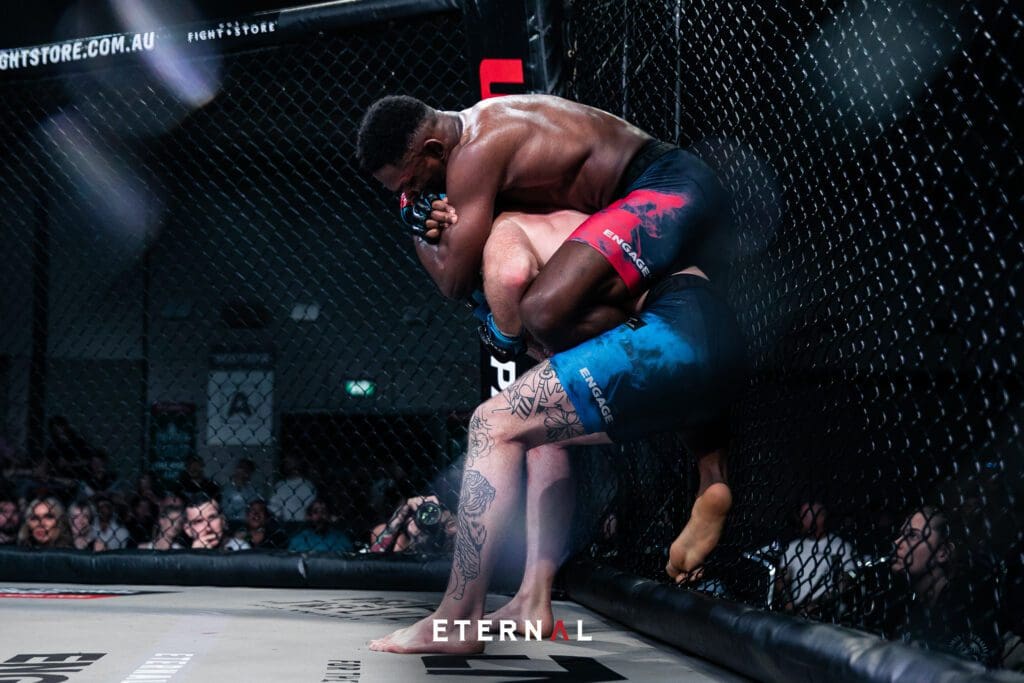 Speaking with Eternal MMA, Pereira gave his thoughts on what it means for him to be competing for an Eternal MMA championship once again.
"It means a lot. I've been with Eternal since the early days," said Pereira.
"I still hold the record for fastest knockout and other fight of year (contenders), I've done a tonne with Eternal and seen them grow over the years. So, I feel privileged in a way, and very happy that I was able to contribute to it. I am still around and am now able to see them as the number-one promotion in Australia and New Zealand. I have also grown with them as an athlete in the company. I have become the top guy now, getting my second shot at the title.
"It feels good because I am going to capture it. I am going to become that champion and I know that I am going to be the one that is really going to carry the flag and raise Eternal to new levels."
In order to be the one to carry the flag going forward, Pereira must first get by a man he already bested five years ago at Eternal 27.
A fight that occurred in the early stages of their careers, Pereira took the win with a highlight-reel knockout over Van Heerden in the closing stages of the first round – a vicious right hand that left the South African native unconscious on the canvas.
Fast forward five years and the pair are set to meet once again, only this time, with much more at stake. Both competitors have made exponential leaps in their combative abilities since then, each blazing a trail on their path to the top of the Eternal MMA rankings – the previous meeting seemingly a distant memory.
It is Pereira's staunch belief, however, that time does not heal old mental wounds.
"Whenever something impactful happens in your life and it causes a traumatic event, or something hurts and impacted you in a moment in time, you never forget that.
"You can move past it; you can certainly do that. But somehow, someway, it is still lodged in your brain. That's just how human beings are programmed."
"Now, bring it back to the fight itself. Think about how significant that was. A professional mixed martial arts bout in front of a huge crowd – big moment, live event, there a many people watching. You prepared for that moment for months. You knew that thing was coming, you thought about it every day, you went to the gym daily – training and working towards it.
"You get to that moment and a thing happens such as a KNOCKOUT – you get face-planted by a punch in front of a crowd. You don't think you are going to remember that? Of course, you are going to remember that.
"Now, do I think he has moved past it? Yes, I do. His previous performances have shown that. But to say that doesn't affect him in some type of way or trigger some emotion; that's a lie. So, that will definitely play a factor in this fight. Especially when he feels that power again, because I'm going to catch him.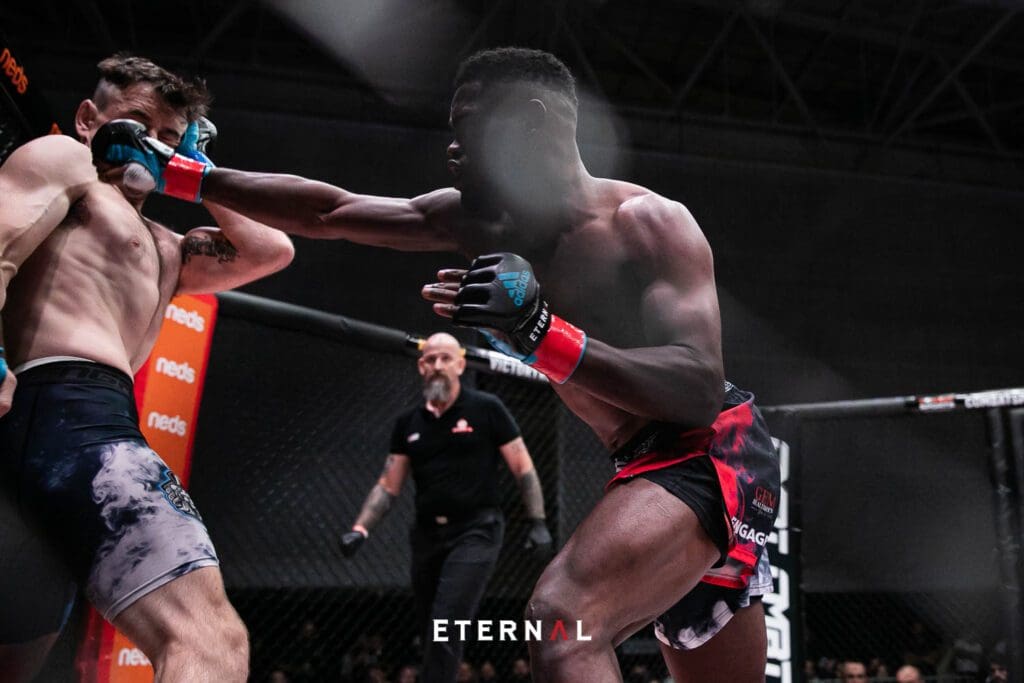 "When I touch him again, all those memories are going to rush right back, and he knows this."
With six of his seven wins under the Eternal MMA banner finishing inside the distance, the man they call 'El Pantera Negra' has developed a reputation as finishing machine.
A dangerously well-rounded mixed martial artist with fast hands, dependable footwork and a solid grappling game, Pereira has the tools to finish a fight at a moment's notice in any fashion he pleases. It was Pereira himself who stated prior to his last fight that he had no intention of the fight going the distance and he kept good on his word.
This time around, however, Pereira is aware that the stakes are much higher. Tasked with facing a former foe who has made his own elite level strides in the game, Pereira knows that a more measured approach may be needed in order to secure the first championship of his career.
"I'm looking to put on a good performance as I always do," he said.
"I have trained a lot for this. I have prepared just like I know Justin has prepared. We both come from strong camps. So, this is going to be a spectacle for the people.
"We have five rounds with which to work, and there is a lot riding on the line here. I'm not going to be throwing myself in the fire. I'm going to be methodical in my approach, I'm going to impose my will and apply my martial art.
"I'm not going to be (reaching) for a finish, that will materialise itself as the fight plays on because we are going to be looking to finish each other (at some point). We will be looking to impose our wills and, in that process, one of us is going to get caught and I can tell you; it's not going to be me."
When it comes to the potential of claiming championship status, it isn't lost on Pereira that a title belt around is waste is a virtual key to unlock new opportunities.
Always methodical in his approach to the game outside the cage as well as inside, Pereira has always been a man who ponders the future, whilst never looking too far past his next opponent.
"I think it (championship win) puts me in a very good spot, especially with the UFC coming around in February," he said.
"I'm not thinking past (Justin), I just think it puts me in a very good spot. Like I said, Eternal being the number-one promotion in the region; they have put many guys on the map. So that puts me in a very good position.
"I carry myself as a champion, because that's just what I do. It is like me to go out there and act, walk, talk and do as a champion would daily. Whether I have the belt around my waste of not, it doesn't really matter. It's a mindset. But of course, the status in a way does matter when we talk business.
"So, having that will really catapult me and put me in a very good position when we are talking about potential UFC (opportunities)."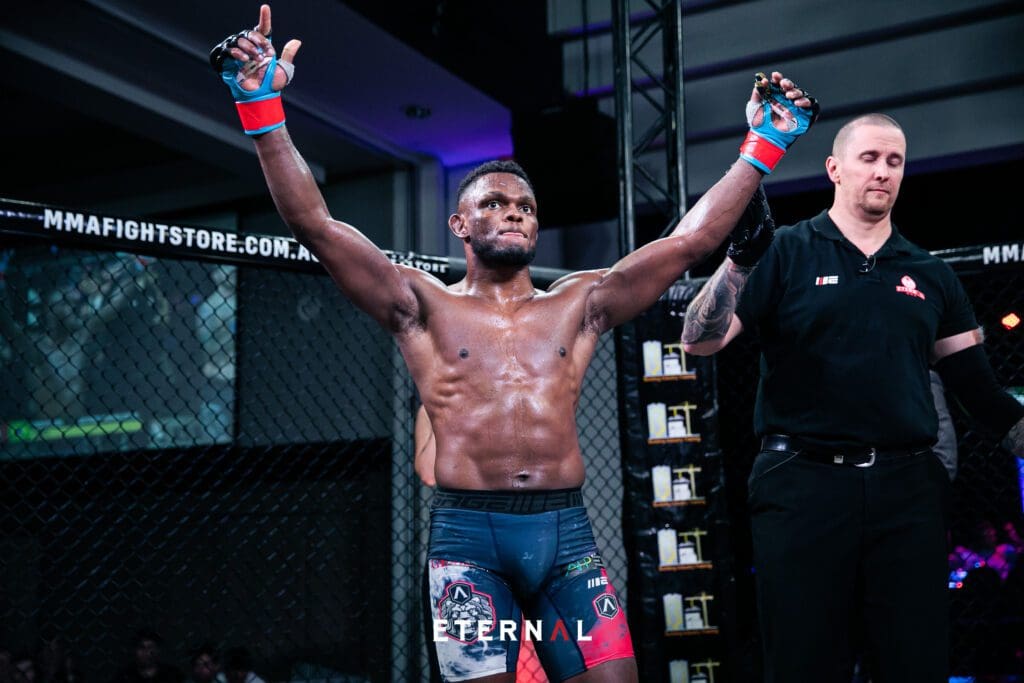 Ever a man of the people, Pereira assures fans that they are guaranteed to get value for their money.
"This fight is going to be good, like, really good unlike any other," he professed.
"Whenever there's a rematch, there's always a lot more on the line. You have two people who are familiar to each other on a competitive level having fought each other once – then becoming teammates and have that experience on a personal level.
"Five years on, we go and face each other again having both gone on a very good streak. And now, there's a vacant title on the line that could potentially catapult our careers.
"This fight has the makings of fight of the year one hundred percent, if not the decade or even the history of Eternal. So, fans should really tune into this because I am in the best form I have ever been in; mentally, physically, skillset-wise.
"I'm in my prime and so is Justin. This is going to be the people's main event, so, you really do not want to miss this."
Eternal 72 can be viewed Friday, December 2nd live and exclusive on UFC Fight Pass. Fans can visit eternalmma.com to purchase tickets for this event.