Fresh off a successful road trip to Perth – Eternal MMA heads back home to the Gold Coast to close out the year with another intriguing card filled with both established veterans and fresh talent looking to put their stamp on the tail end of the 2021 calendar.
The GC Sports Precinct will play host for Eternal 63 and its solid list of matchups, with one of the more entertaining prospects coming in the way of a bout featuring two athletes ready to take the next big step in their professional careers. A co-main event slot that was originally slated for a bantamweight title fight featuring champion – Shaun Etchell, will now see would-be challenger Diego Pereira, face-off against the ever-ready late notice replacement in fellow Brazilian, Rod Costa.
With the current title holder in Etchell recently suffering an injury to force him out of the fight, the always game Diego Pereira was more than willing to take on any and all-comers without hesitation. A dreaded phone call from his manager confirming the bad news was absorbed and quickly turned into a mission to salvage his spot on the card.
"(I) immediately told my manager 'Bro, I've been putting in so much work for the past eight weeks, nine weeks. I'm not gonna let that go to waste and sit and wait for Shaun's ass to heal. Find me somebody else. I'm ready. It doesn't matter whether I'm risking losing my shot or not, I'm ready. Whoever they put in front of me I'm gonna merk them and still get my shot next year so, line them up'."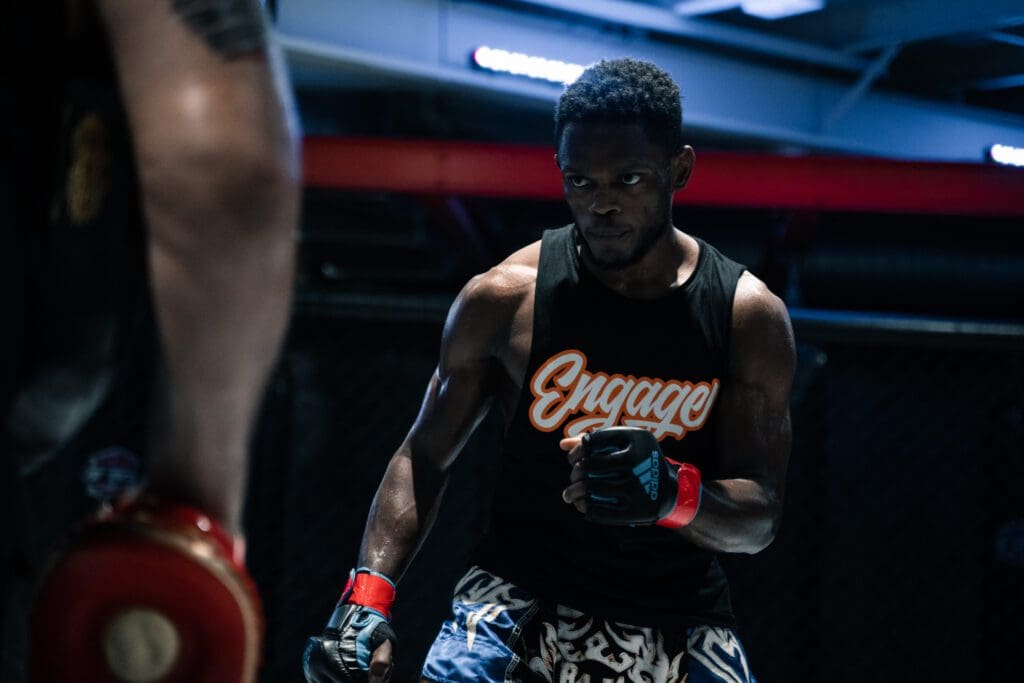 A subsequent conversation was had with Eternal MMA promoter – Cam O'Neill, who went to work on finding Pereira a willing late notice replacement. With veteran Brazilian Jiu Jitsu standout – Rod Costa more than happy to answer the bell, a catchweight bout was agreed to by both parties to cement the last-minute new look co-headliner. While it wasn't the title-shot he had originally trained for, the always game 'El Pantera Negra' was never going to let an opportunity slide to show the world that he is ready to face any challenge that is thrown his way.
"He (Cam O'Neill) said Rod can make 'X' weight. And then we agreed on a catchweight of 64 kilos. It was a no brainer. No hesitation from me. I said, 'Anybody. Just find them'. If they can find a bantamweight, perfect. Because that's what I'd been working towards. But if not, I'll even accept a featherweight. But (in the end) we ended up agreeing on a catchweight bout."
"I'm a competitor, doesn't matter who. I don't prepare for anybody specifically. I'm always training all facets of MMA, improving my skills, working towards bettering myself. So, whoever, you know? I was ready so, I'm glad we have an opponent and I'm glad I'm still competing this weekend."
While it is an opportunity to keep his place on the card at Eternal 62 and still compete at home on the Gold Coast, Pereira is aware that Costa presents a different set of challenges compared to his original opponent. With a cerebral mentality and dedicated team of coaches is ready to formulate any game plan necessary, the Southside MMA product believes he has more than enough tools to overcome the late change.
"I'm constantly, daily, primarily focusing on myself, on my skills, bettering myself and my skillsets. But whenever we get an opponent, we definitely have a look at them. My coaches break them down where we talk about it and develop a game plan towards combating them.
"This is a thinking game. I consider myself a martial artist, so I definitely approach it with a thinking mindset – thinking approach, to where I want to set them up for things. I want to impose my will and utilise my strong suits against their weak suits."
"For Shaun, it was going to be one thing (game plan). For Rod, (it's another) considering that he is a world-class Brazilian Jiu-Jitsu competitor and thinking about his pedigree as a Jiu-Jitsu player and what he's done. We obviously know where our chances of success mostly lie. Where we can explore looking at his previous fights, strengths, weaknesses.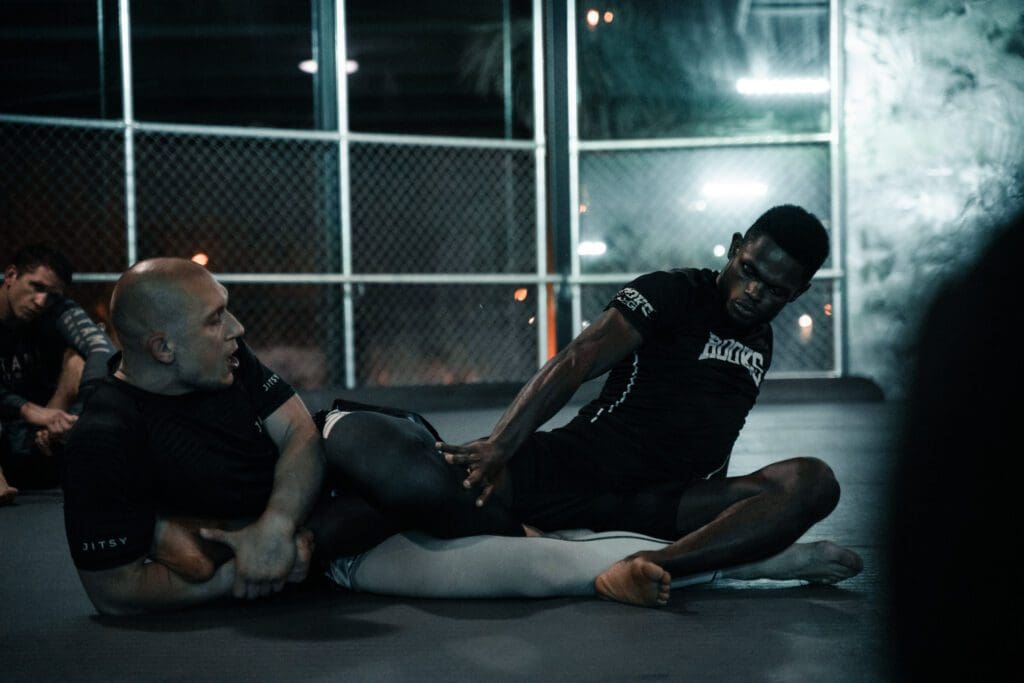 "We have a strong game plan for him. We are not in any way shape or form hesitating on whether 'hey, should we grapple with this guy, should we not grapple with this guy'. Wherever this fight goes, I'm extremely confident in my skillset. I have no issues going to the ground with him if it goes there. It is a mixed martial arts fight.
"He can be a world Jiu-Jitsu champion, (but) when it comes to mixed martial arts, I believe I'm the best guy around in the bantamweight and featherweight division. He can bring ADCC, IBJJF world championship calibre (skills). Who he trains with, where he's been, where he's from, what he's doing – I do not care. I care that I am prepared, that I've done all the work and that come fight night I will implement my game plan and I will get my hand raised. That's what it's about."
It's hard to ignore the confidence that Diego Pereira has in himself. Fans are already well accustomed to his high-octane as well as his larger-than-life personality. The charisma and showmanship that he exhibits are merely part of a larger picture of an athlete who has grown as a man under the guidance of a close-knit team and family. It is not through reckless abandon that Pereira is willing to throw himself into the fire on late notice, but rather the confidence he gains from that symbiotic network and tutelage of a family who have been there from the beginning.
"Ever since I joined Southside it's been like finding a new home and joining a new family. People have come and gone but the key players have stayed; my head Jiu-Jitsu coach – Vicente Cavalcanti, my head MMA coach – Paul Stolyar, my head striking coach – we call him 'Uncle Dez'. We have our management team – Liz and her partner Reon and her kids.
"The key players have stayed around, and those key people have embraced me like one of their own from day one. For a decade, I've grown tremendously. I've spoken about; not only as a martial artist but as a person, as a man, as a human being. I've learned through the martial arts, but also through the example that they have set to be a better person; selfless, show love, show care – try to demonstrate and show the same level of attention and giving to those that were coming after me like those that came before me."
"We have a family environment within our gym and that's what we cultivate. That's why the energy is so good. Every day in the gym it feels like we are having fun, we are enjoying (everything) and that's why we continue to evolve."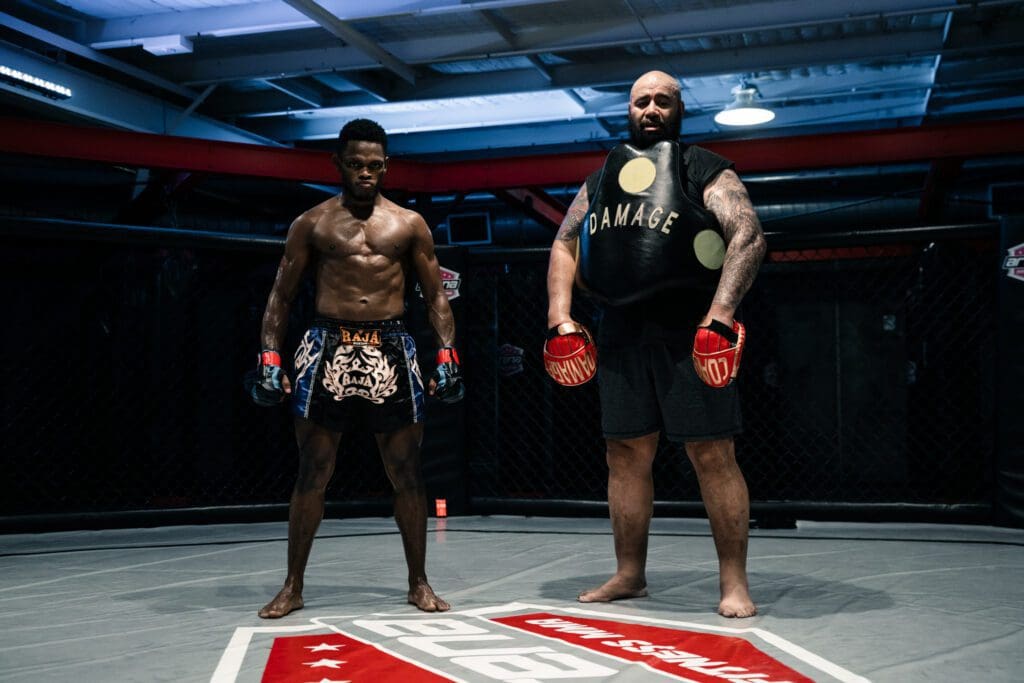 Riding the momentum of a second-round heel-hook submission against Abdalla Eltigani at Eternal 61, Pereira will be looking to build upon that success with an even more impressive display. Looking ahead to the fight at Eternal 63 – Pereira was steadfast in assessment of what a win against Rod Costa will mean in terms of the next move in his career.
"Winning this definitely will give me a title shot. Like I said, I had the title shot. I could sit and wait for it. I chose to compete and gather more experience. After I win this, that will just put a stamp on who the number one contender is. There's no other name out there. I've made that clear not only at bantamweight, but also at featherweight."
"We had the opportunity to compete for the featherweight title back in March 2020 that didn't (result in a win). The guy who got the championship – Jack Jenkins, is still the champ today. So, I will one hundred percent chase that rematch."
"My goal is to become a double champion and even triple champion. However many weight classes I can get to; I will chase that because I am a competitor. I do believe for as long as I'm healthy for as long as I'm young, hungry and I've got these skills, if there is somebody else out there claiming to be the best; let's compete, let's find out who is actually the best. I carry that Max Holloway mindset."
"I will call out for both of those things (bantamweight and featherweight title fight) on Saturday night, trust and believe. I will be on that mic, I will be calling for Shaun Etchell, I will be calling for that Jack Jenkins rematch and whoever answers first, gets it. That's the plan."
On his predictions for the fight this coming Saturday, Pereira's demeanour took a pensive stance as he pondered the outcome and what he is sure will be a must-see matchup for fight fans.
"I see this being a very entertaining bout. Rod's a tough dude, he's from Brazil, man. He's got heart, I can tell, but he's getting up there in age. I don't see him being able to withstand my shots (and) the way I'm going to pick him everywhere, all around. Legs, body, head, everything. He's going to feel it.
"Within the first round he might be able to survive and do his thing while he's fresh, but I don't see him being able to get past the second round. If he does, I'll be very surprised but he's getting done within that three rounds for sure.
"It's a second round TKO for me."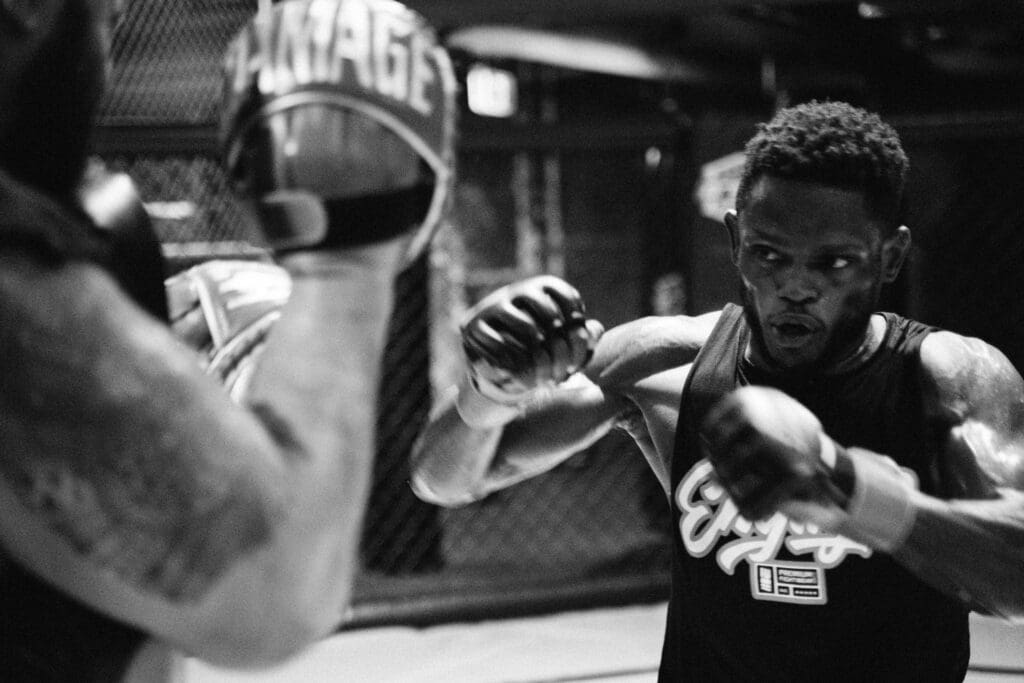 In the opposite corner, the man who will be looking to rain on the parade of Diego Pereira and mount his own case for a title shot in his own right is as ready as ever.
Hot off his recent TKO victory over Justin Van Heerden at Eternal 60 – Rod Costa is quickly becoming known as the man to call when a fight needs salvaging. A short notice away game in Queensland was not enough to deter Costa from accepting the last-minute request. Fighting out of Perth, Western Australia, the Brazilian Jiu-Jitsu black belt was ready to pack his bags and make the journey east to make a statement.
"I try to always keep training. Every gym, there's those guys that come in, do the training camp, do the fight, win, or lose they (then) disappear for a few months. Then they come back (and) do another training camp. I try not to do that. I'm always training.
"Every day I train. It might not be with the same intensity of course, as if I'm preparing (for a fight). But I try to keep active with my training in between fights."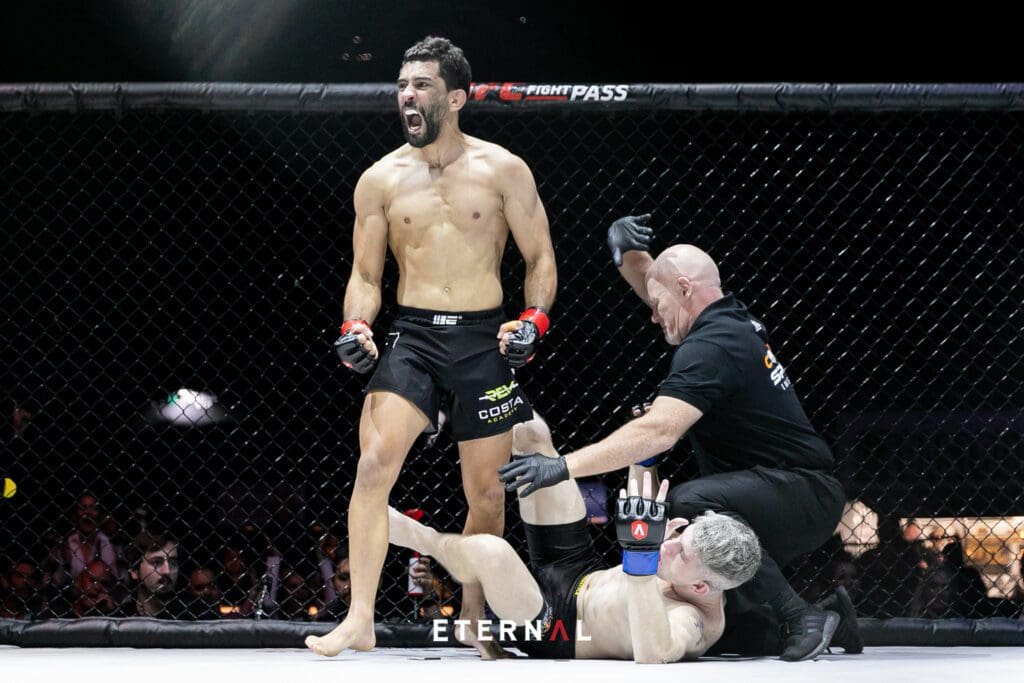 It's not only the "always ready" attitude of Costa that should have fans eager to see him back in the cage. Costa's recent win showcased a continued evolution in his mixed martial arts career that is becoming a scary prospect for any potential opponent he may face in the future.
Considered by many as primarily a Brazilian Jiu-Jitsu specialist, Costa punctuated his victory over Justin Van Heerden with an impressive display of stand-up striking, knocking his opponent down three times before closing the show with vicious ground and pound in the dying seconds of the very first round. It is the growth in this area of his game that he credits with a move to the acclaimed Scrappy MMA and Fitness complex and its vast array of in-house knowledge.
"One hundred percent it's all due to Scrappy (and) all the guys at Scrappy. Even a little bit before I joined, Jack (Eternal MMA lightweight champion, Jack Becker) started helping me because he was already at Scrappy. You know, getting some good training in, getting some new concepts with striking and trying to improve the striking."
"It's a different type of training. It's just more realistic striking stuff that I've never done before. I was never a striker, but I've done a little boxing here and there in between my jiu-jitsu training. I used to think I wasn't half bad, but I was basically just doing boxing for fitness stuff.
"Scrappy is a pretty hands-on, realistic MMA style striking-training. (So) it's due to them one hundred percent. Ben (Eternal MMA co-promoter and Scrappy MMA coach, Ben Vickers) is an excellent coach, he surprised me so much. Not because I didn't think he was good, but his style of coaching and the way he does things is very similar to mine and they all have the knowledge there to get someone to be able to be confident with striking."
"It's been about a year since I moved there, since I started training with Ben and being a part of the team. And that's it, it's from there, it's from nowhere else. Before that I was just a tough dude that didn't mind getting hit and I think hits relatively hard, but there was no technicality.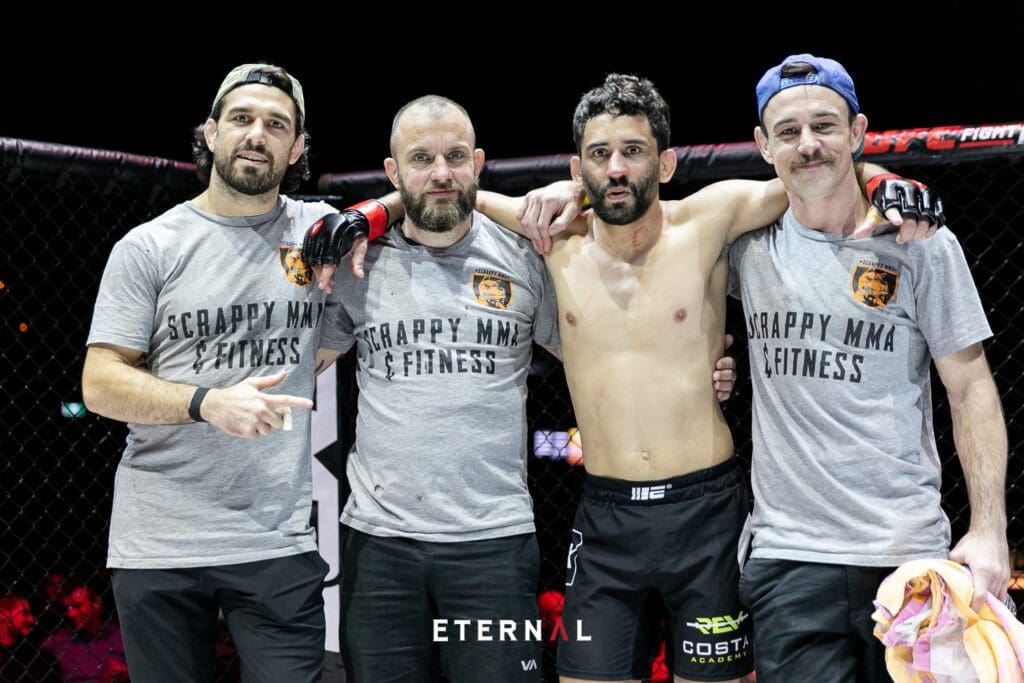 With Costa dividing his time between Scrappy MMA and his own Brazilian Jiu-Jitsu centre – Costa Academy Brazilian Jiu-Jitsu and Fitness, it's been the close relationship that Costa has with lightweight champion – Jack Becker that has been the catalyst for a harmonised training schedule between the two gyms.
"Jack's one of my closest friends. We literally started training as white belts within a couple months of each other. We've been training since 2010 together. He's at the gym here every day (Costa Academy) and we go to Scrappy every day as well."
"Some of the Scrappy guys come here, we have a really good relationship. There's no competition or any politics. Some of my guys go there, too. It's a f*****g awesome relationship, it's great."
For Costa, the Jiu-Jitsu academy is a culmination of dedicating himself to his passion twice a day, every day for the past decade. Originally born in Brazil, it wasn't until Costa moved to Australia that he began to take up training Brazilian Jiu-Jitsu himself.
"I was always a fan of fighting. And then I moved to Australia. I remember always thinking about starting. Not that it was in my mind every day. But every once in a while, I would be like 'I wish I could…It would be good to do Jiu-Jitsu'. I'd watch fights all the time. And then one day I just came in and went with a friend like five years after arriving in Australia.
"I arrived in Australia in 2005 and in 2010 after thinking about it every once in a while, I got a friend together and we went to a gym, and we started in March 2010 and never stopped. I was at uni, I stopped going to classes, I failed all my units (much) to the disdain of my father and my mum.
"I started just training twice a day, every day literally from the get-go as a white belt. I had such a narrow focus, I just loved it so much. I kept doing it, I got my blue belt within six months. I got good really quick. Not good, but I got to a good level for a beginner really quick. That's how I started. I've never looked at anything else. I didn't know exactly that I wanted to follow this as a career and open a gym.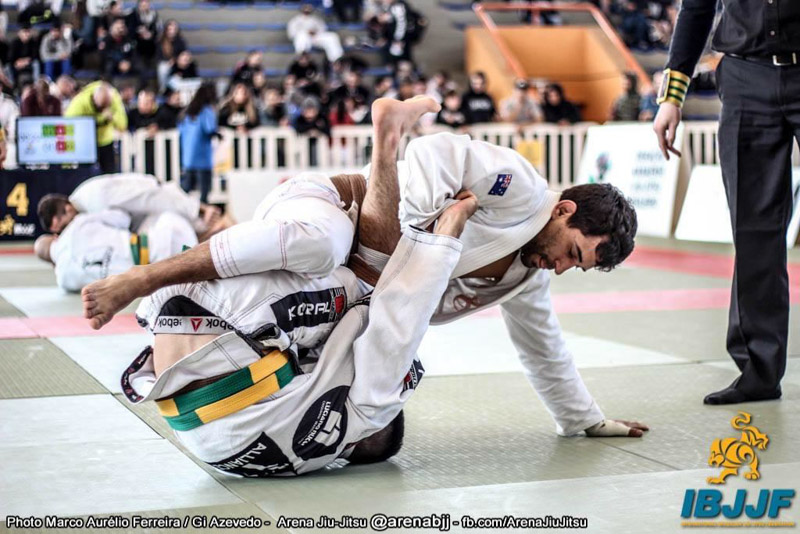 "But that's all I was doing. I was just like 'f**k everything else' until I find what I want to do at uni or until I find something I love. I like doing this. So, I'm going to do this.
It was this fire that Costa had inside of him that catapulted him on a ten-year journey filled with various accolades and achievements that included travelling internationally to compete in the most prestigious tournament in the world – the IBJJF World Jiu-Jitsu Championships. It would be here that Costa would win bronze as a purple belt, making him the first Australian ever to accomplish that feat. More international success would follow in various other tournaments over the next few years, as the crowning moment in his Brazilian Jiu-Jitsu journey would see him awarded his black belt by long-time coach, Filipe Pena.
Injuries would eventually catch up with Costa while he was competing, and so his attention turned to sharing his ten years of jiu-jitsu experience by opening the Costa Academy in Myaree, Western Australia. A passion that he continues to this day while competing as a mixed martial artist competing under the Eternal MMA banner.
With his focus now entirely on the fight against the highly talented, Diego Pereira – Costa gave his thoughts on his opponent and how he feels he measures up against his fellow countryman.
"I don't like to stress myself with how (the fight) is going to go. But I have watched him before I knew I was going to fight him. He's one of the few guys at the top of the division in Eternal MMA. I watched his fight with (Jack) Jenkins a while back. I saw his last fight with (Abdalla) Eltigani, I was there in the stadium. So, I've seen a l little bit."
"But I think my jiu-jitsu is just on another level (compared) to him, and all of the guys to be honest in the featherweight division. Anything can happen, I can get submitted, he can crack me and then submit me. Anything can happen to anyone. But in terms of, if I do everything right, I think there's honestly no danger in the jiu-jitsu.
"But again, you never know. I might go in there and he just surprises me, and he does better. So, I'm not thinking it's going to be easy when I get the ground. But I don't have easy rounds, man. I train hard jiu-jitsu with hard people."
"In the striking, I know he's good. He seems to be really explosive; he's got power, I think. He's got really good movement. But again, I think I can keep myself safe and if he gives me the opportunity, I can do some stuff as well. But that's why the fight is good, that's why you get nervous. I'm not sure what's going to happen.
"One thing that I hate is we're in this stage everyone is trying to talk s**t. Everyone's just trying to say they're going to smash this guy; they're going to do (this and) that. No one knows how it's going to go. I think I'm going to win, I'm very confident. But if there wasn't that little bit of fear of like 'man is this guy going to be better here, am I going to be able to deal with this to deal with that', it wouldn't be as exciting as it is. So, I'm confident, but I know anything can happen in a fight. I'm ready for everything, I'm ready to go into deep waters."
With two Brazilian fighters finding the range in their skillset and eager to make a statement in front of a capacity crowd on the Gold Coast; this one cannot be missed.